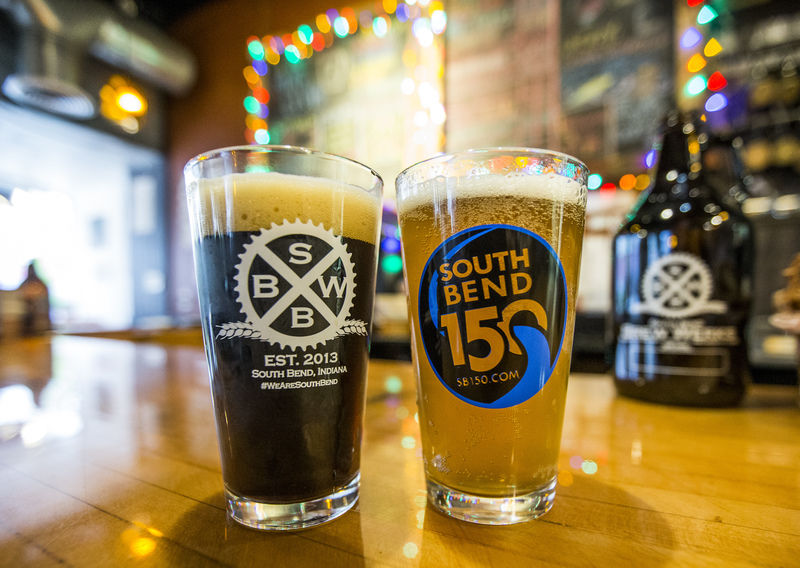 It's a weekday, and you don't necessarily want to just netflix and chill, but you want to go out and get back at a reasonable time. Well, there are many places in South Bend where you can go out with the squad to try out some great dishes, grab a drink, and chat it out over a laid back evening. Here are 5 family type establishments that are great for a calming evening with your pals.
1. Crooked Ewe
Crooked Ewe is a restaurant on the fancier side that won't break your bank. They have many healthy options and great burgers, but locals and students mainly come for the beer. On top of their monthly specials, they have a plethora of beer choices ranging from dark to light. Favorites include Cafe de Leche, Chocolate Cake, and Leechee. Give it a try and you won't be disappointed. Just make sure to come a bit earlier because the place gets packed during dinner time. If you happen to look at the menu and still can't decide, try the beer flight and split with friends. It's $21 for 16 different 5 ounce tasters, so not a bad deal!
2. Evil Czech
If you're looking for hearty food, the Evil Czech is the place to be. They are known for their schnitzel buns, tacos, and appetizers. The proportions are huge, so its a great place to come with several others for a night out. Like the Crooked Ewe, people come for their beer. At $5 per 16 ounce mug, you can try local favorites and other imports as well. They have a smaller flight if you want to be experimental, but they only give you four 5 ounce glasses. It's a family favorite, so the wait can be pretty long as well, so get there early.
3. Salsa's
If you are feeling like having Mexican food, then Salsa's is the place to go….especially on Wednesday nights because they have $2 margaritas. Who isn't down for great drinks at affordable prices? There are two levels, so Salsa's is a wonderful place to spend some quality time with your friends. They also have kareoke, so Wednesday nights are pretty wild, but definitely fun. When you come, remember to get their fresh guacamole, which they make in front of you and they allow customization of their guac too. And, you can't go wrong with ordering some tacos and enchiladas.
4. O'Rourke's
Located on Eddy's Street, it's just a short 15 min walk from the center of campus. If you're looking for a short escape from your dorm, but just aren't interested in going down town, then hop on over to O'Rourke's. The place is a sports bar that also serves dinner, but it has a great atmosphere. Students even come to grab a bite and drink and lug their homework along as well. It's not surprising to see students with their laptops out during the week. O'Rourke's is most popular on Monday nights because they have trivia then and it's always a hit!
5. Taphouse On the Edge
Another close favorite for Notre Dame students for a calmer night out is Taphouse On the Edge. It's about a 22 minute walk from campus, so it's a great way to escape the dining halls for a bit. They have an assortment of taps to try and typical bar food at affordable prices. It has a family atmosphere, casual seating, and many TVs for you to check out your favorite team. Try getting their rueben or bagel platter with spread– it'll be worth the try!
It's not surprising that dining hall food or even the new restaurants at the Duncan Student Center can get repetitive and boring. These 5 places are close enough to campus for you to either walk or Lime bike to, so give them a try and enjoy some time with locals while watching some of your favorite teams. Weekdays don't have to be boring; the bar and kitchen scene is a great option to relax with a glass of beer and get a bite!
---
---
Related Articles