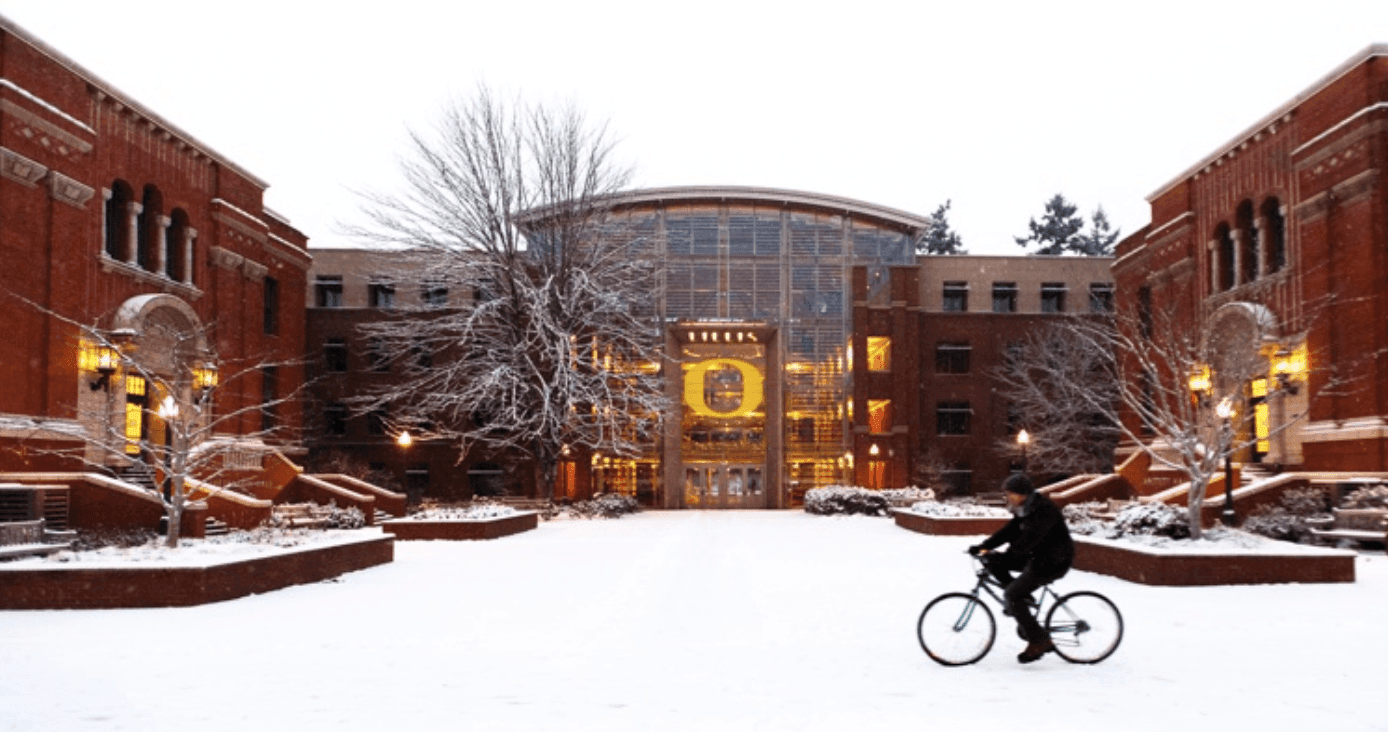 The University of Oregon campus is undeniably beautiful. With the winding paths, moderate hills and many trees, it captures the Pacific Northwest in the best of ways. Of course, there will be so much to see when you come to campus, so why not stop at these 6 student favorites.
1. Pacific Hall
Being normally quiet, it can be a great study spot. Although, the unrenovated building with chalkboards lining the halls makes it a great picture taking opportunity. It has that sense of old college movie. Its charm is what makes it a favorite among students.
2. Knight Library
The gates to the Knight Library alone are a sight to see. The wrought iron and plants growing wild make it too surreal. Inside the five floors of the library, there are too many study spots to find, countless books on more subjects that can be named. Need to find a book for that one paper due? The library probably has just what you need and more.
3. Lawrence Cafe
The cafe in Lawrence Hall can be found upstairs and is a favorite for a chill spot to grab a good cup of coffee.  The art that is set up around is always amazing to look at, the design complex always has a nice selection.
4.  Pioneer Cemetery
The cemetery is actually a part of campus, lots of students don't realize that. It's an amazing place to walk through, clear your thoughts and see more of the iconic Oregon trees. Many students think it's haunted and will go out for a quick scare, although there are several accounts of seeing some weird things and hearing interesting noises, followed by plumes of smoke.
5.Behind Lillis Business Complex
The paths leading to wonderful small gardens of flowers and cherubs that lie behind the Lillis Business Complex. There are plenty of benches to sit on and see the beauty. In the spring and summer time you might find some tired soul taking a nap even. The peaceful scenery is great to let your mind wander a little and just enjoy the feel of campus.
6. The EMU
The Erb Memorial Union is full of great things for students. With food, study areas, countless plugins, printing and the hub of student clubs, it's a great place to meet your friends. There are always free samples going around, granola bars for grabs or some kind of event. Be sure to check it out. Plus, it's a great place to stop and get out of the rain.
The campus at UofO has so much to look at and explore, no wonder everyone loves it here. There are so many amazing small spots that have yet to be found, but surely that's because the best things are hidden in plain sight.
---
---
Related Articles