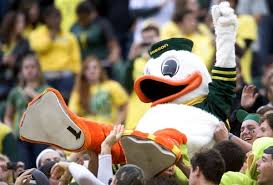 The University of Oregon offers many great events on campus. From holiday themes to local group performances. Looking around campus, it's obvious when there is something big going on. The UofO does not skimp on decor and making sure the word gets around. It's no wonder the students always have something to look forward to. With this list of events on campus, you and your friends will have amazing memories to snap.
1. The Winter Feast-ivile
With great wintertime favorites, photo ops and a gingerbread house making contest, the Winter Feast-ivile is one amazing reason to go hang out at Carson dining on campus. Hot chocolate and spiced apple cider are a few of the seasonal drinks that will be on tap, with a side of your choice of holiday cookies and cakes. It's no wonder that this event is always a favorite. Cute cutouts to take pictures in and small scenes are in the first-floor main room for pictures by yourself or with your friends. Just don't miss the gingerbread house competition. First, second and third all get prizes, but all houses are up for display throughout Carson dining.
2. Halloweekend
Halloween, one of the best times of the year. The students know just what to do to make it amazing. Whether or not Halloween is actually on the weekend or not, Halloweekend will be on. Normally it's the weekend before Halloween. With the stereotypical college girls in their costumes and empty beer cans in the residential, Halloweekend is definitely a time to remember (if you can).
3. Homecoming Parade
The same weekend as parents weekend, Homecoming hits the University of Oregon campus. With decorations all over in the iconic green and yellow, be ready to watch the parade go up 13th avenue. Floats there to represent the major student groups on campus, each individual residence hall and, of course, our amazing football team. Be ready to show some school spirit and get your hand into being a duck. Sko ducks!
4. The Street Fair
Along 13th avenue, be ready for amazing food, trendy clothing, and tiny succulents for sale. With the street fair hitting campus, it's like a smaller version of the Saturday Market. Featuring fried candy bars, falafel, Hawaiian BBQ and a crepe stand, the street fair is full of good eats. Further down the path, there are the knick-knacks, clothes, tapestries, posters, plants and so much more. With each stand offering a unique selection and ready to haggle for pricing, the street fair is something that you cannot miss.
5. The Rocky Horror Picture Show
Eugene's very own Rocky Horror Picture Show shadow cast performs every year once on campus. It's the full Rocky experience, with costumes, virgin games, prizes and lap dances for sale, it's an amazing time to go and enjoy some comedy and a show. The cast is made up of majority students from the UofO, callbacks include jokes about Eugene, the school, and Springfield. Dancing, singing, laughing and an interactive cast make a night at the show a time to remember for a long, long time.
The University of Oregon has a lot to offer to students with things to do throughout the year. With these events, there won't be a dull moment during your time at school. This is just a taste of what more to come, there are countless things going on at the UofO, all there to make your time at college, the best.
---
---
Related Articles