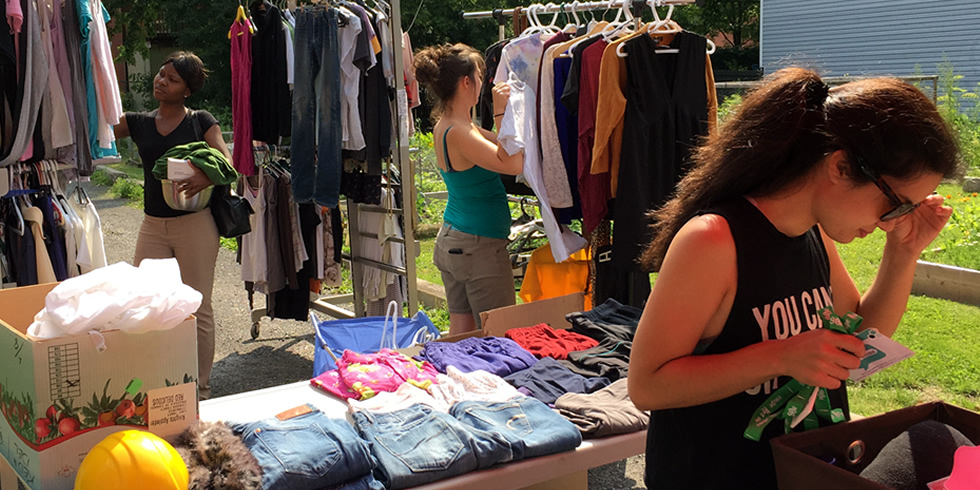 Let's admit it. Most of us students are broke. Stuff around us is extremely costly in comparison to our income. What's great about the Uottawa campus is that there is a free store. You heard it! EVERYTHING is FREE. All you have to do is show up to the Free Store house, show your student ID and you can go and grab anything you want. The campus Office of Sustainable Development created this free store in order to reduce waste and to encourage students to reduce and reuse while keeping in mind that student life is costly. Think of the Free Store as a Value Village but everything costs $0. Currently, the house is packed with items. Workers and volunteers are encouraging students to come by and take things that would be of interest. If you look hard enough you might find a special treasure.
One might ask, what does this Free store actually have? That's why this post is dedicated to exploring the types of items students can find at the Uottawa Free Store. Maybe it will encourage fellow GeeGees to stop by the store before going to retail and to rethink their finances.
1. Books and Textbooks
Some students are literally so fed up with some classes that they donate expensive textbooks to the free store. The Free Store library is full of great academic books that could come to use for some of your classes. Maybe you wanted to learn about a subject but didn't want to spend tons of money on books. Every subject imaginable is available in the free store.
2. Pillows and Linens
Throw pillows, beddings and linens are some of the other things that can be extremely expensive in the store. But if you go to the free store you can find some good bedding. It's very useful because when you are just moving in, sometimes you don't know where to go and what to buy. So during the move-in season, make sure to check out the free store for some treasures. They also have a lot of throw pillows that can make your furniture or room look homey.
3. Clothes, Clothes and MORE CLOTHES
The amount of clothes at the free store is insane! You are sure to find something your style. If you are about brand names, if you look hard enough you might find a good deal (virtually the best deal ever, because it's free). You can get clothes for all seasons and all occasions, it's truly incredible the large selection that they have inside of the free store house.
4. Accessories
Accessories can make an outfit, and can literally cost you thousands (depending on your taste). Whether you need a belt, scarf, a fancy hat, some winter accessories, you name it the free store probably has it (they have so much stuff your wouldn't believe it). The other day free store staff found brand new boxed jewellery. People have also found Alex and Ani bracelets. You never know what flows into the free store!
5. House decor
Whether it's a residence or apartment, decor always makes things a little homier. Unfortunately, decor can be unrealistically expensive, especially when you need to buy furniture and other necessities. You can find decor at the free store. From lamps to posters, you might find something of your interest to make your home environment a little comfier and personalized.
6. School Supplies
Sometimes school supplies are at the least of our worries as students because we all use laptops. You might encounter a time when you desperately need generic school supplies for a class coming up that day. In that case, drop by the free store. Get that calculator you need for an upcoming exam. Get that ruler you need for an art project that you didn't expect to need. Seriously a lot of students have donated their perfectly good school supplies to the free store.
The Free Store at the University of Ottawa is a great place to find some interesting things. The house is literally a treasure box and you never know what you'll find. The best part about all of this…… IT COSTS YOU NO MONEY.  A lot of students don't even know of the existence or simply forget that the Free Store is there. The Free Store is thrifting at it's finest.
---
---
Related Articles