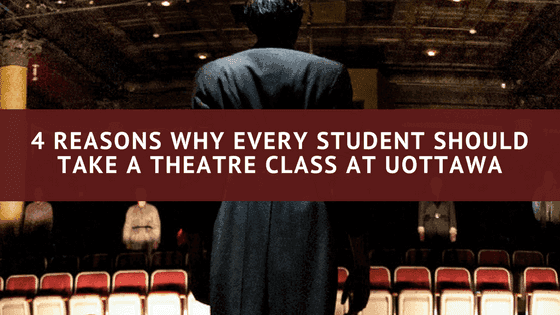 Yes, we do have theater at UOttawa and yes you can take theatre classes. While a lot of students might not want to join a theatre class, it's highly recommended for other aspects and succeeding in other parts of schooling. It may seem like a secluded club of expert actors, but it's a department that truly accepts every and all who want to explore the world of theatre. Students might also think that taking a theatre class is useless, but by enrolling yourself in such a class has the ability to make you grown as a student and individual. Here are the 4 reasons why every student SHOULD take a theatre class:
Practice reading speeches and texts
Being in a theatre class, it's required that you take part in plays or skits that require you to have parts memorized.  While it sounds like absolute hell to memorize big parts and skits, but the more you do it the better you become. In the theatre class, they specifically teach you ways to analyze texts in order to make memorization easier for all.  Just like how people memorize lyrics, memorizing stories and lines become part of the way you present. These memorization skills can transfer for all subjects. If you are preparing for tests or if you need to present a speech, you will end up less anxious and less stressed about memorizing different bodies of words with the help of taking a theatre class.
Practice presenting in front of audiences
Not only do you have to memorize lines, but you also have to present and act in front of your classmates/audiences. A lot of people deal with presentation anxiety and a theatre class is a way of facing your fears and learning to become more comfortable in front of people. What's great about theatre is that your classmates are always there to encourage you and cheer you on. The atmosphere of a theatre class is progressive and students in the class help each other succeed, rather than making fun of people who are incapable and less advanced in their presentation skills.
Practice confidence
As mentioned before,  the more you practice presenting and memorizing lines, the more comfortable you become. The more you practice the more confident you become in your own capabilities and knowledge. Since your fellow theatre classmates are all from diverse backgrounds, they are always encouraging and supporting one another. It is without a doubt that a theatre class will help you grow as an individual by pushing your limits and challenging your confidence. All for the greater good (of course).
Making new friends and having fun
Theatre is a very integrative and sociable subject because you are always forming groups and presenting with different people. You start to make connections with other students through labs and activities and through conversations. Being forced to talk and socialize with classmates gets you out of the normal lecture setting and you might make a new Facebook friend or two! Other than making new friends, even though theatre is a lot of work, it's all fun to do. Students are pushed to be creative and to create new projects based on their own interests. Projects then turn into passion projects because you genuinely enjoy what you are doing.
Hopefully, these reasons shed light on the importance of theatre in our everyday schooling and lives. Theater helps you learn and work on important skills such as confidence, presenting and memorization that you will absolutely use during your years in university and beyond. In general, theatre is just fun and using it as an elective is a great way to take you out of your regular stressful lecture style class.
---
---
Related Articles