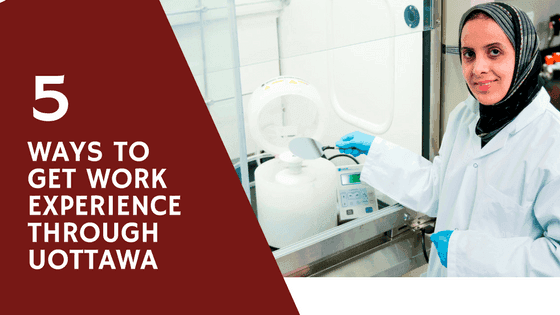 We are all going to graduate hopefully. Once students graduate, they usually look for job opportunities. Nowadays, jobs are getting harder and harder to find without professional experience. It's a good thing that the University of Ottawa has set up a bunch of different platforms and ways that students can receive work experience.  From volunteering to paid co-op placements, the university has you covered. Here are the 5 places on campus that you can refer to for work experience:
Volunteering
At the University of Ottawa, there are tons of volunteer opportunities that can be very helpful towards building work experience. If you go to the Community Engagement navigator on your applications through Uozone, you will find a database of diverse placements depending on your goals and interests. Through the Michaëlle Jean Centre for Global and Community Engagement, you can log in your volunteer hours, which will be presented to you when you graduate on a co-curricular record.  If you are interested in international volunteering, you might also find some opportunities abroad. Check out their website for more information. It is highly encouraged to visit their office for specific questions in Tabaret on the third floor. The staff is really encouraging and accommodating in any circumstances and will take their time to answer your requests and questions.
Work Study
Work study is a program at UOttawa that is directed towards students having income and work experience by working on campus. This is really ideal for students living on campus and isn't able to make long distances throughout Ottawa for various jobs. Work study is great because the jobs offered through the navigator are more professional. Students are also able to make great connections with university staff through work. For more information check this out.
Jobs Now Portal
While work-study is geared towards campus positions, Jobs now is a database of other outside employers looking for university students. The jobs vary from normal retail to government employers. Jobs now can be very helpful for the recent graduate because they offer a good amount of full-time positions. If you are looking for help to navigate and apply for positions through Jobs now, it is recommended to visit the career development office on campus located on the third floor of the UCU. For more information about the Career Development Centre visit this site.
Co-op
Depending on your academic standing (8.0 GPA to be exact) you are able to apply to be in the co-op program at the university. During co-op you have 4 alternating work terms and study terms. As a result, you might have to graduate a semester later than usual. In return students in the co-op program gain very valuable work experience. Most jobs included through the co-op navigator are government jobs. Many students graduating with co-op are secured with great reference letters and maybe a future job from a past employer. On top of all that awesomeness, students are also paid for their work terms. For more information go here.
Internships
Look around campus and you are sure to find different internship posters. More specifically there are many international internship opportunities (depending on the faculty). With international internships, you get the work experience abroad from foreign employers. International internships through the university aren't paid but do count for course credits. Student fees and other international internship fees need to be paid, but in return, you get experience and a wonderful travel opportunity. For more information check out this link.
It goes without saying that jobs require tons of experience and knowledge in the field that you are going into. Even when it comes to a graduate program, some professors and programs look for experience in prospective graduate students. Whether it's paid or unpaid work is work, and experience doesn't have to be strictly paid. depending on circumstances, students might want to look for paid opportunities, which are numerous on campus. It's always good to check out the opportunities around campus and to refer to them in case something that interests you emerges from the different navigators.
---
---
Related Articles