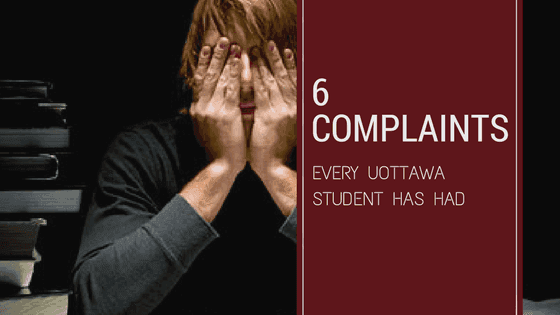 A lot of Uottawa students have a lot to say about the way Uottawa works. Many complaints have been blurted. Students at Uottawa do indeed bond over common complaints. The complaints we say is always on the same subjects. Here is a list of 6 common complaints every Uottawa students have thought of or has explicitly verbalized.
Construction
These past years, U of O has had an enormous amount of construction projects. Most of them being very random and not on time. It's absolutely something every GeeGee student has complained about almost every day. The construction has ruined our paths to get to class and has made us late to many lectures. The detours are redirecting all students to take the same paths to class and it's too stressful and overwhelming to have the whole university walk and shove each other on university private. Apparently, there are even more years to come of construction projects on the university campus, so students be ready for even more inconveniences.
Where the money is spent?
Frankly, there is no transparency when it comes to how our student fees are being spent. The Student Federation is absolutely horrible at managing money and us students pay huge sums every year for low-quality student services. The fees keep going up, yet many students don't know why or where it's going. Of course, students have complained about paying unnecessary student fees. Please tell me why students have to be obligated to pay for sports fees if only a fraction of them use sports facilities.
3.The big "green space" and tent
So much hype went into the FSS front area. Project managers and the university advertised this space as a green space for students to hang out and enjoy the greenery. Well, that didn't happen. In fact, the front area is so grey and boring that everyone just passes by to use it as a shortcut to get to classes. Let's not even mention the huge tent that closes the space down for a few days during seasonal transitions. Not cool Uottawa, not cool at all.
4.Not enough study spaces/ too many people
There are so many students on campus and every year the university gets overflown by more and more students. Sometimes it feels unbreathable when you are just wanting to pass through the UCU or if you want to find a study space. The number of times i've found students sitting in the weirdest and most uncomfortable places just to do some school work is incredible. Having tons of construction doesn't make it any better. More people in a more condensed campus.
5.Not enough cheap food variety
The fact that the only cheap accessible foods on campus have to be Tim Hortons in Site and Subway near Laurier station, is insane considering that this is the national capital University. Two Tim Hortons expresses aren't enough, the campus cafeteria is absolute crap (even though it was just recently renovated). Can we just compare the variety between Carleton and Uottawa for a second? Carleton has booster juice, hundreds of Starbucks', many subways, Tim Hortons, the list goes on. Why do students have to make trips outside of campus to the Rideau centre food court? Why can't we have more affordable and easily accessible food options? Students are on campus all the time, meaning that we need food in our system to be able to do well and continue with our work.
6.Everything is closed on the weekends and evenings
Students aren't on campus during class times during the week. In fact, tons of students come to campus on the weekend and during the evenings to do group work or just to get ahead on school work. Most of the time spent on campus is outside of class times. If that's the case why are most facilities closed during those times? Students are more likely to use different facilities outside of class times (ie. evenings and weekends). Many libraries and resource centres are closed and same with food services. There are lost for students living on campus to be close to school and to have access to campus services, so why aren't they open? It's frustrating when you make your way to campus to get productive and the lack of open facilities hinders your productivity.
As wonderful it is to go to Uottawa, there sure are some places for improvement. By improvement, that doesn't mean improving buildings through construction projects. In fact, improvements can be very little and go a long way to satisfy students and staff. Hopefully, the university will pay attention to student voices in order to ensure progressive growth and student satisfaction.
---
---
Related Articles