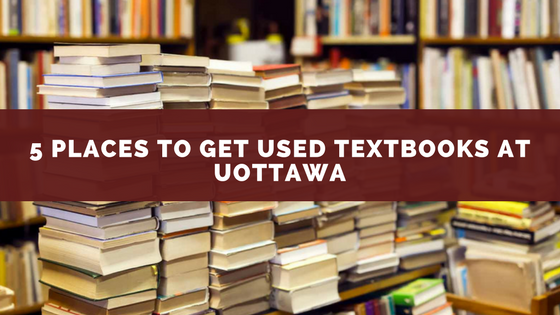 Books are extremely expensive. In fact, they are overly expensive! It sucks to have to buy hundreds and hundreds of dollars in textbooks every semester. Buying used textbooks is honestly the best option to save some money but still get the same class material. There are now many options to buy used textbooks on campus and many students opt to join the used textbooks market.
Here are the 5 places where you can find used textbooks:
Bookro and Books2go
Similar to a Kijiji website but focused on textbooks and course resources, that is Bookro and Books2go. People sell their own textbooks for lower prices. Students can contact sellers and negotiate.  What's great about these websites is that they are organized by courses, teachers, and universities, making it very easy to search if a textbook is available for you.
Kijiji
Most second-hand items are sold on Kijiji, which means some people also post their textbooks. Similar to the websites above, You simply search the name of your textbook, you contact the seller through email and you meet up to do the exchange. It's very easy to find books on Kijiji because you get results from all of the nearby regions (ie. Carleton and Algonquin).
Used textbooks UOttawa (Facebook groups)
There are tons of used textbooks pages on Facebook for U of O specifically. When you join, you get access to post your books to sell and to contact sellers to meet up on campus. It's great because when you find fellow students, they might also be able to give you some advice on the course, the book and even the prof. Meet up is easy because it's more often than not near or on campus. You are also able to negotiate prices with one another.
Your local thrift stores/The UOttawa Free Store
This isn't the best place to find your exact textbooks, but you never know! Some courses require different types or recommended resources, so if you find something that you think might help you with your courses, check the thrift stores. Value Villages especially is home to many used textbooks and novels. Take the time to scope out these stores and you might get lucky and get an incredible deal.
Student-run Bookstores (ie. UCU bookstore)
Students don't go to these places when thinking of getting a used textbook. Surprise! There is a huge selection of used textbooks in the campus bookstores. The UOttawa bookstore charges less for slightly used textbooks. They are almost brand new, the only difference is that someone had previously used it. If you are the type of student who is anal about highlighting or writings in the books, but still doesn't want to purchase a new one, this might be the best option for you.
There is nothing better than finding a good deal. Especially when that deal saves you dozens of dollars on books that can cost to up to hundreds. Students are hungry to save even a buck because student fees are already incredibly stressful to deal with. If you are willing to take the time to research and physically search the different places mentioned above, you'll be able to find something for at least some of your classes.
---
---
Related Articles