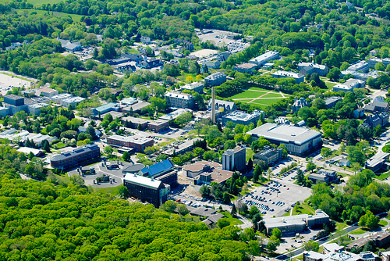 The University of Rhode Island is home to a lot of students. When you are living on a college campus, sometimes it is challenging to get to everything you may need during your time away at school. Luckily, the URI campus has everything that students may need during their long semesters in college. Here are 5 conveniences for students on campus at the University of Rhode Island.
1. The Emporium.
The Emporium is a small plaza with a lot of resources. Located 1 or 2 seconds off campus, The Emporium is home to sandwich and burger shops, CVS, and other campus apparel stores. This is great for students that do not have a car on campus and need to run a quick errand! 
2. Rhody Market.
On the days you are slammed with homework and don't feel like you have the time to sit at the dining hall to eat, Rhody Market is the place to go. Get a quick pizza, breakfast sandwich, smoothie, or something else of your choice and get your homework done at the same time! 
3. The Hope Commons convenient store.
If you are looking to stock up on dorm room snacks, but do not have any way to get to a market off campus, you are in luck! Located in Hope Commons is a convenient store with all of the snacks you may want to buy for your room here at URI. All of your food shopping can be done right on campus! 
4. Rams Den.
If you are on the other side of campus and looking for a quick bite to eat, Rams Den is the place to go. Designed similar to a food court, this is a great place for kids to hang out, get homework done, and feed themselves a good lunch in the process. Spend some time in Rams Den during your four years! 
5. The Union.
Believe it or not, the Union actually has a lot for students that live on campus. A hair salon, a mail room, a food court, a convenience store, and so much more is located in this building. If you need just about anything, head over to the Union and get everything done in one shot! 
The University of Rhode Island is filled with conveniences for students to take advantage of during their time living on campus. Not every student takes their car to school, so sometimes it is hard to get around and get what you need. However, the University of Rhode Island makes it easier. Go Rhody!
---
---
Related Articles