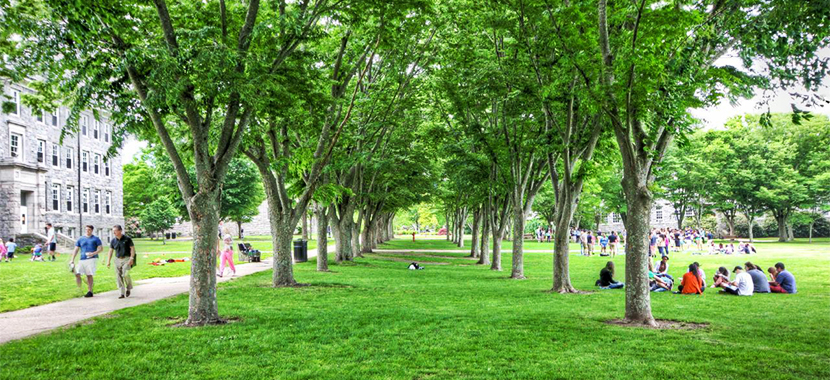 Deciding on which college to go to as a senior in high school is a difficult decision to make. The choice you make will have a huge impact on your future. At URI we have a variety of students that come from all over the US to study and get an education here. This school has over 100 undergraduate majors and over 30 graduate majors. It has many perks that will make you fall in love with school and want to come here.
1. URI Is A Big School
URI has a count of 18,318 students that attend each year and since it is an university it is going to be bigger then any college. Here at URI you get the campus feel and since it is big, you don't feel trapped being on campus if you have to stay. Going to college is a big adjustment and is not easy. Having a campus that is big enough for you to walk around, walk to restaurants, walk to the Ryan Center for any concerts or games can help make your adjustment easier. There are many perks to having a big campus to live on.
2. The Amount Of Majors and Minors Offered
At most private colleges the schools don't offer many majors and minors because it is only so big. But at URI we offer a wide variety of majors and minors that will help you get the education you need. Many majors come with a specific program that can either help you get your Bachelor's degree or Master's degree, depending on the program. Also URI has recently built more science building for the multiple programs they have here. If you are leaning more towards a science school, URI certainly has the resources you need to succeed.
3. Always Something To Do On Campus
Many schools can be located in secluded areas or guarded off from any outside towns or cities. URI is a very safe school that is surrounded by many things you can do in walking distance. We have the Emporium which is located just a 2 minute walk outside of the top of campus. Here you could enjoy different kinds of foods, a coffee in the morning from Dunkin, or if you run out of anything you need there is a CVS too. There are many different stores available to hang out or to get any necessities. Also there is the Ryan Center located at the bottom of campus. Here you could enjoy intense basketball games, concerts, or famous guests that come from all over to speak about their experiences. There are many different activities that go on in there that you could enjoy with a friend. Also there is the Memorial Union where you and your friend could go play pool, or join a club and have events held there…etc. There are many different options on campus that will make you feel more at home.
4. Students Come From All Over
Many people believe that URI has only RI students, but that is not true. Many students that come here come from all over the country. Statics show that 55% of students are from RI and 45% of students are from out of state. That is a good majority of students from out of state considering RI is the smallest state in the country. So you get a good variety of students with different cultures backgrounds which makes the school more interesting.
5. Safe Campus
URI is named one of the top ten safest campuses in the US. We have our own police station right on campus next to one of the freshman dorms. We have police that patrol 24/7 and blue lights that are located in multiple different areas throughout the whole school. You will never feel afraid walking late at night or alone. There are police everywhere looking out for the students at URI.
Overall URI is a great school to come to and get your education for the next four years. If you are even considering coming or looking at URI you should definitely apply. There are always more opportunities and things to learn about this awesome school.
---
---
Related Articles