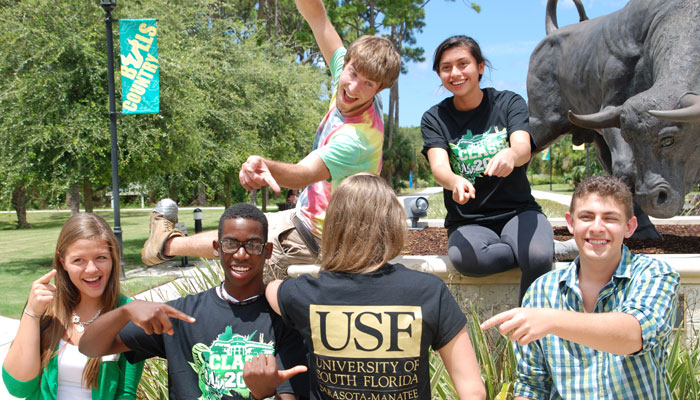 The popular question among freshmen students, "what are the easy courses that I can take at the University of South Florida?" While some of the courses are extremely difficult, there are classes that are relatively easy and can help boost your GPA. These courses are referred to at bird courses by students at the University of South Florida. Here are 10 of the Easiest Classes at the University of South Florida:
1. THE 2252 – Great Performances on Film
THE 2252 traces the evolution of acting styles as evidenced through 100 years of cinema, and explores how movies and actors have mirrored or influenced cultural, political, and social change. Many USF students who have taken Great Performances on Film have used it to increase and boost their GPA.
2. MUL 3001 – Issues In Music
Lectures/Readings and recorded performances by musical artists of significant works from the literature for the piano/orchestra; analysis and illustration in the performance of the abstract and aesthetic elements in music which vitally concern the artist‐performer and listener. The general purpose of this course is to enhance the Music Appreciation experience for all students.
3. PEL 1121 – Golf I
Introductory experience in the sport of golf. Fundamental skills, information, strategy, and participation. Not saying you will be the next Tiger Woods after this course but it is a great start
4. LIT 3103 – Great Literature of the World
This course is lit! No seriously. It is a literature course and has been rated by USF students as one of the easiest courses.
5. EVR 2002 – Environmental Science
If you are a tree hugger, EVR 2002 might be the course for you.
6. SYG 2000 – Introduction to Sociology
This course introduces undergraduate students to the discipline of sociology. During the semester, we will analyze sociological theories, core concepts, and issues through readings, lectures, discussions, films, and hands on research assignments. It is extremely popular among students at
7. HSC 2130 – Sex Health Decision Making
Let's talk about sex baby! This course explores the fundamental relationship between sexuality, decision making and health outcomes from a public health perspective. Students explore sexuality issues and learn tools that promote sexual health and healthy relationships.
8. GEY 4612 – Psychology of Aging
This course provides a broad overview of the gerontology profession and the theoretical basis that guide generalist gerontology interventions from a psychological viewpoint. It is designed to give the student an overview of the aging process from a psychological perspective by studying such topics as major theories of aging, stereotypes about aging and older adults, changes in physical & cognitive health, research methods in aging, cognition, emotion, behaviors, and social relationships during later life. A brief history of gerontology is presented, with emphasis on the effects of social forces in shaping the profession today and in the future. The reciprocal relationship of gerontology, social science and human behavior will be presented. The focus will be on the interdisciplinary social sciences and human behavior research and the relationship of that research/theory and field work to practice. An additional purpose of this course is to familiarize the student with both the implicit and explicit values upon which professional practice is based. Value problems and dilemmas will be presented and will be addressed throughout the course as the fields of practice, research and policy development, client systems, and beginning methods of intervention are discussed in terms of the aging client's needs. Special emphasis will be placed on sensitizing students to understanding cultural diversity and its impact on social functioning and the concepts of non-discrimination and ethnic-sensitive practice. In addition, students will be expected to examine their values as an integral part of professional development and in planning for/anticipation of their field experience. The NASW (National Association of Social Workers) Code of Ethics and other ethical models will be discussed in order to familiarize student with these codes and how they influence professional practice decisions with clientele of any age.
9. ARC 2211 – Introduction to Architecture
The USF School of Architecture and Community Design's curriculum prepares its graduates for a full range of professional activities. The Master of Architecture degree is fully accredited by the National Architectural Accrediting Board (NAAB). While SACD only offers graduate degrees and certificates, undergraduate students may, in some circumstances, enroll in the M. Arch. program before earning a bachelor's degree.
10. EDF 2005 – Introduction to Teaching Profession
This course is designed to answer the question, "What are the things people beginning their formal study of education should know?" Included in the course is an introduction to the history and philosophies of education where you will gain an understanding of some of the issues that have impacted schooling in the U.S. and begin to form your philosophy of education. You will review and discuss The Florida Educator Accomplished Practices, The Florida Code of Ethics for Teachers, contemporary problems in education related to socio-cultural issues, and state and federal mandates. This is an accelerated, 8-week online course that is asynchronous. This means you will have discussion-based participation requirements with specific due dates but you can log on anytime during the week to participate. We do not meet on a specific day of the week as this offers students maximum flexibility in participation.
---
---