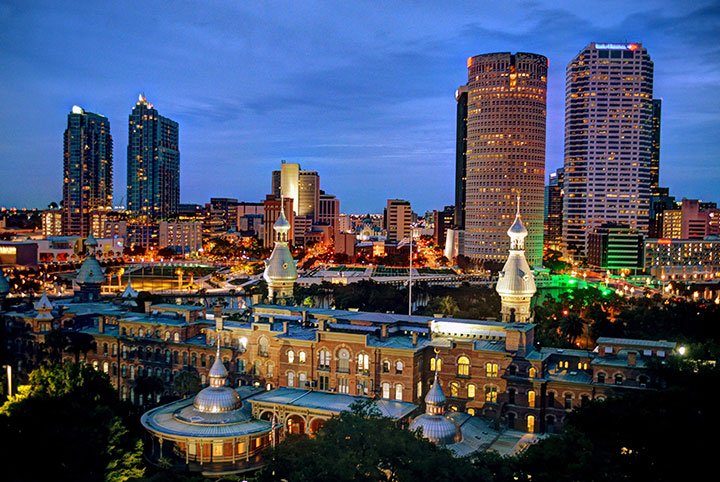 1. The weather sucks
It's basically summer every day and it's almost like you're on vacation while getting a great education because you can sit by the poolside or river while studying. Plant Park is always filled with students in hammocks and lying on blankets taking advantage of the Florida sun. You must hate the heat to not want to attend the University of Tampa.
2. There is no diversity
UT attracts many students from around the world and it teaches students that not one person is the same and that everyone comes from different backgrounds and experiences giving us insight into what the real world is like. So, if you're not trying to visit your friends while traveling the world, then this school is not for you.
3. You hate Pirates
Gasparilla Pirate Festival is the invasion of pirates held minutes away from UTs campus on Bayshore Boulevard and has been celebrated in late January nearly every year since 1904. So, that means we Tampa folk get to embrace the oldest and noblest tradition of dressing as Pirates and partying all day. But if you're deathly afraid of getting hit in the face by beads, then you're better off not showing up for the spring semester.
4. The campus is in the middle of nowhere
Downtown Tampa always has something going on in Curtis Hixon park directly across the river from UT, and the beach is only 30 minutes away, so many different businesses and shopping centers surround the campus giving students a variety of options to do on the weekends and after classes. So, if you're trying to be stuck in your dorm all day and night Tampa is not the place for you.
5. The classes are too big
Students at UT are all treated as individuals rather than numbers and that really makes us feel important in the UT community. The professors are easy to approach because they want you to succeed and will do absolutely everything they can to help you reach your goal. The university of Tampa is not for you if you are trying to build a successful future for yourself.
6. The campus is hideous
Many call our campus a tropical Hogwarts due to Plant Hall being the most recognizable landmark at The University of Tampa and the history behind the Building known as the Tampa Bay Hotel, blending the historical landmark with the more modern city of Tampa. If you are uninterested in history, then you shouldn't even consider the University of Tampa.
7. There are no job opportunities/ Internships
Downtown Tampa is near many businesses looking to hire college students along with the fact that many professors are the key to success. It's all about the people you know and the connections you keep. And who doesn't want to make loads of spending money when they are young, if you don't, then UT isn't your match.
8. Nowhere to blow off steam
Luckily UT just opened a fitness center furnished with brand new equipment allowing students to work out before, after or in between classes at no additional cost. The gym includes six group exercise rooms, lockers, a "flexible" classroom for educational and training functions. Working out can really help students avoid the "Freshman fifteen" while also relieving students of stress. So, if you're not considering creating a healthy lifestyle maybe UT isn't for you.
9. You know nothing about Station
Tic-Toc Tuesday, Thirsty Thursday, Station Saturday. If you choose not to go to UT you're going to miss out.
10. You've never felt the need to watch the sunset
Florida sunsets are one of the prettiest things to experience while studying at the University of Tampa, whether you see it from your dorm room or at the beach witnessing the sky change colors can be one of the most relaxing things to happen during your college career. So, if you're not interested in how mother nature paints the skies reconsider applying to UT.
---
---