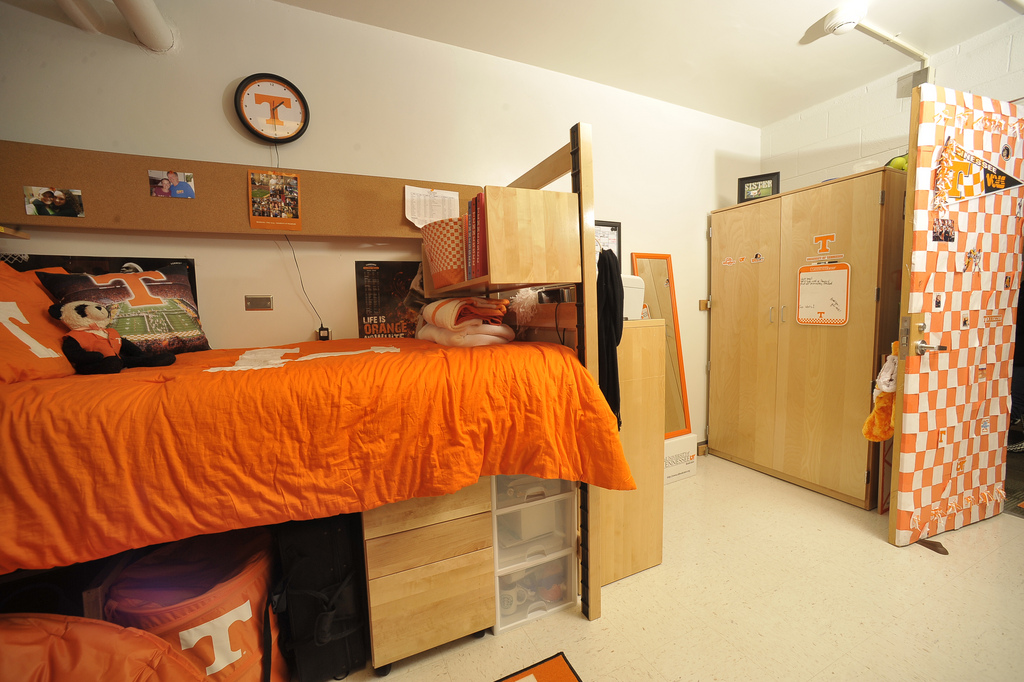 So, you've accomplished one of the initially hardest steps of college- getting accepted and deciding where to go. Congrats! It only gets better from here.
Starting freshman year of college is overwhelming to say the least, no matter where on the map. Hopefully, this list of top ten essentials for any UTK freshman will eliminate the stress of being prepared to live on your own! Enjoy and Go VOLS!
1. A fan
It is basically a guarantee that the air unit in your dorm will malfunction at some point within your first year at UT. The worst part is when the residence hall decides to completely turn the air off when it starts to get cold outside so you're forced to enjoy the luxury of warm and humid air blowing throughout your room with 70 degree weather outside. Save you and your roommate the trouble ahead of time and bring a fan. Or two. Target sells the perfect personal sized fans for only $15 (see here). At times it still feels like a walk in sauna in the room. 
2. Tape
Yes, this refers to the basic scotch tape that you can buy at Dollar Tree for $1. Trust me, it will come in handy more than you think. You're basically moving into a somewhat temporary home when you start college. Just imagine life back home without any tape.
 
3. Good walking shoes. 
No, your Birkenstocks or OTBT's will not be used to walk to class as much as you think. Before starting college, it had to be a rare near-death occasion before you'd catch me without my makeup done, wearing anything other than jeans and a nice top….. yeah, they're not lying when they say college changes you. Now, my everyday wardrobe consists of mainly athletic wear. So no, you will not be dressing up cute for class everyday and will not be wearing those cute booties you bought for the winter time. Just bring a nice pair of Nike sneakers or sandals like Chacos. Your feet will thank you later.
4. Umbrella and/or rain jacket. 
When it rains on Rocky Top, it REALLY RAINS. My first rainy day experience resulted in me having to walk back to my dorm and use a hairdryer to dry my drenched socks and sneakers. Also, lets not talk about the spiral notebook full of calculus notes that is no longer readable from where the ink ran together. RIP to that nice spiral book of notes. Just save yourself the trouble, and the bad hair day, by getting a good rain jacket and/or an umbrella. Side note: if you have a super expensive electronic device, such as a MacBook, that you carry around in your backpack, you may want to invest in one of these as well. Unfortunately Apple has not made a water proof MacBook yet.
5. More than 1 phone charger.
Living on campus your freshman year means that no matter where you want to go, it's a 10-20minute walk AT THE LEAST to everywhere on campus. This means that if you walk all the way to the library to study like a good college student, and leave your iPhone charger in your dorm room, you have to hike all the way back to get your charger. Just bring an extra one and leave it in your backpack at all times. You'll thank me later.
6. Invest in a good warm jacket. 
Going back to the whole "you have to hike to class and back everyday" thing, there's nothing better than waking up in the morning and seeing that the temperature outside is 39 degrees!! On top of that, the Rocky Top wind is blowing so graciously. Don't be afraid to spend some decent money on a good warm jacket because being sick on Rocky Top is not fun (or convenient for that matter). Patagonia's tend to be good quality, warm coats. They may be expensive, but it'll be worth the money.
7. Command strips. 
You'll probably hear these mentioned several times during the move in process at UT but seriously, just get them. Get a lot of them too. In different sizes, styles, shapes, and colors. They will come in handy. Technically you're not allowed to use anything else on your walls in any of the dorms halls except Command Strips so stock up!!
8. Shower shoes/shower mat. 
Many people have lived before in the room you will be calling your temporary home soon. This means that the many people who have lived in the room before you (hopefully) used the shower as well. Just let that sit in. A simple, cheap bath mat (like this one) will work fine. It's not going to be pretty whenever you leave at the end of the year, so don't spend a fortune on it. As far as shower shoes go, get a pair of cheap foam flip flops- like the ones that were cool and in style during my childhood!!
9. Surge protector. 
So technically speaking, you are only allowed to have one surge protector per roommate in the residence halls. Get a good one. Think about how many appliances you have plugged into your room right now that you use. Get a surge protector that will accommodate all those appliances and possibly more. And if you're feeling super risky, bring an extension cord or two along incase your RA is super lenient.
. 
10. Orange and white UT gear!!
Big Orange Fridays occurs every Friday and this is when all students on campus are supposed to wear something Orange EVERY Friday to show support for your team, school, and community. If you wait and visit the VolShop during your stay here for orientation, they offer discounts to new students. Just remember no matter where you come from and what your actual favorite color to wear is, you're choosing to live on Rocky Top which means GO BIG ORANGE, you're a Vol For Life!!!! 🍊🍊🍊🍊
---
---
Related Articles