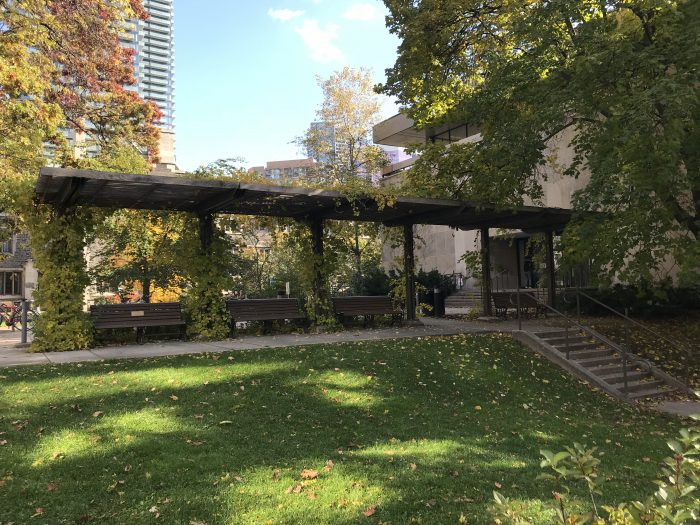 A study place can be very important to have a great study session. It's also fun to explore new places on campus to study. It makes studying less boring and more fun! So here are some of the best places to study at the University of Toronto (St.George).
1. Gerstein Library 
The first one is right at the heart of UofT, at the King's College Circle. If you are facing the University College building, then Gerstein Library will be on your right. This library is a great place for people who love nature. As you enter the library you'll see a huge common study area on the left, with large windows.
As you enter, you will find stairs going down. For people who love a quiet place to study, the underground floors are amazing. As you go to the lower floors it gets more and more quiet. There are small tables with 3-6 chairs and also single cubicle-like study spaces. They have single sofas in some of the corners which are great for a small nap in between long study sessions. There is also a cafeteria in the library for snacks.
Hours:
Monday – Thursday: 8.30am – 11.00pm
Friday: 8.30am- 10.00pm
Saturday: 9.00am – 10.00pm
Sunday: 9.00am – 10.00pm
2. Knox College Library
The next one on our list is the Knox College Library and it's just across the Gerstein Library at the King's College Circle. Just at the entrance of the Knox College building, there is a beautiful garden and a hallway with two seated tables. The garden has some benches and it's a nice place to read a book. The inside of the library is beautifully decorated with large stained glass windows. There are usually 4-6 sitting tables and also large tables with cubicle-like single spaces. While other libraries are usually full, this one can be less crowded. There is also a pair of chairs that look like thrones in one corner. You can have fun sitting on them and feel like a king (or queen)! Also, there are always some books for sale in one of the corners in the library. People who love to a have a physical copy of books can check it out.
Hours:
Monday – Thursday: 8.30am – 9.00pm
Friday: 8.30am – 4:30pm
Saturday & Sunday : CLOSED
3. UC Library
University College Library is hidden in the Laidlaw Wing of the UC building (on the 2nd floor). Though it might look like a small library from outside, it has a large study space with lots of natural lighting. There are around 20 computers and a group study room. You'll find papers and stationary on the librarian's desk which you can use in the library if you forgot to bring your own. There is also a printer available for use. This library is home to UC's own writing center.
Hours:
Monday – Thursday: 9.00 am- 9.00pm
Friday: 9.00 am- 5.00pm
Saturday: 1.00pm- 5.00pm
Sunday: 1.00pm- 9.00pm
4. E. J. Pratt Library
E. J. Pratt Library is Victoria College's library. This library has an amazing seating space just at the entrance. On a nice sunny day, this place is perfect to read a book for leisure or do some homework. In the library there are awesome places to study. There is a huge glass covered study space where you can find small study tables. Behind the stacks of books, there are single tables which are designed to look like a private room for people who love some private space while studying. These tables have their own single lights and are amazing for studying alone in a quiet space.
On the second floor of the library there are many spaces hidden behind the large bookshelves for people to study on their own. The seating area on the 2nd floor have window facing tables where you can enjoy a beautiful view of nature while studying.
Hours:
Monday – Friday : 8.30 am- 11.45 pm
Saturday & Sunday : 10.00 am- 11.45pm
5. Graham Library
John W. Graham Library is Trinity College's library. Though Trinity buildings are known for being unwelcoming to outsiders, this library is open for all. Down in the underground level, there are small cubicles for one person to study. If you are going there with a friend,  you'll be sitting back to back with each other. So you'll have your own space and also be able to ask for help from each other if you need.
Outside of the library there is a beautiful garden and on the way to the garden there is a big hallway with benches. This hallway can be a nice and relaxing place to study as well. The garden has small tables with chairs for group seating. Looking at the fountain and sitting at those tables can be very relaxing on a sunny day.
Hours:
Monday – Thursday : 8.30 am – 11.45pm
Friday: 8.30 am – 8.45pm
Saturday : 10.00 am- 8.45pm
Sunday: 10.00am – 11.45pm
6. UC Quad
Our sixth spot is not a library but a large open space in the University College, the UC quad! The UC quad is surrounded by small benches and big trees. It's a great place to sit down, relax and study or work on the laptop. The fresh air and greens will really make you feel good after a long day of class.
7. Robarts Library
Last but certainly not the least, is our well-known Robarts Library. It's the huge concrete building that looks like a peacock. This library is 15 stories high and there are study spaces, cubicles, different sizes of tables and various kinds of group study rooms that you can book.
The greatest advantage of Robarts is that the first three floors  are open 24 hours except Friday and Saturday. During exam time and at night it gets a bit crowded, but usually the upper floors are less crowded. The 13th floor is especially not that crowded, even when the other lowers floors are full. The 4th floor study hubs are another amazing place to study but finding a spot can be difficult as they are usually full. Also, all the upper floors except for the first 3 floors are only for UofT students. There are black and white printers, color printers and scanners on the ground floor. Roberts also has a cafeteria where you can get some food or drinks in between study sessions.
Hours:
Monday – Friday : 8.30 am – 11.00 pm
Saturday: 9.00 am – 10.00pm
Sunday: 10.00am – 10.00pm
Late hours: first three floors with valid T-Card ( Sunday – Thursday)
UofT has some really amazing places to study all over the campus. These are only seven of them. Whether you like pin drop silence or a bit noise around when you study, UofT has many places to offer. Take a walk through the Philosopher's walk or grab a seat at the Wilson Hall of New College! UofT has so much to offer that you are bound to find a spot that suits your taste!
---
---
Related Articles