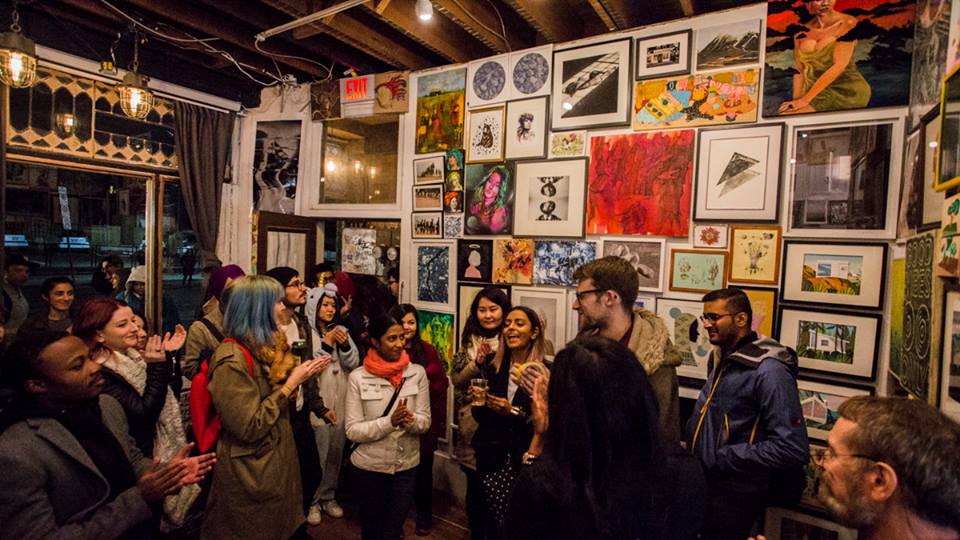 From struggling to pay the exorbitant rent to religiously scanning the newspapers to look for free Subway coupons, life of a student never mirrors the glossy unreality of TV shows. But that doesn't mean you can't make the most of your time, Toronto after all is the 'City of Drake'!
Here are 15 frugal student activities in Toronto:
ALL WORK AND NO PLAY
Destress with dogs: Irene Magee is the founder of Amores Perros, a dog walking company and if you love animals, she will let you play with dogs under her care. So, make perfect use of the unusually warm January and head over to the Withrow Park.
Eat in style for prices that aren't too high: Dutch Dreams is your go-to when your heart wants copious amount of ice-cream (under $7). Another must-visit location is The Dime, a hip bar-cum-restaurant where the menu boasts of burgers, sandwiches, quesadillas etc. for just $5.
Frisbee champs in making: Christie Pits is a recreation park where you can not only spot people playing Frisbee but will also have ample opportunity to make new friends.
Ride a bike on River Valley Trails: Borrow a bike or rent it at a nominal cost for there is no exciting opportunity to explore the city than the one at Don River Valley Trails.
ART AND CULTURE
Free museum days: Strike up a conversation with like-minded people or just observe the exhibits in awe, here are some of the museums that allow students free admission:
Art Gallery of Ontario: Free viewing every Wednesdays from 6 pm to 9 pm.
Aga Khan Museum: Free viewing every Wednesday from 4 pm to 8 pm.
Bata Shoe Museum and CBC Museum: All days, free entry.
Royal Ontario Museum: Free entry for post-graduate students every Tuesday.
Care for some more art? Costing you nothing are these unique art spaces featuring work by emerging artists.
For the love of theatre: You don't need to starve your creative soul in fear of spending your savings on expensive performances. Here are theatres where you can 'Pay What You Want'.
Toonie Tuesdays @ Factory Theatre's
PWYC Wednesday and Thursday evenings @ Théâtre Français de Toronto
PWYC Tuesdays (suggested $20) @ Canadian Stage
PWYC Sunday matinees @ Buddies in Bad Times
PWYC Saturday-Sunday matinees (suggested $15) @ Theatre Passe Muraille
Open Mic Nights: Discover your hidden talent or have a ball with your friend at open mic events where you just got to order a drink and you are set for the night.
Open Mic Comedy: Laughter is the best medicine, and when it comes to these places, it costs absolutely nothing.
CONNECT WITH NATURE
Mushroom hunting: Little known, but a lot of fun is the hobby of mushroom hunting. Don River Valley is a perfect location to spot mushrooms and if you think you need some guidance then check out Mycological Society of Toronto, which offers mushroom identification courses.
For the love of poetry: Grab some coffee and head over to the romantic Harbourfront Centre and as the waves gently break against the dock and planes take-off from the nearby Billy Bishop Toronto City Airport, read out loud some romantic poetry as your swooning partner marvels at your creative idea for a date.
Perfect picnic location for the history buffs: Take the subway to Dupont and pack some sandwiches. Toronto's majestic Casa Loma offers a great view of the city, and if you don't want to pay the $25 admission to check out the castle, then explore the quaint neighbourhood.
MAKE FRIENDS IN SCHOOL
Food locker: Whether it's an awkward break or your need to binge eat, get together with your classmates and designate a locker solely for snacks. Take one, replace one; that way the food locker remains full forever.
Create a Facebook group and start swapping: Whether it's organising a book exchange — where participants get a copy of their favourite, which doesn't have to be brand new — or giving away clothes you no longer want for the cute ones your friends are happy to get rid of, create a Facebook group and invite your classmates to start swapping.
Innovative potluck parties: Think of something as simple as Oreos, not only are they cheap and easily available, but there are bazillion easy-to-make Oreo recipes that won't burn a hole in your wallet.
Now what are you waiting for? Pack a bag of munchies and explore the city or be the one among friends with innovate ideas and have a lot of fun.
---
---
Related Articles