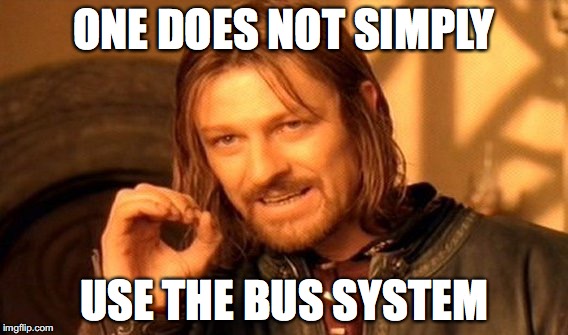 One of the most important aspects of UVA to get familiar with as quickly as possible is the bus system. It's as much as a 20-minute walk from some dorms (Gooch-Dillard and Kellogg especially) so you'll need it. However, it is also one of the hardest things to get the hang of. There are several apps that can help you see the routes, but it still leaves a lot of confusion for many (especially 1st-years). Here are some tips that may or may not seem obvious but will definitely help prevent getting on the wrong bus and ending up on the other side of town.
1. Download TransLoc Rider
This app will probably be your most frequently used. This details all of the routes that University buses will take you. They come usually every 15 minutes or so, but many of the routes overlap so that you usually don't have to wait more than 5 or 10 minutes.
2. Download Charlottesville Area Transit
This is your key to the city at large. The routes for the CAT will obviously take you many more places than the university buses, like downtown or Barracks shopping center.
3. Pick your favorite routes on Rider
Upon looking at both apps, you will notice that there are way too many routes to keep track of all at once. Narrowing it down to a couple that you use frequently so that there isn't so much clutter on the map is recommended. For the Rider app, you'll probably use the North-Line, Outer U-loop, and Inner U-loop the most. Those routes take you all throughout grounds and are the most helpful. To do this, click on the backwards S shaped icon on the top left and check/uncheck the routes!
4. Pick some CAT routes
First thing first, you get FREE UNLIMITED access to the CAT! All you have to do is scan your university ID, it doesn't charge your account or anything, it's included in tuition! Anyway, using the T-free Trolley (this one is free for anyone), the 7 line, and the 12 (DTS) line is recommended. The Trolley runs similarly to the inner and outer loop university transit, and will also take you to the downtown mall! The 7 and 12 lines will take you up to Barracks road shopping center and other malls down Emmet Street. To pick your routes, click on the CAT routes button on the top left and check/uncheck the routes!
5. Verify the direction you wanna go
One of the biggest mistakes my roommate and I made when we first got to UVA was going the wrong way… multiple times. This one may be obvious, but it's worth including for another other blondes out there. Make sure that you think about which side of the road the stop is on makes sense. Whichever direction traffic is traveling on the side of the road that the stop is on, that's where you're going too. Double check that it's correct.
6. Know the schedules
UTS (university transit service) buses operate during the week from 7:30am-8pm with full service every 10 minutes, and then continue to operate from 8pm-12:30am at specified "night stops" and only every 20 minutes. What this means is that at night, you're probably better off walking back to wherever you're going rather than taking the bus. On weekends the buses are even harder, only operating from 12pm-8pm every 20 minutes and then again at night stops until 12:30am. Again, on weekends you're probably better off just walking.
7. The CAT schedule is better
The Free Trolley runs basically all day long Monday-Saturday (6:35 AM – 11:32 PM) and still does pretty well on Sunday (8:00 AM – 5:47 PM), and between the 7 line which runs Monday-Saturday and the 12 line which runs on Sunday, you'll always have access to barracks road too! Those lines run on the same timetables as the Free Trolley.
8. Requesting a Stop
For those who hadn't ridden public transit until UVA, this is a new thing for us. Luckily it's pretty simple! When your stop is next, you can ensure that the driver stops at it by pulling down on the wire that runs along the sides of the inside of the bus until you see the "stop requested" light at the front of the bus light up. If you don't do this and there isn't anyone waiting to be picked up at the stop, the driver will skip it!
This seems like a lot, but you'll get the hang of it. Just make sure that whenever you need to take a bus somewhere, check both apps to make sure that you're getting the quickest bus and follow these tips and you'll be fine!
---
---
Related Articles