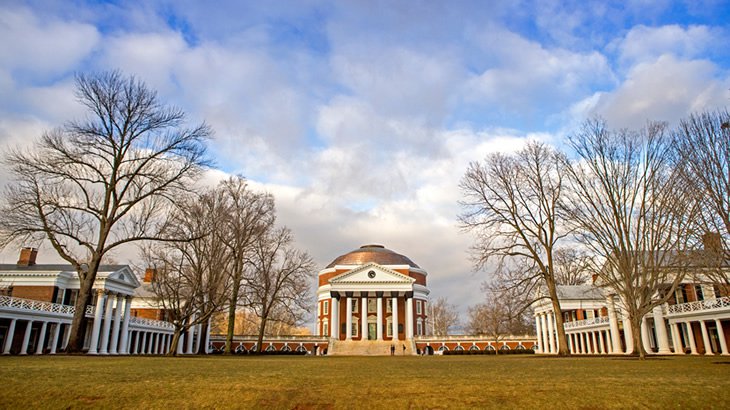 Every school has its quirks and traditions that really only make sense to its' students and alumni, and UVA is no different. After nearly 200 years in business as a school, UVA probably has a list longer than most, but here are 10 things you only understand if you go to UVA.
1. The Amount of Pride One Can Have for a Bad Football Team
Ask any Wahoo and they will tell you that UVA doesn't exactly have the best football team in the world. To our great chagrin, we usually lose more games than we win, but that has never stopped us from attending every game and being upset when we lose. Because despite it all we're still proud of that team, so we better not hear any other school calling us bad…
2. The Magic of Bodo's
Anyone who has ever lived in Charlottesville knows that Bodo's Bagels is a downright magical place. Bodo's is one place that has managed to become breakfast food, hangover food, a nice lunch spot, and a good place for a snack. The coffee may be terrible, but the bagels go above and beyond the call of duty of our local food joints, and UVA students love them.
3. The Blessing and Curse of Clem Library
Clemons Library is one of the only places on Grounds that is open 24/7 and as such it is usually the host of late night students getting their last bits of work finished. That in itself makes it a very popular spot, especially during finals when getting a spot is near impossible, but when finals are over and you finally emerge, you realize that you actually can't stand it in there.
4. The Traditions of Being Old
UVA is fast approaching it's bicentennial this October, and while being an old school is awesome, it means there are quite a few traditions to be upheld. Not everything dates back to 1817, but traditions like streaking The Lawn, the midnight snowball fight at first snowfall, and the Good Old Song are still done (or sung) with great pride. Heck, we even eat ice cream at certain events because it was Jefferson's favorite dessert.
5. The Meaning of Student Self Governance
One of the most important ideals that UVA was founded on is that of student self-governance, or the idea that the students can govern themselves. It was based on the same concept as the US government (Jefferson helped make that one too) and essentially means that students create boundaries for ourselves and hold each other accountable to them through The Honor Code and the court system. It's a unique system, but a great one because it makes us all follow and uphold The Honor Code as equals.
6. The Honor Code
The Honor Code sounds like a terrifying thing, but it is one of the greatest unappreciated-until-you-go-to-school-here things. The Honor Code basically says that if you cheat, lie, or steal and are caught there is a single sanction punishment, which is dismissal from the University. It's pretty heavy, but if you follow it, then that all translates to 'you can leave your stuff anywhere and nobody's going to touch it'.
7. The Mystery of the Secret Societies
Ah, yes, the Secret Societies. UVA has at least 19 active secret societies, the 3 oldest and most famous being the Z Society, the Seven Society and the IMP Society. They leave their marks around Grounds in the forms of letters to certain organizations, donations and painted symbols on the steps and buildings. Not much is known about the societies, but several are over 100 years old and still manage to keep us in the dark.
8. The Meaning of a Large 'Campus'
First of all, it's Grounds. At first glance Grounds seems decently large, but it isn't until you live here for a little while before you realize that large doesn't begin to cover it. Grounds really extends miles in every direction of what you already knew, which just means that there are way more places to find coffee than you thought.
9. The Levels of Bad Dining Halls
UVA gets a bad rep for having bad food, an observation that is completely deserved. What is even more fascinating though, is that each of the 3 dining halls is worse than the next. Runk is okay, Newcomb is so-so, and we all avoid O'hill when we can.
10. The Beauty of the Rotunda
The Rotunda is the centerpiece of Grounds, and really the one thing that holds us all together. It was originally the library of UVA, though nowadays it functions as a museum and study space, as well as being the place where we hold everything from Convocation and Rotunda Sing to Graduation in the spring. After the latest renovation of it finished in spring 2016, the marble bust of our founder was reinstated in the entryway with the statement 'Welcome Home, Mr. Jefferson'.
---
---
Related Articles