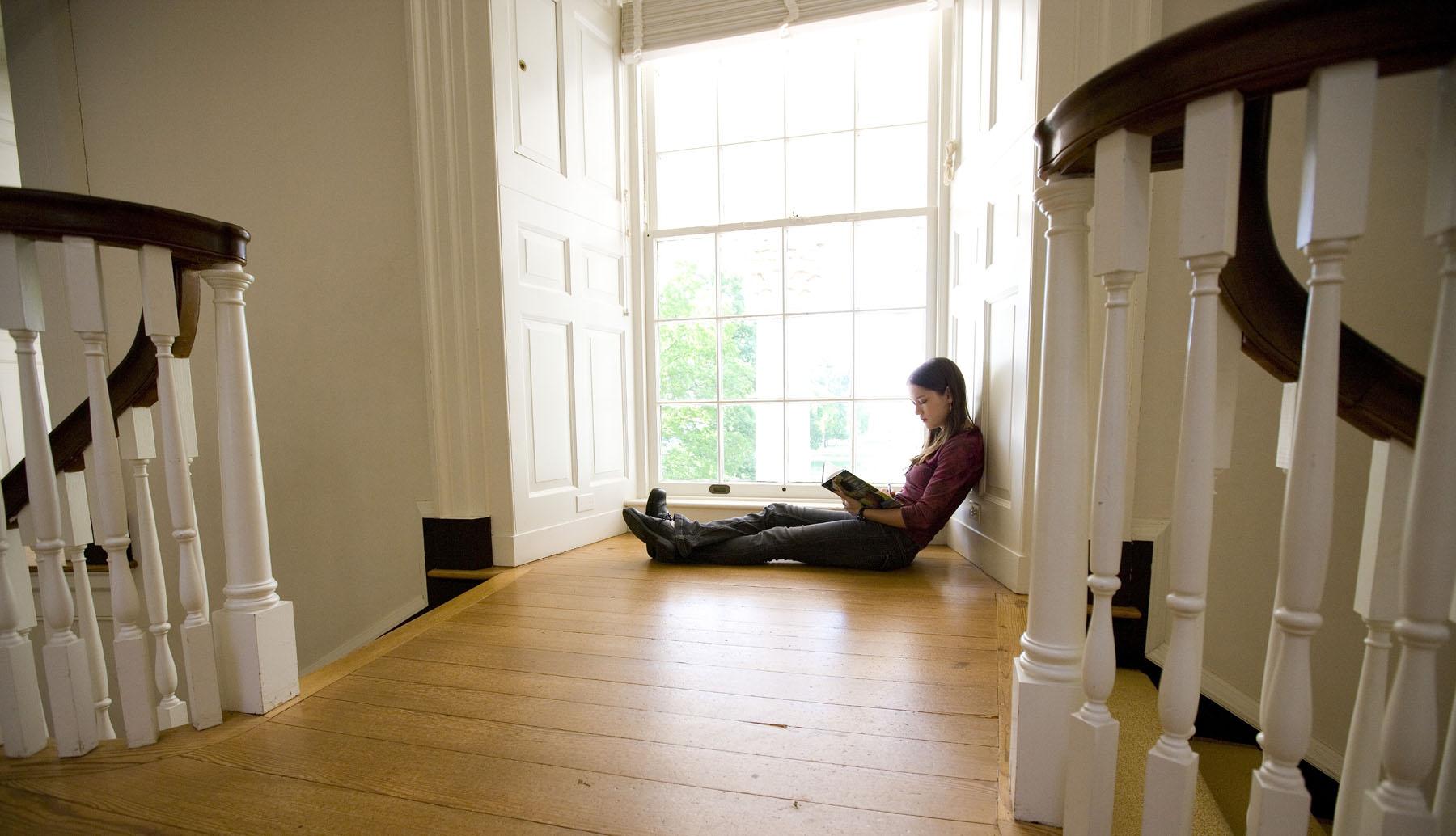 There are many places on and off Grounds that students like to put in work.  The University has 12 libraries, so you'll never be without a place to study. But you may have realized around exam time last semester that being crammed into a crowded library with hundreds of other loud students may not be the most productive work environment. Alderman, Clark, and Club Clem will always be there for you should you want to do work in a library, but UVA has more to offer. There are dozens of underrated places to study on and off Grounds. Should you ever get sick of fluorescent lights and fighting for spots near the window, here are five of the best places to study at UVA.
1. The Pavilion Gardens
Granted, the frigid temperatures during the winter make it pretty much impossible to study in one of the Gardens between the Lawn and the Range. But, weather permitting, you won't find a more beautiful place to do your work. Serene, beautiful, and quiet, the gardens provide a wonderful place for you to sit in the shade and study, provided you're not distracted by their beauty – or attacked by bees during the spring.
2.The Christian Study Center
The Christian Study Center, affectionately known as the Stud, is located on Chancellor Street, a few minutes from the central Grounds – and the short walk is worth it. You may be familiar with the Stud because of ever-popular Exam Snacks. During finals, students file into the quaint house to rest and refuel. Every type of snack is served, from Chick-fil-A biscuits to mini sandwiches to an assortment of sweets and desserts. Their doors are always open to students, providing multiple quiet study rooms with killer mountain views. You can always pop into the Stud for good food and good conversation, even after finals season comes to a close.
3. Brooks Hall
Despite the fact that it is an academic building on Grounds, there are many students at UVA who have never even heard of Brooks Hall. Venture just past the Rotunda and you'll find an striking, ornate building that previously functioned as a natural history museum. The historic aspect of the building is palpable. The Victorian architecture takes you back in time as soon as you enter, and the building's lobby functions as a student commons, offering comfortable couches and quiet studying nooks. If you ever have a class in Brooks Hall, make sure to arrive a few minutes early to soak up the buildings antique and peaceful feeling.
4. The Rotunda
This one isn't as underrated as the others, but you'd be surprised how many students have never taken full advantage of the iconic Rotunda. The building is the heart of Thomas Jefferson's Academical Village, and a sense of academia and scholasticism permeates the air in the Rotunda. Like the Stud, the Rotunda includes multiple quiet study rooms. The Dome Room upstairs offers a large, open space flooded with natural light. Find a study nook next to one of the windows, surrounded by floor to ceiling bookshelves. If you can deal with middle schoolers on field trips and tour groups taking a look around the Rotunda while you study – which is understandable, because the 'Tunda is gorgeous – you won't find a better place to motivate you to finish (or start) that ten page paper.
5. Nau Hall
Nau is one of the newer buildings on Grounds, and it shows. The huge building empties out into a sprawling terrace, offering both indoor and outdoor places to study. Inside of Nau, you'll find that each floor is complete with lounges for students. Settle down next to the floor to ceiling windows or in a cozy studying nook between classes. If the sun is shining, the outdoor terraces provide stunning views and shaded study areas. After you finish studying, go ahead and treat yourself to the Starbucks on the first floor of the building. But be careful to avoid the rush by getting your caffeine fill in between classes, when the line is much shorter.
Those are just a few of the hidden treasures UVA has to offer. Next time that friend calls you up for an all-day study session in Alderman, try and convince them to set up camp in the Rotunda or catch the bus to the Christian Study Center instead. You'll be inspired by the change of scenery, and you won't empty your wallet at Greenberry's.
---
---
Related Articles