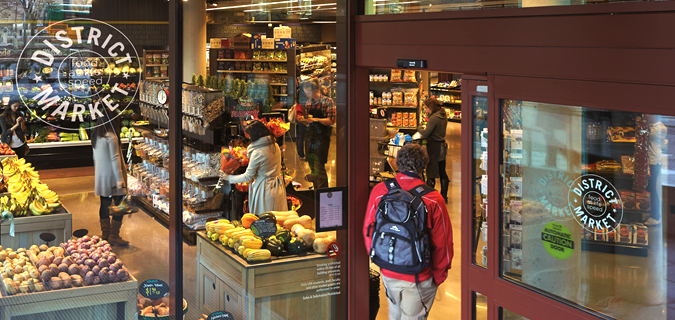 Fortunately for the UW student, there is much food to be had in the area surrounding the campus. I've listed some favorite places in town to go for good food on a college budget for when the dining plan runs out or you get bored of the campus dining. All offer tasty vegetarian options, and the last three are also great for studying.
1. Aladdin Gyro-Cery and Aladdin Falafel Corner
These are two locations that serve the same menu, with minor exceptions. Convenient for those late nights with the lads, Gyro-Cery and Falafel Corner close at 3:30 am on Fridays and Saturdays, and around 2am the rest of the week. Expect Mediterranean fare with your choice of beef/lamb, chicken, or falafel.
Aladdin Gyro-Cery: 4139 University Way NE, Seattle, WA 98105
Aladdin Falafel Corner: 4541 University Way NE, Seattle, WA 98105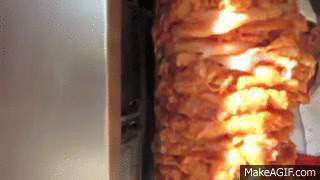 2. Sarducci's Specialty Sub
This Sarducci's location features sweet and savory crepes alongside its usual sandwiches. If you aren't full after eating a sub here or a sandwich from Aladdin Gyro-cery next door, try a banana Nutella crepe. You won't regret it.
4135 University Way NE, Seattle, WA 98105
3. Chipotle Mexican Grill
Chipotle is in both University District and University Village – North Campus kids rejoice! Here you can get a burrito the size of a small baby or a bowl if you're looking to lower your carbs.
Fast service.
U Village: 2626 NE 46th St, Seattle, WA 98105
U District: 4229 University Way NE, Seattle, WA 98105
4. Burger and Kabob Hut
Delicious and inexpensive, this is the place to go for a variety of burgers and pitas. I recommend the paneer deluxe burger. Open until 4:00 am Friday and Saturday and 3:00 rest of the time.
4142 University Way NE, Seattle, WA 98105
5. MOD Pizza
Highly customizable pizza, freshly baked. MOD is a short walk from UW campus proper, just off 15 th Ave.
1414 NE 42nd St, Seattle, WA 98105
6. Memo's Mexican Food Restaurant
Open 24 hours, Memo's offers authentic and cheap Mexican food for those times when you want tacos but it's 5 am (and all other times too). You are more likely to meet interesting characters here late at night than at most restaurants.
4743 University Way NE, Seattle, WA 98105
7. Domino's Pizza
The service could be better, but you want pizza here and now, so you go to the Domino's in U Village or have it delivered. Price per calorie ratio can't be beat.
2724 NE 45th St A, Seattle, WA 98105
8. Cafe on the Ave
I occasionally go here for their French toast and coffee. A short walk from West Campus, Cafe on the Ave is not a bad option for a study session with the lads.
4201 University Way NE, Seattle, WA 98105
9. Cafe Solstice
In my experience, Solstice is more crowded than Cafe on the Ave, but the service is fast and the pastries are tasty. Consider the patio, if it's open on a sunny day.
4116 University Way NE, Seattle, WA 98105
10. Cafe O'Dessert
Although it's a little far up the Ave, it's worth going here for the Hong Kong style desserts, egg waffles, and shaved ice. Also serves savory dishes.
4727 University Way NE, Seattle, WA 98105
These options should satisfy the palate of the discerning student on a budget, but then again, maybe not. Try them all and then try more places. Seattle has no shortage of options for eating out.
---
---
Related Articles