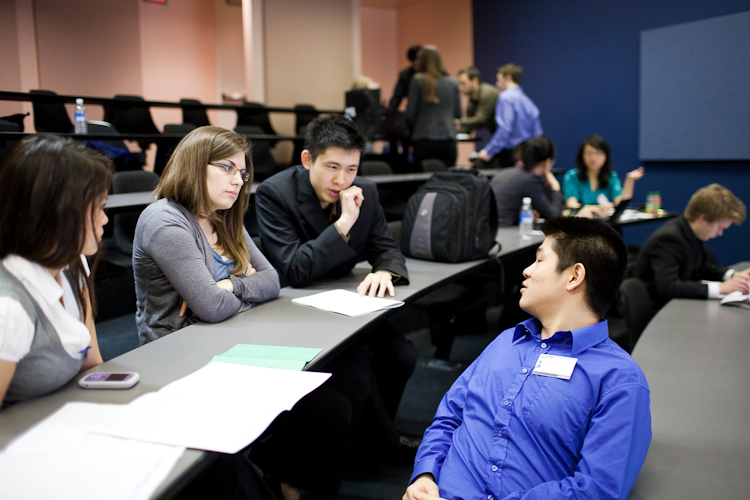 For many students entering the Science and Business program at the University of Waterloo, one of the most daunting courses is the SCBUS123 workshop. Here are five tips to help you succeed and make the workshop a little less scary:
1. Talk to the professor and the Teaching Assistant.
This tip is number one for a reason. The best way to do wwll in this (and any other) course is by talking to your professor and TA and understanding what they're looking for. The professor may come across intimidating, but that's okay. Start by going to the TA's office hours and talking about literally anything with him or her. Then work your way up to talking to and having a solid rapport with the professor. Make yourself comfortable asking questions and making sure you understand what they want you to do.
2. Stay on top of the readings
SCBUS123 does not have a final exam. This does not mean, however, that the textbook readings aren't important. Make sure to read ahead the chapters that will be discussed in the next class and then review them again after class to make sure you understood all the points the professor emphasized. These readings and what you learn from them will come in handy when you have to do the final project and individual assignments.
3. Stay on top of assignments.
This really is one of those courses where you cannot put the assignments off till the last moment. Once you've covered the material necessary for a particular assignment, start working on it. Work on it bit by bit and run your ideas by your TA. If you take it bite by bite, eating an elephant doesn't seem too scary, right?
4. Communicate with your group.
This course, as most business courses are, is very heavily group based. You need to communicate with your group frequently, especially when working on one of the presentations. Make sure everyone understand the material being applied and that everyone is diligent in handling their portion of the work.
5. Try to make it fun.
The professor for this workshop is really cool. You'll get to hear lots of funny stories (that somehow still have lessons in them) and the presentations are super interesting to watch. If you're in the Science and Business program, you probably are interested in business to some extent, right? Try to explore that interest and have a good time in the workshop!
This workshop is one that you will have to continue to take in all years, if you stay in this program. Once you've learned the tips and tricks of SCBUS123, SCBUS223 and all the upper level workshops will be a breeze!
---
---
Related Articles