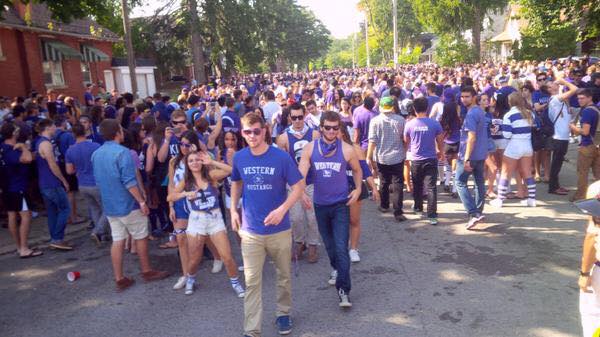 1. Dying Eng Purple
Engineering is one of the most unforgiving and difficult programs at Western, so Eng is generally given some creative license. So, every year during orientation week, the engineering department dyes everyone purple. They get a head to toe makeover. The showers in residence have dye all over them for weeks after.
2. Engineering Pumpkin Drop
And it's not just body dye that the engineers get up to, there's also a yearly pumpkin drop to support Western's Engineers Without Borders. It's an amazingly fun event that every student should take a break to go check out!
3. Broughdale
Every year, without fail, Western students will head out to Broughdale to celebrate homecoming. For some reason, no other street will do, Broughdale is just the place to be if you want to party.
4. Sledgehammer Bingo at the Ceeps
Basically, if you go out The Ceeps on a Tuesday night, you're probably going to be playing bingo. And if you win, you get to take a sledgehammer and smash up some fruit. It's something you didn't know you needed in your life until right now.
5. UC Selfie
Western has a beautiful campus, and perhaps one of its most iconic buildings is University College. And at some point during every Western student's career, they will take a picture with it. It gives you that quintessential "Western" image, plus it makes every photo 100x better.
6. Spoke Beer Tour
The Spoke is one of the most popular places to eat on campus, but it also offers an extremely wide array of drinks as well. The Spoke has a "beer tour of the world" that includes everywhere from England to Australia to Slovenia.
7. Rick night at The Spoke
Wednesday night is Rick night at the Spoke. Every week, Western students head over to listen to the man, the myth, the legend.
8. Intramural Purple Shirt
If you thought sports weren't competitive enough before, imagine awarding a coveted prize to the best team in an intramural league. At Western, that prize is the Purple Shirt, and it brings intramurals to a whole other level.
9. CLT
The CLT is not just a food. You may think that it's just chicken, lettuce, and tomato, but it's so much more than that. It's the holy grail of food at Western.
10. UC tobogganing
Back in my parents' day, you could grab a tray from the cafeteria and go sledding down UC Hill. And you can still do that today! Some things change, but some awesome, weird Western traditions will always stay the same.
---
---
Related Articles