Back to University of Windsor Blogs
International Students Essential to the Financial Health of the University of Windsor
Changes to postsecondary education by Doug Ford this coming educational year are probable to have significant consequences for international students studying in Ontario universities.
For example, in response to this coming year's mandatory ten per cent drop in domestic tuition for Ontario universities, some schools are turning to international students to balance out this expected drop in tuition revenue.
Among these schools, the University of Windsor is one university that has already announced an increase in international tuition of five per cent this coming academic year in response to the domestic tuition cut.
With the aim of showing current and past trends in international and domestic student tuition and enrolment at the University of Windsor, we compiled data from 2006-2017 to find meaningful insights to share with UWindsor students.
The overview of our analysis is that over the years, the University of Windsor has been progressively dependent on international students with no sign of this reliance slowing down.
See the full analysis below.

---
*When a year is stated, it is the beginning of that academic year. (ie. 2006 refers to the 2006-2007 academic year)
*Data was collected mainly from CUDO (Common University Data Ontario) by the Council of Ontario Universities, school documents such as tuition fee schedules and school-specific CUDO data.
*Tuition fee data was based on the tuition cost for an average undergraduate arts and science full-time degree as this is the metric CUDO uses as a common metric among all Ontario universities.
*The tuition fees stated below refer to the tuition cost for the first-year of studies.
---
The University of Windsor Tuition Fees
International Tuition Increased at Rates 3.1x and 3.7x Higher than Domestic Tuition and the Inflation Rate, Respectively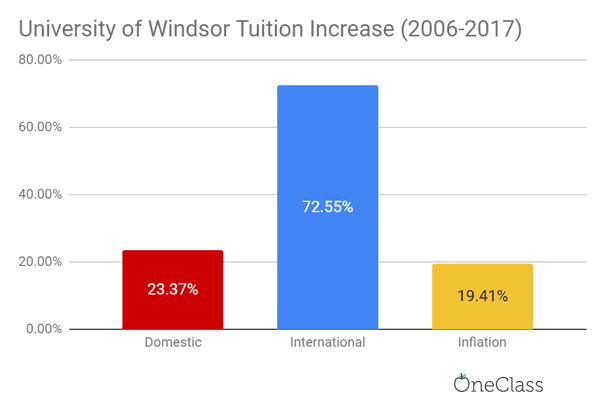 First-year domestic tuition costs for a full-time undergraduate arts and science degree at UWindsor grew from $5,096 in 2006 (in 2017 dollars) to $6,287 in 2017, which is an increase of 23.37 per cent.
On the other hand, international tuition for the same degree grew from $13,040 in 2006 (in 2017 dollars) to $22,500 in 2017, which is an increase of 72.55 per cent.
The increase in international tuition costs outpaced the domestic tuition increase and the inflation rate by disproportionate amounts, showing signs of increased reliance on the tuition revenue coming from international students.

International Tuition Increased by 8x More Than Domestic Tuition Each Year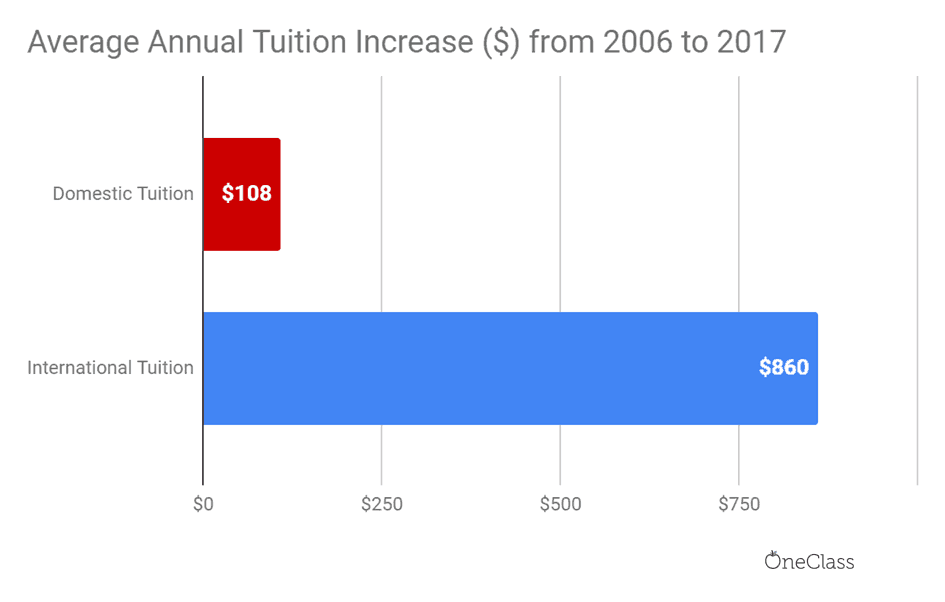 From 2006 to 2017, the average annual domestic tuition increase was only $108 while the average annual international tuition increase was $860.
This means, in terms of dollar values, that international tuition increased by more than eight times the amount of domestic tuition each year.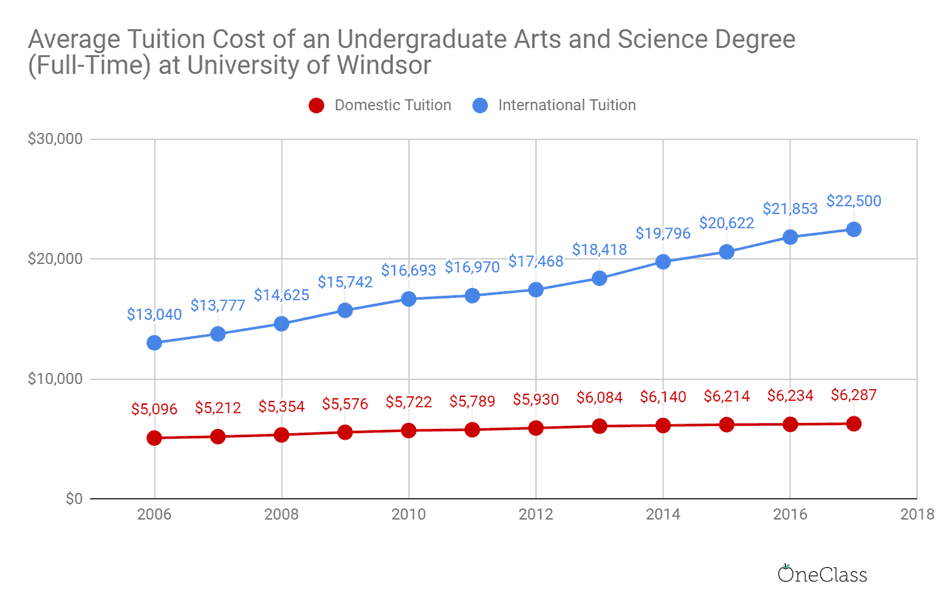 Looking at international and domestic tuition each year, it can be seen that international tuition has been rising at a rate significantly higher than the slight increase rate of domestic tuition.
The annual financial contrast in tuition increases demonstrates the intention of the University of Windsor to capitalize further on incoming international students.
From 2006-2017, International Tuition Increase Rates Outpaced Domestic Tuition Most Years by Double the Amount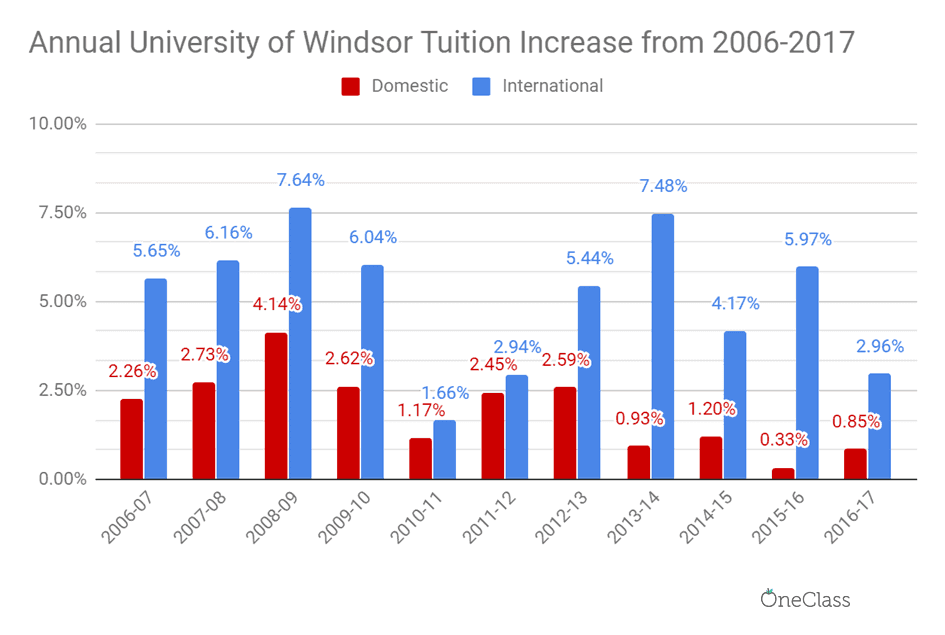 From 2006 to 2017, the increase in international tuition was more than double the size of domestic tuition for the majority of the academic years.
For instance, from 2013-2014, international tuition increased by eight times more than domestic tuition, clearly showing the university's focus shifting to international tuition revenue.
---
*International Student Fees NOTE:
One important thing to note is that the fees being used to calculate international fees do not include ancillary fees, UHIP, Ontario's International Recovery Fee, etc.
Although ancillary fees are typically equal for both domestic and international students, extra fees such as UHIP and Ontario's International Recovery Fee could add an additional $1000-$2000 to an international student's yearly fees.
Which would further widen the gap between total international and domestic fees.
---
*Enrolment data is based on both full time and part time students for all levels of degrees including Bachelor's and 1st Professional Degrees, Master's Degrees, and Doctoral Degrees.
---
The University of Windsor Enrolment
International Enrolment has Increased by 95 Per Cent While Domestic Enrolment Decreased 15 Per Cent from 2006-2017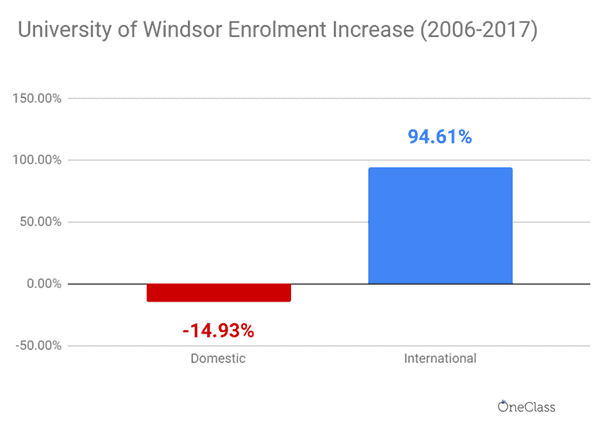 From 1,596 international students in 2006 to 3,106 in 2017, the University of Windsor's international student population almost doubled at a rate of 94.61 per cent.
However, from 14,744 domestic students in 2006 to 12,543 in 2017, the University of Windsor's domestic student population actually decreased 14.93 per cent.
Which effectively means that international student enrolment from 2006 to 2017 doubled, while domestic student enrolment actually dropped.
The University of Windsor Student Enrolment Breakdown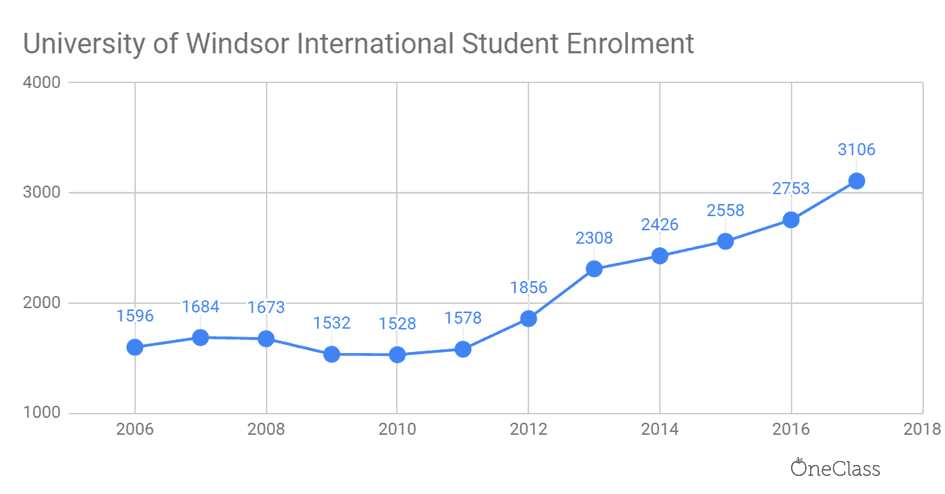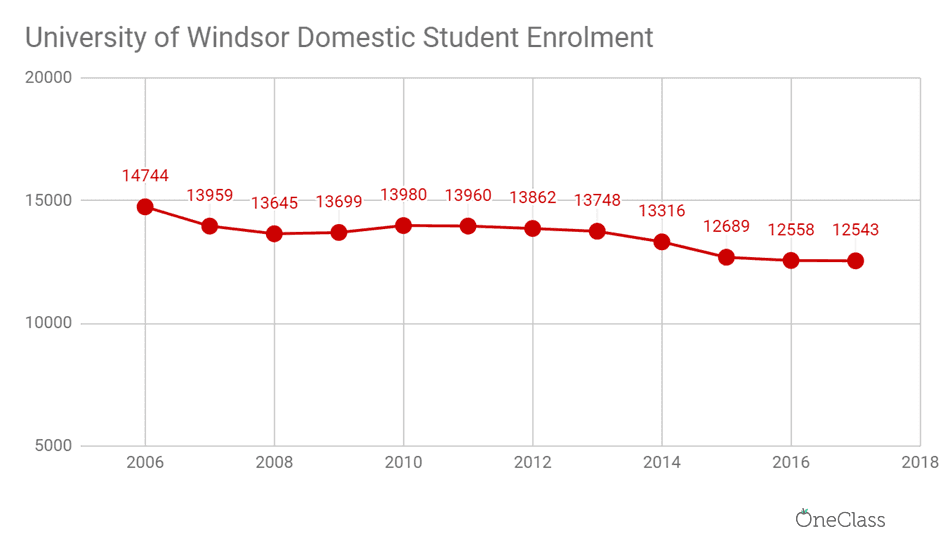 When broken down into international and domestic enrolment over the years, there is a sharp difference between the two groups of students.
While international enrolment has been steadily increasing annually, domestic enrolment has gone down since 2006, showing the university's increasing reliance on international students over domestic students.
On Average, International Enrolment Increased by 15 Per Cent Annually While Domestic Enrolment Dropped 1.5 Per Cent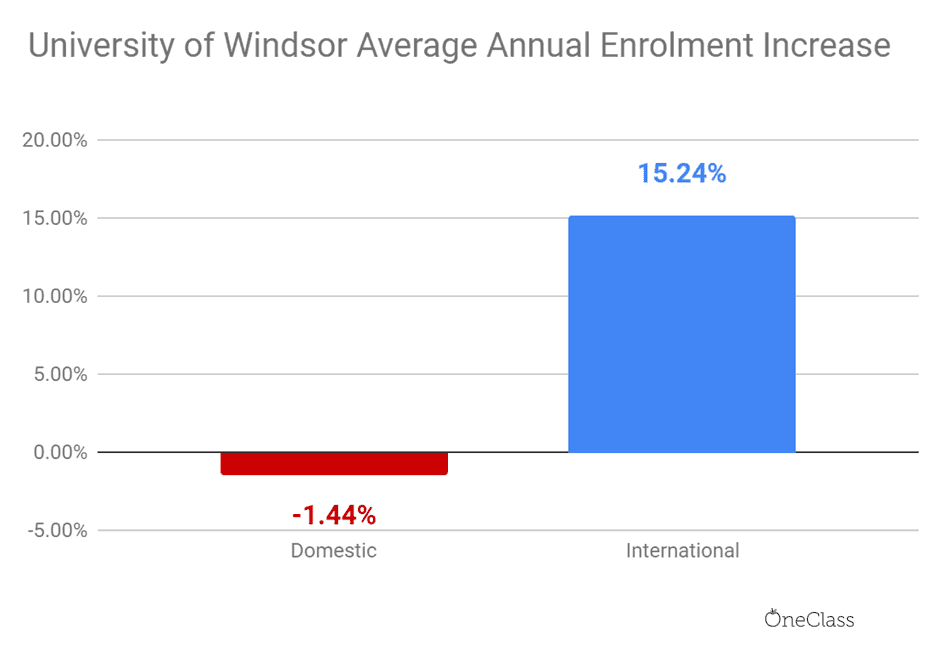 As international student enrolment grew by a significant amount each year, domestic enrolment showed a downward trend.
This means that the University of Windsor focused almost entirely on growing international enrolment, neglecting the enrolment of domestic students relative to international enrolment.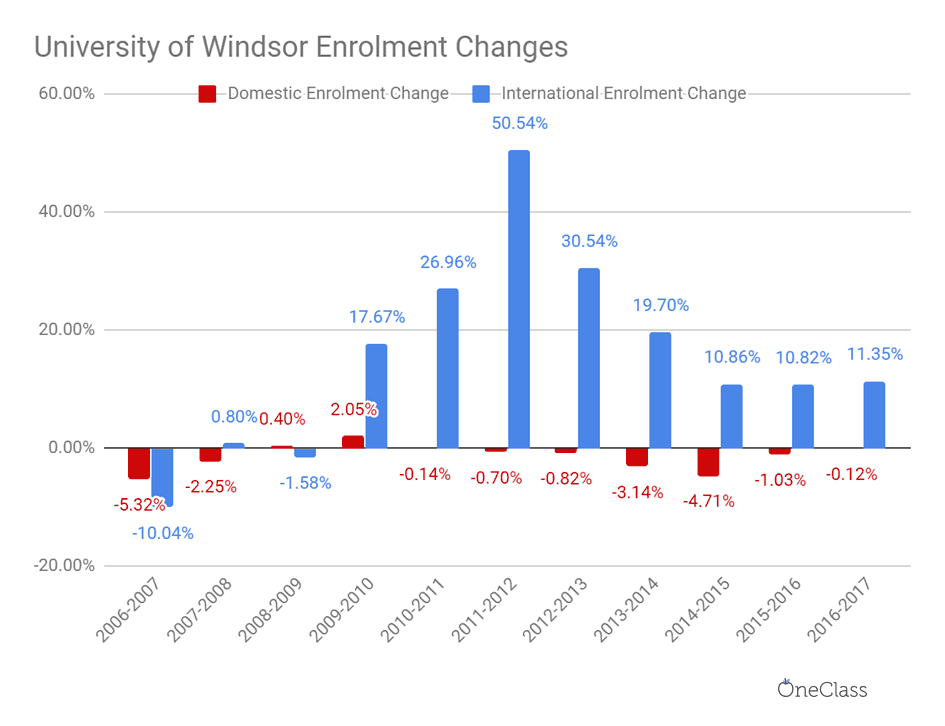 When looking at enrolment on a yearly basis, it's clear that the University of Windosr has had a greater focus on growing their international student population far more than their domestic student population.
From 2009 onwards, the number of enrolled international students has exceeded the number of domestic students by more than double the amount each year.
For example, international enrolment increased by 50 per cent in the years 2011-2012, while domestic enrolment actually decreased.
The Proportion of International Students at the University of Windsor has More than Doubled From 2006 to 2017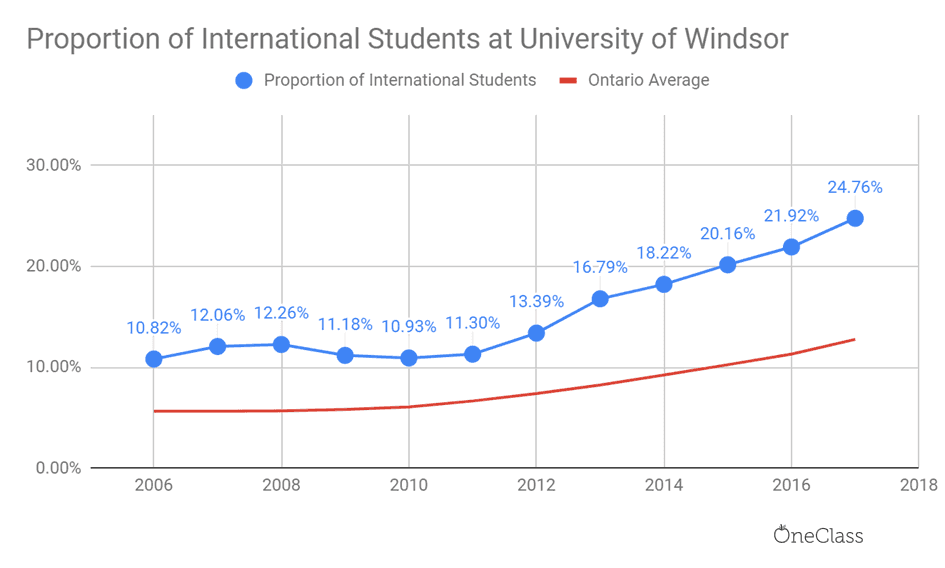 From 10.82 per cent in 2006 to 24.76 per cent in 2017, the University of Windsor's increasing dependence on international students has resulted in the proportion of international students at UWindsor more than doubling in just 12 years.
---
It is clearly evident that the University of Windsor has turned more to international students as a significant source of revenue through considerably greater tuition increases and enrolment levels compared to domestic students over the previous 12 years.
Ontario universities have taken advantage of their high international demand to increase their international tuition fees and enrolment without major implications due to the quality and accessibility of their schools, as well as a cheap Canadian dollar relative to competing countries.
With Ford's changes to education set to be imposed this coming academic year, namely the ten per cent drop in domestic tuition, a further increase in international tuition and enrolment appears to be expected and is, therefore, something that international students should take note of.
---
Notes:
*Ancillary fees, Incidental fees, UHIP, Ontario's International Recovery fee, and any other fees were excluded from calculations; only tuition fees were included.
*Enrolment data was collected from CUDO by the Council of Ontario Universities.
*See here for a similar analysis but on Ontario as a whole: 
Ontario Universities' Increasing Reliance on International Students
---
Sources:
University of Windsor CUDO Data
CUDO Tool by the Council of Ontario Universities
---
Related:
Ontario Universities' Increasing Reliance on International Students
Students Say Ford's Performance-Based Funding is Misguided
Queen's University by the Numbers: An Intuitive Financial Analysis For Students
Should Higher-Ed Admissions Be Federally Regulated?
---
Author: daniel @ oneclass . com
---
Suggested Articles in University of Windsor