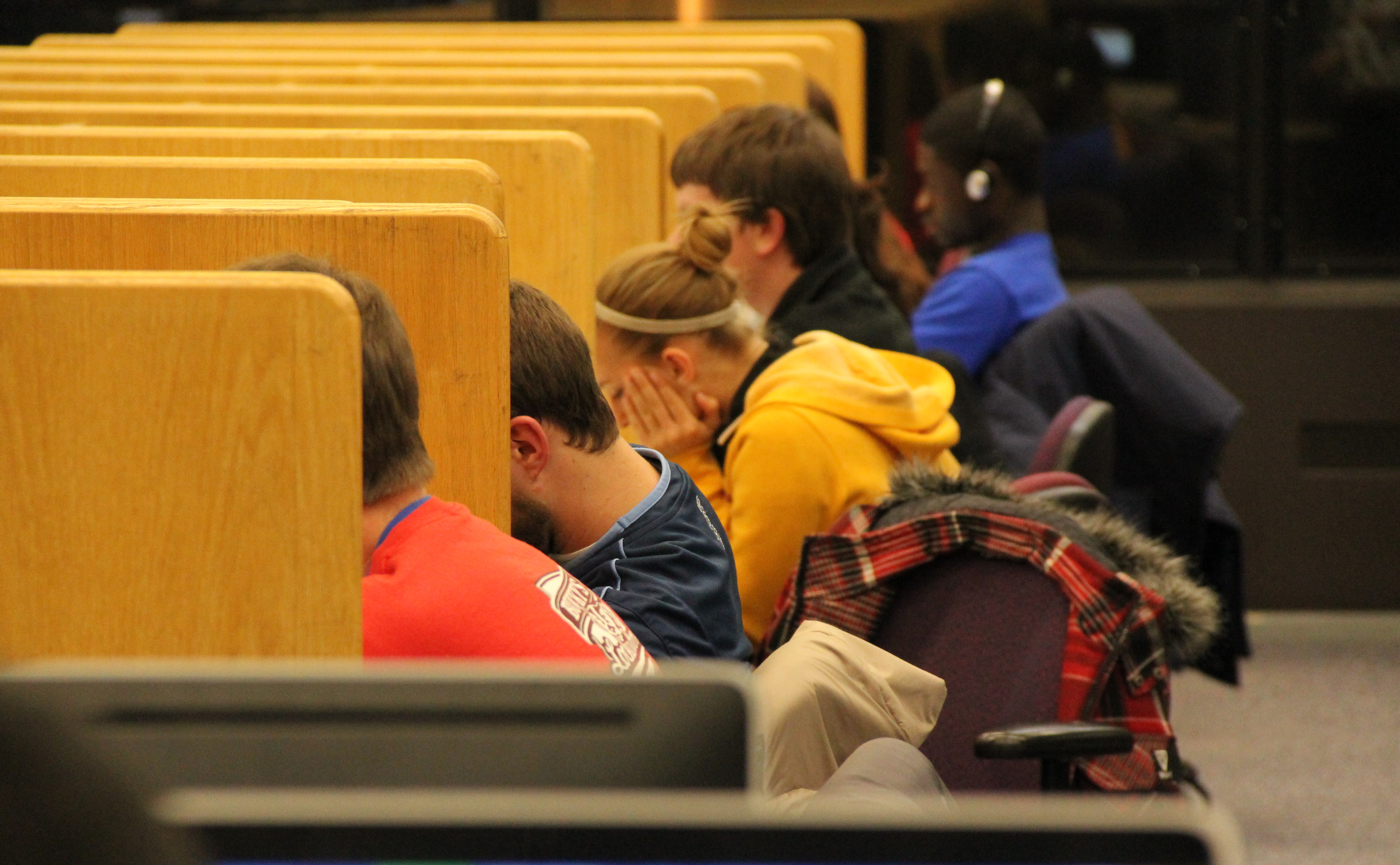 It's every student's worst nightmare: finals week at UW Madison. Whether it be crying or overeating, everyone is forced to cope with the insane amounts of stress that go along with studying for exams. Although it may seem impossible, there are ways to survive finals without too many emotional breakdowns.
1. Don't Panic
When you first look at your schedule of back-to-back finals, it can seem extremely overwhelming. Just thinking about the amount of material there is to memorize is enough to cause a meltdown altogether. But don't panic! Take a deep breath, and view your exam as not an obstacle to your grade, but an opportunity to succeed.
2. Plan Ahead of Time
It can be hard to start early, but it is worth it to plan out your studying in advance. A couple weeks before your exams, make a daily study schedule of chapters to study for each test. And most importantly, stick to it! You're future self will be glad you spent extra time planning instead of binge-watching Netflix.
3. Spread Out Your Studying
Procrastination is the silent killer during finals week, but don't fall into its trap! Instead, split up your course material and study it bit by bit. By doing this, you'll be able to stay on track for your study goals and avoid cramming information at the last minute.
4. Choose Your Study Environment Carefully
It's important to pick a study environment that works for you. If you need absolute silence to focus, then find a quiet spot at your local library. If you prefer white noise in the background, try studying at a coffee shop or residence lounge. No matter what study environment you prefer, make sure you choose wisely so you won't get distracted.
5. Make Flashcards Your Best Friend
Flashcards are a lifesaver when it comes to studying for finals. While making flashcards can be tedious, it really helps to solidify the information in your memory. Apps like Quizlet or StudyBlue also allow you to use your flashcards on your phone. Flashcards can make any moment an opportunity to study!
6. Find a Study Group
Study groups are the key to success during finals week. Talking through difficult concepts with your peers is a great way to better comprehend exam material. If nothing else, you'll have other people with you who share your pain.
7. Ask For Help
If there is something that you don't understand, then ask! Professors and TA's are there to see you succeed and are great resources if you need help with material or advice about studying. Although going into office hours may seem intimidating, the benefits are worth it.
8. Keep Yourself Healthy
Even though you'll probably want to stress-eat pizza and ice cream, it's more important to stay healthy throughout finals week. By eating right and exercising, you're setting up your body to perform at its peak. Save the junk-food for a post-finals reward.
9. Sleep
Although finals week usually involves a bunch of late-night study sessions, staying up too late actually does more harm than good. When you get enough sleep, your brain works to solidify information into your memory. Never underestimate the importance of sleep.
10. Take Breaks
Studying can take a toll on your body and mind, so it's important to take time for yourself to regroup. Whether it be listening to music, going for a run, or just talking with a friend, study breaks are necessary so you don't overload your brain with too much information at once. Plus, taking intermittent breaks will keep you calm and relaxed as you prepare for your tests.
11. Turn Off Your Phone
There is nothing more distracting than seeing your phone light up every 10 seconds as you're trying to read through a textbook. Turning off your cell phone and placing it far away from your study environment will keep you focused on your material. I know it's hard, but Twitter and Snapchat will still be there when you're done.
12. Verify the Time and Location of Your Exams
The last thing you want to do is study all week for your exam and then show up at the wrong building. Many final exams at UW are held at different times and at different locations than the original class, so be sure to double-check the information beforehand. Plan on arriving about 15 minutes early to your test location so you'll have time to mentally prepare.
13. Have Confidence!
You've studied long and hard for your exams, and you know the material inside and out. Walk into the classroom with confidence that you're going to do well! View your exam as an opportunity instead of a challenge. A positive attitude is half of the battle, so believe in your ability to succeed!
While finals week is usually a time for struggle and stress, you can turn it into a time to shine. These last exams are the only thing standing in between you and your summer break, so you might as well end the year strong. By following these tips, not only will you survive finals week, but you'll thrive.
---
---