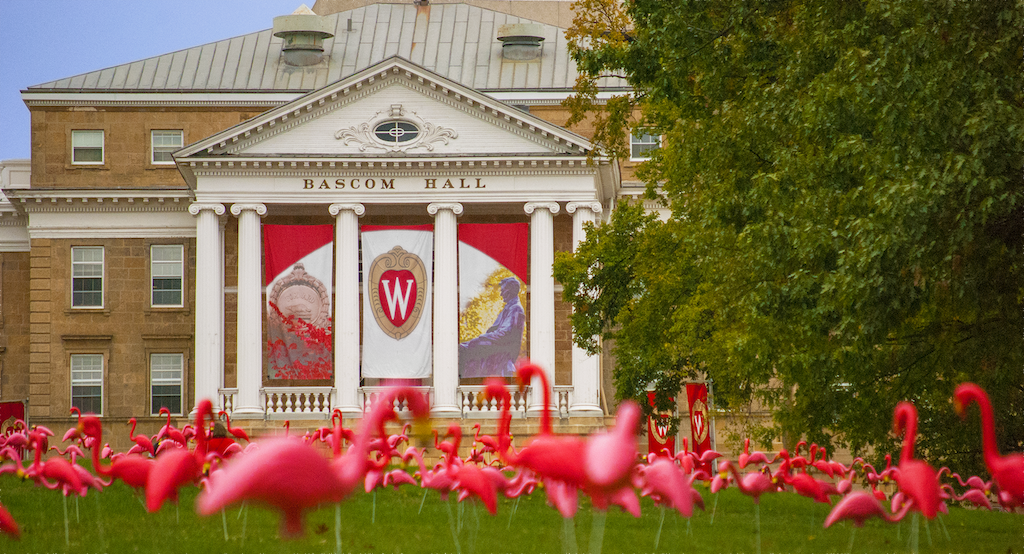 Looking for some fun and excitement in Southeast? Or, maybe the serenity of Lakeshore is more your style. Whatever your living preference may be, UW-Madison has got it all.
1. Adams
Located in Lakeshore, Adams residence hall offers either single rooms or large shared double rooms. It is home to the International Learning Community on the UW-Campus and 9 language houses. If you're looking for a diverse cultural living experience at UW, then Adams is the dorm for you.
2. Barnard
Barnard is a part of the Chadbourne Residential College located on the Southeast part of campus. It also offers single and large double rooms, and is a great choice for students that prefer alone time over large social events.
3. Bradley
Bradley is the only residence hall at UW is that exclusive to freshmen (woot woot)! It also is home to a learning community, and its residents can expect lots of planned trips and activities by its staff. What's best is that it's right next to Lake Mendota and many Rec-Sports facilities.
4. Chadbourne
Chad is a residence hall on the Southeast side of campus, located right next to Bascom Hill. It's a popular choice for both freshman and sophomores due to its prime location. What's best about Chad is that it's connected to Rheta's market, so its residents don't have to brave the cold weather every time they want a snack. Also, two words. Air. Conditioning.
5. Cole
Cole is on the Lakeshore side of campus, and it is surrounded by nature. With the Lakeshore Nature Preserve, sand volleyball courts, and the Centennial Gardens nearby, Cole is the perfect residence hall for those who prefer the serenity of nature.
6. Dejope
Dejope is one of the newest residence halls on campus, and its looks prove it. The place is practically a hotel. Not only does it contain one of the six dining halls on campus, but it also has carpeted rooms and walk in closets. Most of the UW athletes live here too, so walking by some buff jocks on the way to class every day is an added perk.
7. Kronshage
Kronshage is one residence hall that is broken up into eight different houses of mostly freshman residents. It's located right next to Lake Mendota and Camp Randall, and most of the rowing students stay here due to its proximity to the Porter Boathouse. Everyone that lives in Kronshage is super chill…even the RA's!
8. Leopold
The Leopold residence hall is known for its sustainability. From its Greenhouse Learning Community to its rooftop panels, Leopold is efficient with its energy. Aside from these special features, Leopold is a pretty standard Lakeshore dorm.
9. Ogg
Ogg is located in Southeast next to Sellery and Witte, but more sophomores tend to live in Ogg than freshman. The rooms are spacious, with walk in closets and air conditioning too. Ogg also houses a Technology Learning Center and Business Connect, so those looking to go into business can find many helpful resources here.
10. Phillips
Phillips Hall is on the Lakeshore side of campus, and is a quiet and comfortable living option. This residence hall also has some of the best lake views on campus. And, the best part is that every dorm room has its own bathroom attached. Let me repeat: ITS OWN BATHROOM.
11. Sellery
Sellery is one of the two most popular freshman dorms in Southeast, and is only steps away from Gordon's Market and basketball courts. Although its features aren't the most updated, students choose to live in Sellery for its social life. If you live in Sellery, get ready to become best friends with the other students on your floor.
12. Slichter
Slichter is a pretty basic Lakeshore dorm, housing mostly freshman residents. It has a prime location and is just minutes away from Steenbock Library, Lake Mendota, and Camp Randall Stadium.
13. Smith
Smith is pretty much a mix of freshman and non-freshman residents, and is popular to all because of its Southeast location and connection to Newell's Deli. Smith rooms are extremely large and open, with amazing walk in closets.
14. Sullivan
Sullivan is a small residence hall of mostly freshman, so it's pretty easy to get to know the people living around you. Located in Lakeshore, Sullivan is close to a large dining market and an outdoor area for activities.
15. Tripp
Located in Lakeshore, Tripp is home to the Transfer House, a community specific for transfer students. Tripp also has one of the most scenic spaces on campus, containing a volleyball court, lake views, and outdoor areas for frisbee and football.
16. Waters
Liz Water is probably the most popular choice for freshman who want to live on the Lakeshore side of campus. Waters is located at the heart of campus, right next to Bascom Hill and Lake Mendota. Waters, although in a Lakeshore area, is a very social place and helps to form a tight-knit community.
17. Witte
Along with Sellery, Witte is the most popular choice for freshmen who want to live in Southeast. Don't be fooled by the infamous nickname "Shitty Witte" because Witte is an amazing place to meet new friends. Witte offers a loud exciting social environment to its residents. If you're staying in Witte, get ready to party.
From crazy to comfortable, Madison has a dorm that will fit everyone's personal living style. While dorm living can be a total struggle, live it up while you can, because you're only a freshman once.
---
---
Related Articles