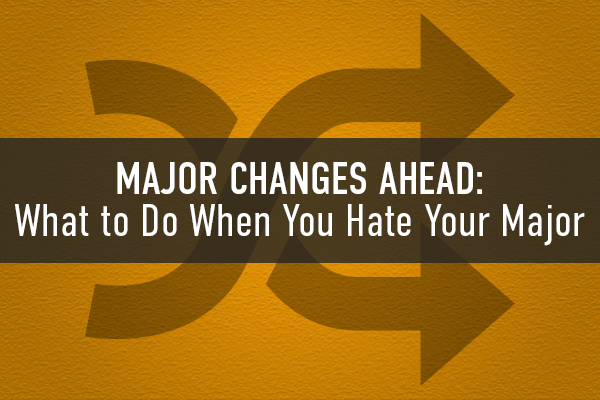 The first semester of college can be extremely rough, especially when you go in with a declared major in a specific program. If you find yourself realizing that the major you chose may not be what you thought it would be, here are some tips to help you decide what to do.
1. Tough It Out
If you enjoy your classes but think that you aren't as "passionate" as other people who have the same declared major, give it a little more time. You may find (or re-find) your passion. By learning more about your chosen area of study, you'll learn for sure whether or not it's the right choice for you. At VCU, most arts programs have to go through art foundations, which may seem tedious and pointless for people who already have a good knowledge of art mediums. Just stick out the foundational year – taking classes in your chosen major later on is incredibly worth the time spent on art mediums that aren't your forté.
2. Make Friends In Your Major
You may find yourself hating your classes/hating your major because you have no one to talk to or spend time with: finding a friend or two makes everything much, much easier and more enjoyable. Chances are, there are other people who feel the same way as you, and you can confide in each-other.
3. Talk To Your Academic Advisor
Your advisor is there to help you! An academic advisor's job is to make sure students are getting the most of their college experience, and they're great to talk to about any doubts you're having and what your course of action could be. Academic advising offices are located on the first floor of Hibbs Hall – some advisors have time for walk-ins, but you can also make an appointment by clicking on "Advising Appointments" in the resources tab on MY VCU.
4. Join Clubs and Activities Outside of Your Major
If you think your passions may lie somewhere else, seek them out! Through clubs and other activities, you just might find what you really want to do in life. If you think you know what you would want to change your major to, get involved with that interest outside of your classes. Facebook is a great place to start, as well as just browsing through the websites of different VCU programs. If you love theatre but aren't a theatre major, TheatreVCU has two theaters, both of which accept non-majors for cast and crew: a student-run theatre called Shafer Alliance Laboratory Theatre (SALT), and the main theatre program located in the Performing Arts Center. If you're interested in film but aren't a cinema or photography & film major, there's a Facebook group called "VCU Production Club," where majors and non-majors can post about upcoming projects, casting calls, and crew calls.
5. Submit A Change of Major Application
If you know in your heart of hearts that you want to change majors and know what you want to do, you can submit a change of major application to enter your program of choice. There may be additional requirements depending on your chosen major, but it's a fairly simple application that asks about your academic standing and qualifications. The VCUArts change of major application can be found in "admissions" on the VCUArts website.
Whatever you choose to do, just know that any internal struggles you have are completely normal! Never settle for a major you don't enjoy just because it'll be too difficult to switch or you don't want to be behind – it's much better, and incredibly worth it, to be content in what you're doing.
---
---
Related Articles