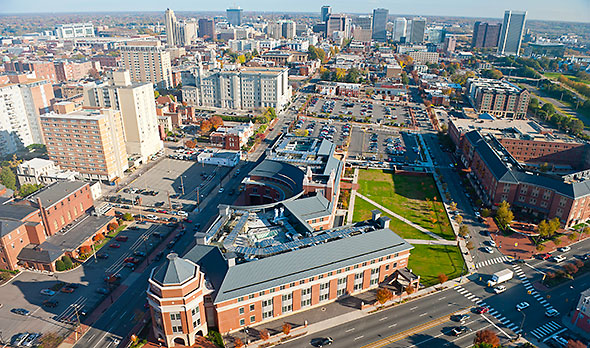 Ever just sitting in your dorm or apartment wondering what to do? Well have no fear here are ten must go place near VCU to keep boredom at bay. Also great places to take your family when they come visit.
1. The Virginia Museum of Fine Arts
Whether you're a lover of the arts or not the VMFA is an incredible place. The museum takes you through time as you walk from exhibit to exhibit. Be transported through the art of the Ancient Egyptians and question reality after seeing a Jackson Pollak painting. The VMFA is sure to make a memorable visit.
2. Belle Isle
Need an escape from the crowded streets of Richmond? Well go down to the river and cross one of the magical bridges into a beautiful natural oasis. Take a trek along the trail and if you're feeling brave create your own trail.
3. Carytown
Retail therapy is the solution to any and all stress in life. If school is driving you crazy go to the beautiful Carytown, where you can shop and eat until you forget why you were stressed in the first place. Don't forget to grab a cupcake from Carytown Cupcakes because while school may be unpredictable, cupcakes will never let you down.
4. Hollywood Cemetery
Okay so I know how this sounds. Hanging out in a cemetery never ended well for anyone. Just watch any horror movie. But Hollywood Cemetery offers some incredible scenery as well as a fascinating history.
5. Maymont
Imagine a beautiful mansion surrounded by the most breathtaking gardens. Maymont offers all this and more. With a variety of gardens and the incredible history it's like stepping into a fairytale.
6. Byrd Theatre
What better place to take your family than to a theater named after of the founders of the city. The Byrd Theatre, located in Carytown, is true cinematic treasure. The best part? Tickets only cost $4.
7. Virginia War Memorial
It is no secret that Virginia holds a lot of history. This great state has seen the rise of a nation and the continued fight for freedom. The Virginia War Memorial is an incredible tribute to those Virginians who made the ultimate sacrifice from the Revolutionary War to the Persian Gulf War. The memorial sits on a hill that overlooks the river and the city and stands as a beacon to welcome the soldiers home.
8. Branch Museum of Architecture and Design
Another cool piece of Richmond history in the middle of the Fan. The Branch museum boasts a beautiful estate and garden inspired by Tudor-Revival Design. The estate can also be rented out for wedding and events. (note: future wedding venue)
9. Monument Avenue
Monument Avenue, like the name implies is a beautiful street filled with incredible monuments at nearly every block. Fair warning if you hate roundabouts, don't drive there. The street is filled with beautiful houses and is a great place to go for a walk.
10. Capitol Square Park
Another beautiful outdoor area that is prime picnic location. Capitol Square Park is located in the heart of the city. Enjoy this little piece of paradise surrounded by the city, statues, fountains and the gorgeous capital design by Thomas Jefferson himself.
---
---
Related Articles