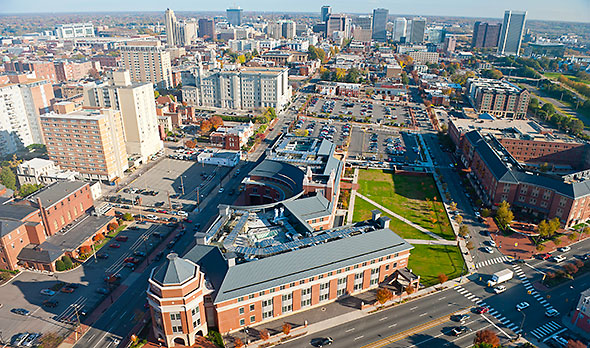 One of the incredible things about going to VCU is that food is everywhere. Everyday students have limitless options in where to eat. This can be a blessing and a curse. (i.e. freshman 15) According to Yelp these are the ten best, moderately priced (for the poor college student) restaurants near VCU.
"OMG OMG OMG!!!! This place should be on any culinary short list in the RVA area! Amazing hosts, making amazing fresh pasta to order. Can't recommend any further. Everything our family ordered was perfection. The Carbonara was on point. EAT THIS NOW!" – Al A.
"Holy chocolate cake! This place is so adorable. It's got this chic little vibe which is kind of a cross between hipster coffee shop 50s diner and a girls make up room. They serve beer on tap as well as coffee and other drinks and they have a changing menu of desserts." – Amber C.
"My favorite sandwich shop in town. Cute little hole in the wall take out spot, with gourmet sandwiches. Everytime I come I get the Pork Belly Banh Mi, which is ahmazing. I always tell myself I'll try something different, but why fix it if it ain't broken (am I rite?)." – Maya G.
"Hot damn, friends! I lived here for several years, left, and then came back to find this gem in the downtown area right near the Richmond Convention Center. A friend of mine actually recommended this place and based on her literal glow (her face LIT up when she said the name of this place) I knew I had to stop in."- Mai P.
"Whenever someone asks for recommendations for a nice dinner out, Heritage immediately comes to mind. The decor is upscale yet cozy, servers are friendly and knowledgable, and the bar menu is creative and extensive. The food ain't too shabby either, and by ain't too shabby I mean it's literally the bomb."- Beki S.
"Named after the neighborhood, The FANcy Biscuit is about as Richmond as it gets! When it comes to breakfast, it's hard to beat a good ol' buttermilk biscuit made from scratch and then topped with lots of stick-to-your-ribs goodness. They make the biscuits right in front of you and it's so fun watching them form and punch out the biscuits with nothing but skill and love. LOTS of love."- Sonia C.
"What an awesome place! We ordered the soppressata, mortadella, and prosciutto even though we weren't exactly sure what it was. I'm not really into sandwiches, but this was an amazing sandwich. Best I had ever had! Even my husband the sandwich buff said it was in his top 5."- Betsy S.
"Charm! Charm! Charm! This place is absolutely charming. I love to go for date night and enjoy a sandwich and bottle of wine with a friend for $30, I also suggest adding a slice of pie because it is DELICIOUS!"- Caron L.
"I love walking here to grab a Friday morning treat. Get the mocha with half sugar and you will not go wrong–or the almond milk latte. The staff here are really nice, funny, and great at what they do. If you're feeling frisky go ahead and get a bacon & cheese scone. I'm eager to try their pour over coffee next. It looks heavenly."- Amanda S.
"Chicken Fiesta was a refreshing change from all the fast food chains. A must go, if you want a semi quick bite to eat; meaning they don't shove your food in a paper bag. If your eating in; the food is nicely presented, when you get the platter version. It is not fancy by no means, but it is clean." – Dennis H.
---
---