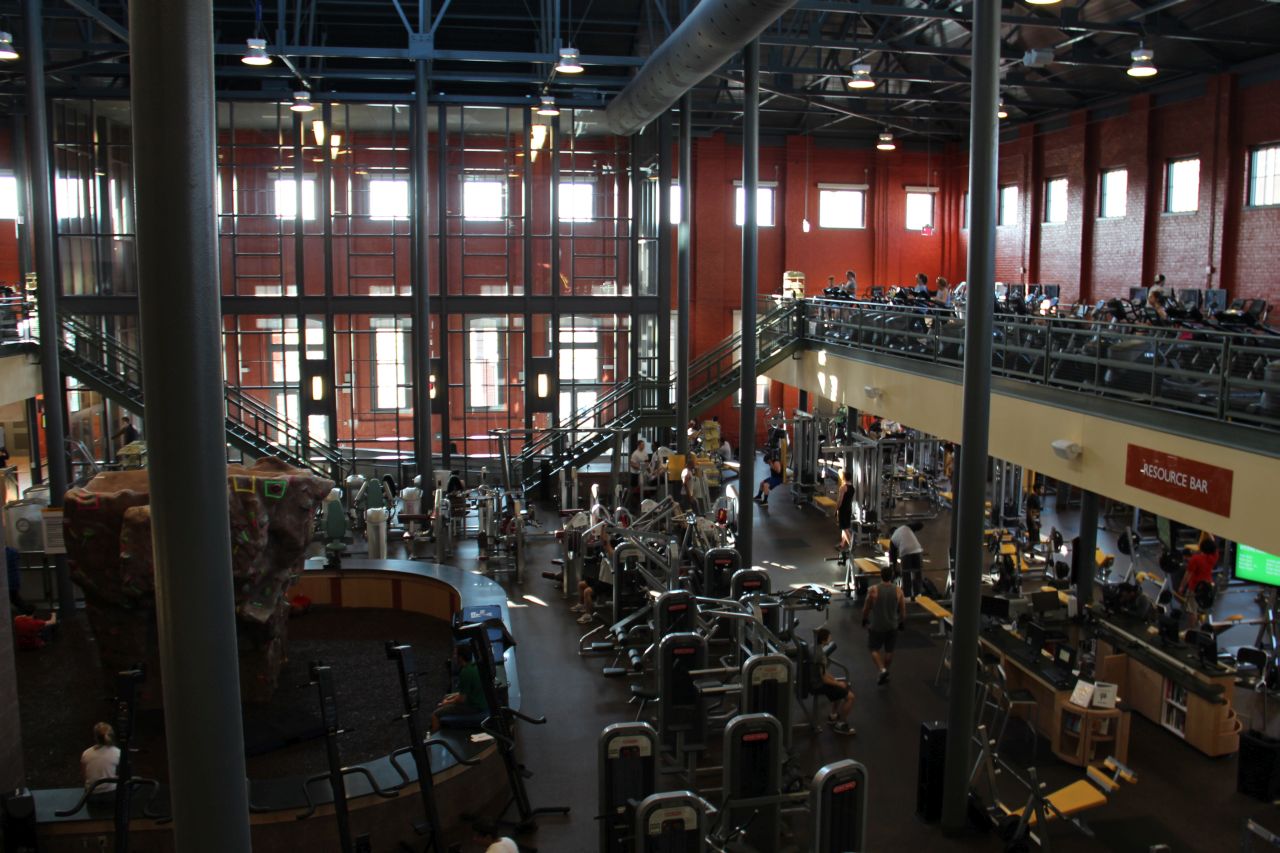 The Cary Street Gym is just one of many facilities within the Rec Sports Department at Virginia Commonwealth University. Located on the corner of South Linden Street and West Cary Street, the gym focuses on the health and wellness of the students at VCU as well as members in the community. In order to complete this mission, they offer a variety of equipment, facilities, and equipment in one 18,000-square-foot building. Below are some of the best features of the Cary Street Gym.
Climbing Equipment
Upon entering the gym, you are faced with a 37-foot climbing wall and a 12-foot bouldering wall. These facilities are operated and maintained by a trained climbing staff to assist beginners and seasoned climbers alike. You are allowed to bring your own gear if you have it, but the gym also provides you with the proper equipment if you need it. The walls are only available for use at certain times, which can vary from month to month, so it's best to check the "Facility Hours" page on the gym's website to know when they are operating.
Aquatic Center
The Aquatic Center at the Cary Street Gym has three main sections. There is an activity pool that ranges from 3 1/2- 12 feet deep and features two designated lanes and a waterslide at one end. In addition, there is a 'resting pool' for people looking to relax or cool down after a work out that includes a gentle whirlpool section. The Aquatic Center also has a large hot tub that reaches temperatures of 102-104 degrees Fahrenheit. Many students use the hot tub to destress after a long day of classes or for recreation on winter weekends.
Massage Therapy
Few students know that the Cary Street Gym also features massage therapy at a discounted price for students. For just $40, a VCU student can get an hour-long table massage that will help them decompress from the chaos of their busy lives. The best part about the massage therapy program is that it is in-house, so it is very easily accessible. Appointments must be made in advance and tend to get a little busier around exam week, so it's best to plan ahead if you plan on booking one.
Variety of Classes
If you're looking for a more social gym experience, there are a multitude of classes available at the Cary Street Gym. Yoga, Zumba, kickboxing, water aerobics, dance classes, cycling, and pilates are just a few of the free options that the gym offers. It is recommended that you sign up for the classes online before you attend them, but sometimes there is enough room in the class for you to join if you do not sign up in advance. There are also certification classes that require prior registration (but are still free of charge); the Cary Street Gym offers American Red Cross training in CPR, first aid, and lifeguarding. All of the available classes, recreational or certified, are open at a variety of dates and times so you can find where they fit best into your schedule.
Some people are weary of going to the gym; however, many students at VCU would argue that the Cary Street Gym is a comfortable and welcoming environment for students to work on their health. The facility works hard to promote both traditional and unconventional exercise as well as overall wellness. Students at VCU should definitely take advantage of this resource offered to them on campus.
---
---
Related Articles