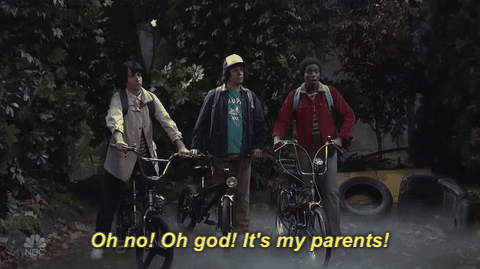 It's Parents' Weekend, your parents are visiting, and… you completely forgot they were coming. You show them where your classes are and maybe the library, but now you're completely panicked because you have no idea what else to show them or where to take them. Lucky for you, the destinations listed below are a compilation of places your parents would love to see!
1.Belle Isle
Nestled in the middle of the James River is the historic Belle Isle, which was first explored in 1607 by James Smith. Later, it was used as an iron mill, and during the Civil War it was served as the largest Confederate prison that housed captured Union soldiers. Few of these original buildings are standing today, however; there is a former quarry building and a 20th-century hydroelectric plant on the island. Current visitors of Belle Isle enjoy its rich history, but also its access to the James River- it is a great destination for sunny days that you'd like to spend outside. Many people also pack picnics to bring with them. Whether you bike, swim, hike, or just observe nature, your parents are sure to enjoy visiting Belle Isle with you.
2.Hollywood Cemetery
Located just across the river from Belle Isle in the Oregon Hill neighborhood is Hollywood Cemetery. Known for its deep history and breathtaking views, Hollywood Cemetery is a common tourist destination for people visiting Richmond. Several well-known people are buried there, such as the Confederacy's Jefferson Davis, John Tyler (the 10th President of the United States), and James Monroe (the 5th President of the United States). From the eastern edge of the cemetery, there is a beautiful view of the James River and Downtown Richmond. If your parents are history buffs, they will love visiting Hollywood Cemetery.
3.The Science Museum of Virginia
Just past the western edge of the VCU campus on W. Broad St. is the Science Museum of Virginia. Originally the Broad Street Station, the building was designed in 1913 by the same man that designed the National Gallery of Art in Washington D.C. The museum offers permanent exhibits about various scientific topics, including but not limited to: astronomy, anatomy, geology, energy, and electricity. In addition, the Dome, which is Virginia's largest screen at 76 feet tall, features exclusive films and astronomy shows at a small additional fee. This museum is great to take your parents, and is especially great if they bring any little siblings along.
4.Carytown
One of Richmond's most notable shopping districts, Carytown offers quirky and original stores on Cary Street from the eastern side of interstate 76 to S. Boulevard. It features a variety of great restaurants such as Can Can, Galaxy Diner, Carytown Cupcakes, and Mellow Mushroom- all of which are rated four stars or above on Google. The shopping area also includes several thrift stores, toy stores, tattoo parlors, and furniture stores. On the eastern end of Carytown is the historic Byrd Theater, which runs everything from foreign film festivals to modern Hollywood flicks. Carytown is a great place to bring your parents because it is the perfect mixture of traditional and contemporary, so there's something for everyone.
5. Maymont
Maymont Park is another historic site to visit with your parents. It is a 100-acre estate that was originally owned by James and Sallie Dooley, who lived there until 1925. Now, it is a conservatory/nature attraction that attracts thousands of visitors a year. Younger audiences love that the park features a variety of animals in both a petting zoo and an indoor nature center, while older audiences love the sweeping hills and beautiful botany. People who visit Maymont especially enjoy the Japanese Gardens, which feature a small waterfall, a koi pond, and stepping stones that allow you to "walk through" the pond. The best part about Maymont is that it runs strictly through donations, so the park is technically free of charge.
While your parents will definitely be excited to see your favorite places around campus, they aren't always the best places to catch up or hang out with your family. However, the attractions listed above are all great alternatives to spending time in your parents' hotel or getting caught up in the hustle of a busy campus.
---
---
Related Articles