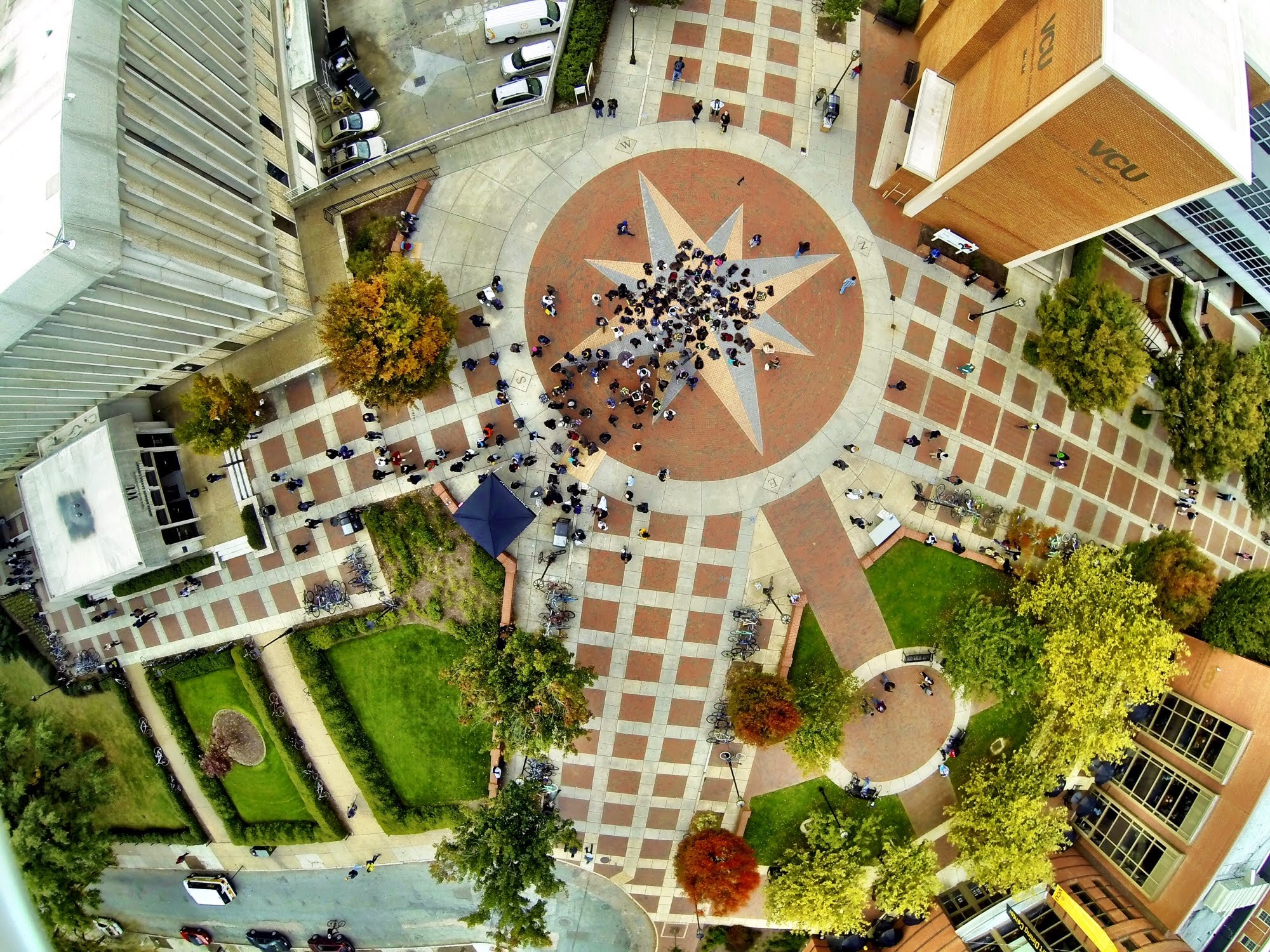 The Compass, a well-known landmark at VCU, was formerly the heart of the campus. Its purpose was to serve as a central place for students to gather and communicate, and while the Compass is no longer considered the center of campus, it very much still serves this purpose. A general rule for VCU is that you can pass something strange or attention-grabbing almost anywhere on campus, but the Compass seems to attract a very expansive array of people with different goals, ideas, and opinions. Listed below are five things that you might expect to see while walking through the Compass at VCU.
1.Fundraising
The Compass is a great place for student organizations to coordinate fundraisers for their programming. There is a great volume of traffic that flows through the Compass each day, so there are many potential donors/customers. The most successful fundraisers offer something in return for the donation, many fundraisers in the Compass are bake-sales or care packages. Other creative students have put together self-care packages that are great for a relaxing night in, or a canine kissing booth, where donors contribute a certain amount and can in turn snuggle or take a picture with a dog.
2.Religious Groups
The Compass is one of the only "free-speech" places on campus. That means that people from outside the university, regardless of background or identity, can enter the space and exercise their right to free speech. Because of this rule, many extreme religious groups congregate in the Compass and work to spread their beliefs. Some groups are more disruptive than others; some come in with large signs and megaphones while others quietly and politely pass out flyers. The diverse, urban environment of VCU provides a haven for people to openly and freely express themselves, and there are certain actions that students must take in order to maintain this freedom.  It is important to remember that while you may disagree with a certain group's ideologies, they are just as entitled to their beliefs as you are, and you should work to conduct productive dialogue instead of inciting hate and disagreement.
3.Animals!
One of the hardest thing for college students to come to terms to is leaving their pets behind at home. Luckily, the Compass is a popular space for students, faculty, and members of the Richmond community to bring their pets on walks. On-campus (or near-campus) pet owners love that their animals get well socialized with a variety of different people, and the animals generally love the attention they receive. Students who love animals often report that seeing pets while on their way to classes brightens their day and makes them smile.
4.Camera Crews
VCU has a flourishing community of media artists, journalists, and photographers, so the Compass fairly regularly has someone filming or taking pictures in it. Students and professionals like the Compass for its setting; it was the former heart of campus so many of the main buildings are centered around it. This makes for a perfect backdrop for senior portraits (for high school or college), advertisement, and film. In the Fall 2017 semester, the SHOWTIME program Homeland even filmed some scenes in and around the Compass.
5.Social Commentators
As previously mentioned, the Compass is widely known for its role on campus as an arena for free speech. While commentators are generally composed, usually only armed with a simple sign, others come to make a scene. There have been several instances of students and members of the outside community coming to the Compass to yell and incite hate. However, the VCU Police works diligently in these situations to deescalate tensions and keep the peace.
Yes, the Compass can get rowdy due to it's "public-forum" kind of nature, but it is one of the most concrete examples of why it is great to attend a school that encourages the conversation between diverse perspectives. The Compass, though just a standard landmark to some VCU students, represents an area that students, faculty, staff, and community members can come together to communicate. Whether you come to the Compass seeking social engagements, political expression, a homemade brownie at a decent cost, or a soft dog to pet at the end of a stressful day, the Compass is a staple location and arena for the VCU community.
---
---
Related Articles