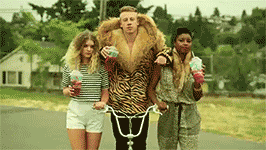 VCUArts is a very diverse school that encompasses majors in all kinds of mediums. Students in Art Foundations, the first year program for art majors, are required to take four essential studio classes (Drawing, Space Research, Time Research, and Surface Research); each of these studios do involve traditional materials found at art stores, but they also require unique materials. Project classes and major-specific classes also demand for unconventional materials like fabric, books, knick-knacks, or practically any eccentric thing you can find. Many VCUArts students often turn to the local thrift stores to find what they need for their unusual projects. Listed below are seven of the best thrift shops for VCUArts students.
1. Circle Thrift & Art Space
Located at 7 W. Broad Street near the Virginia Repertory Theater is Circle Thrift and Art Space. Commonly referred to as just "Circle Thrift", the store is known for their strong community focus and are big supporters of the local art scene; they host store events coordinated with First Fridays on Broad Street and occasionally host local bands. This store features all kinds of things from clothing, music, tchotchkes, and art. Circle Thrift is great for students looking for one-of-a-kind, handmade goods or unique decor items at relatively low prices.
2. Second Debut (Goodwill)
Second Debut is a non-profit store by Goodwill that is located at 3114 W. Cary Street. Because the store is located in the heart of Carytown, it tends to cater to a more expensive taste. However, this is not to say that they do not have reasonable prices. Second Debut often runs sales on items marked with specific colored tags. The clothing in the store tends to be more formal than casual, so this makes it a great place to go when art students are looking for outfits to wear to galleries or nice events.
3. Rumors Boutique
Rumors Boutique is one of the most popular thrift stores among VCU students of all majors, especially art students. It is located very close to most of the dorms near the corner of W. Broad Street and N. Laurel Street, which makes it very convenient for students to shop at. Rumors claim to fame is that they offer "high quality clothing at starving artist prices." You can imagine that this is one of students' favorite things about the shop, as many students don't have much spending cash. The store is great for art or theater students looking for costumes or physical props.
4. Richmond Book Shop
Richmond Book Shop isn't technically a thrift store. However, they do offer a variety of vintage posters, books, records, and comics. They advertise that most of their prices are $10 or below, which is great for students on a budget. On their Facebook page, Richmond Book Shop specifically mentions that they have great college materials for art students. The staff at the store is very welcoming and always willing to lend a helping hand. Students love the personable atmosphere in Richmond Book Shop, and art students working in mixed media classes love the materials they offer.
5. Fan-Tastic Thrift
Fan-Tastic Thrift is a cleverly named thrift store located in the heart of the Fan District. Their exact address is 1914 W. Main Street; this is only about a 20 minute walk from the Monroe Park campus. The store is fairly large and offers a very large selection of vintage and gently used clothing. Art and theater majors love this store because their collection is very eccentric and you never know what you might find there. Fan-Tastic thrift is well-known among students for its extremely low prices. Many of their items are around $5 or less.
6. Diversity Thrift
Diversity Thrift is one of Richmond's largest thrift stores; it boasts a whopping 15,000 square feet of almost anything you can think of. For sculptural or interior design students with a little bit of extra money, they have a showroom with various pieces of furniture including chairs, dressers, bed frames, tables, and much more. In addition, they have a wide selection of clothing and accessories that are great for both formal and informal occasions. Diversity thrift also has an assortment of vintage and collectors' items that make for great one-of-a-kind projects! If you're interested in shopping at Diversity Thrift, you can find them at 1407 Sherwood Avenue.
7. Blue Bones Vintage
Blue Bones Vintage is a store that is extremely close to the Monroe Park campus, located at 322 W. Broad Street. It is known among students as one of the more "hipster" stores in the area, but that doesn't make it any less popular. Blue Bones is especially busy on the nights of First Fridays on Broad due to the increased traffic of students on that end of Broad Street. It is known best for its selection of trendy vintage clothing and records. The store is very small, but make sure to check out the upstairs, as there are more items to be seen up there!
Part of what makes VCUArts such a good program is its strong belief in including the community in the learning process. Richmond has a very strong arts culture, and this is reflected by the items you can find in the local thrift stores. Whether you're looking for costume pieces, film props, still-life props, or any other peculiar medium, you're sure to find it at one of these seven thrift shops.
---
---
Related Articles