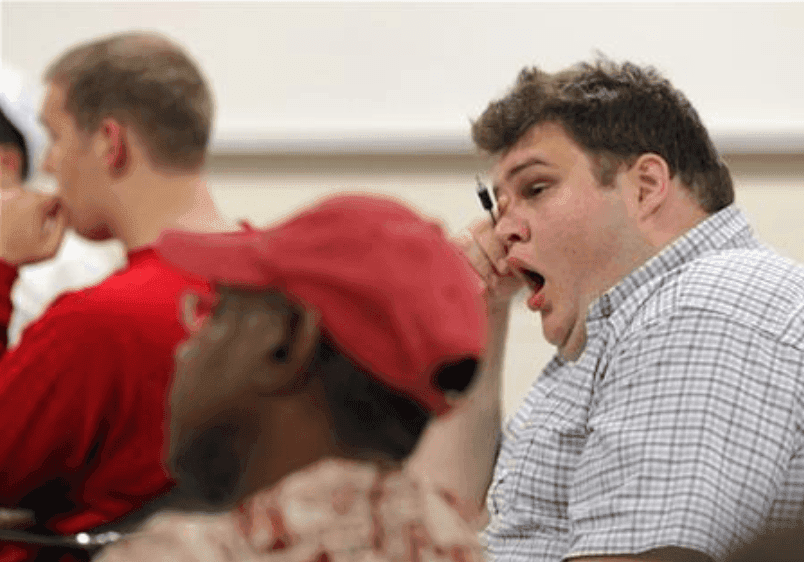 Let's face it – college is difficult. Sometimes you sleep through an 8 am lecture, can't seem to understand you long-winded professors, and fall asleep before you can finish that midterm paper.  Throughout your college career, you will undoubtedly face a difficult class – one that makes you dread going to lecture and stay up all night trying to understand whatever the textbook is trying to say.  For all those facing this seemingly insurmountable challenge, here are five tips for surviving your hard classes at VCU.
1. Go to Class
This is absolutely the first step to doing well in a class – actually going.  Lectures may seem boring and like a waste of time, but you're paying for every credit hour – so you might as well go.  On top of that, however, VCU professors often use software like TopHat or clickers to take attendance, ask questions, and even give pop quizzes during lecture.  Professors also add extra detail and substance to the information in the textbook, and sometimes even tell students what material will be on the tests and quizzes.  You don't want to get caught with a low participation grade for not attending lectures!
2. Attend Tutoring and SI Sessions
VCU's Campus Learning Center is a valuable resource that all students can use to get extra help for difficult classes.  The tutors that are hired by the CLC are all students who have taken and passed the courses you are struggling with – and some even have had the same professors.  They're a great resource to give you personalized advice and help with understanding concepts. Additionally, most intro classes have Supplemental Instruction sessions with class TAs. Supplemental Instruction is a recitation-style session for lecture classes where students can split into groups and work on course-related worksheets and study guides leading up to the tests.  Tutoring and SI are both great ways to get ahead in difficult classes.
3. Stop by the VCU Writing Center
If the biggest struggle in your class is a research paper or essay, the VCU Writing Center is your ticket to success. By making an appointment, you can get a one-on-one writing help session with a tutor.  Writing center tutors can help you anywhere from brainstorming and outlining your essay to editing and proofreading it. Just make sure you don't come in the day before your essay is due – your tutors may give you great ideas that will take more than one night to write!
4. Ask a Cabell Librarian
Librarians are the unsung heroes of academia – and they understand student struggles. Whether you're stressing out over resources for a research project or trying to find an extra copy of that obscure book your Literature professor assigned, a librarian is your saving grace. Cabell librarians are happy to guide students to the books and resources they need, teach them how to find online databases and journals, and can teach students how to use the technology in the library's workshop.  They're a great help to any struggling student.
5. Make an Academic Coaching Appointment
Another resource located at VCU's Campus Learning Center, academic coaches can be immensely beneficial to a student's long-term academic success.  Academic coaches can help you make a study plan, give you personalized study techniques and advice, and assist you in time management and organization.  Additionally, academic coaches focus on student wellbeing as related to academics and can help you reduce school-related stress and test anxiety with scientifically based techniques.
Although the idea of a difficult class may seem like a challenge you can't face, VCU provides many different resources to encourage and aid their students in their academic careers. By making use of these resources and having faith that you will succeed, even a difficult class can become a conquered challenge.
---
---
Related Articles