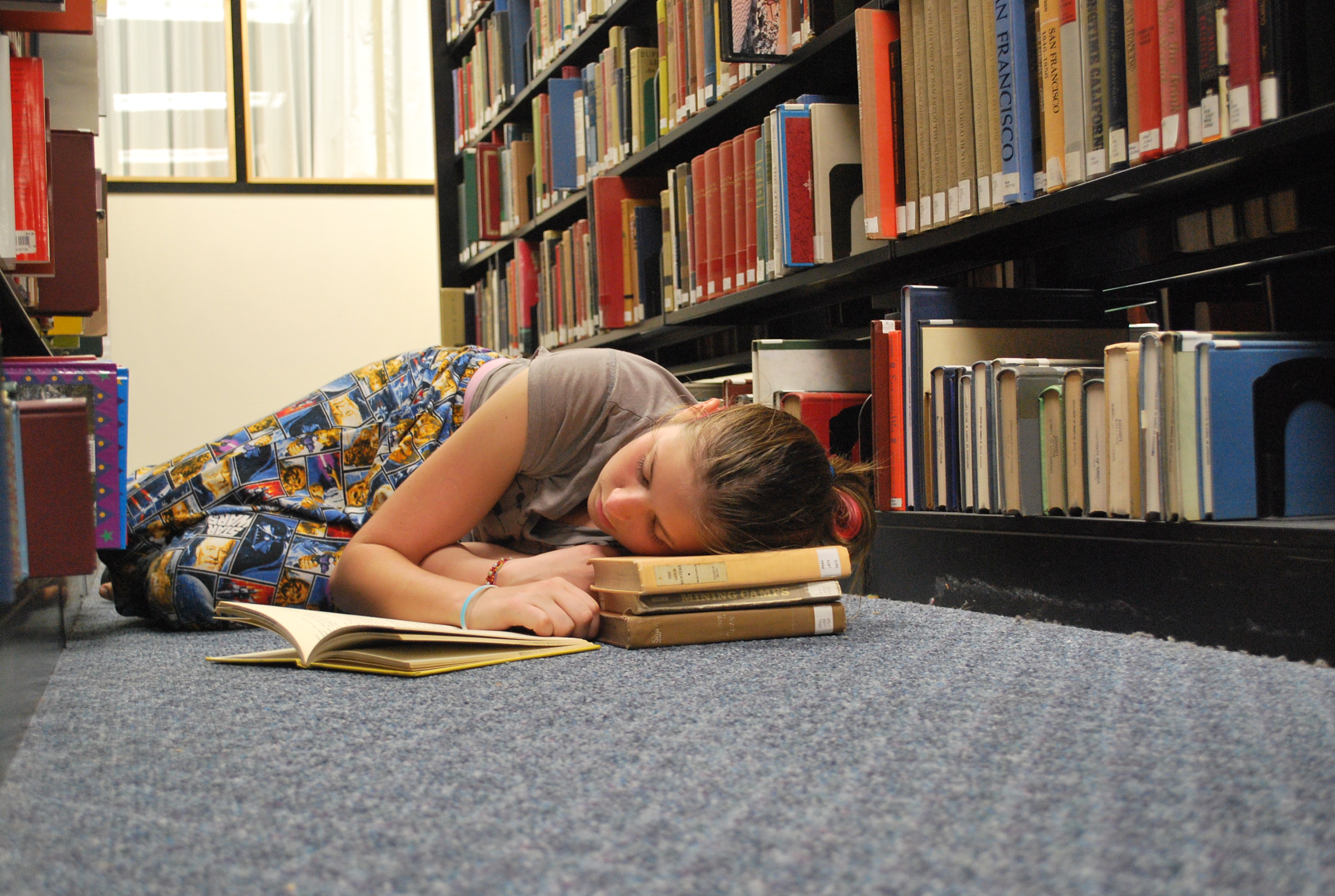 From three-hour long lectures to long papers to impossible final exams, being a college student can be completely exhausting!  It's no wonder that so many VCU students are seen napping around campus, trying to get some quick REM before it's time to get back up and keep hustling. But sitting in the hard seats of the Cabell Starbucks, it can be hard to fall asleep – even if you're exhausted! For all the nights that seem endless, here are five amazing spots to nod off at VCU.
1.Cabell Lawn
Located right outside of the Cabell Library, the Cabell Lawn is the perfect spot to doze off on a warm day, surrounded by other students hanging out, dogs running around, and the soft grass. If you've been spending all day in classes, chances are you'll be walking past this lawn on the way back to your dorm or car anyway, so why not lay down your bag and use it as a pillow? You can rest your head for a bit and look up at the clouds.
2.Academic Learning Commons Couches
The Academic Learning Commons is a great place to study, but also to sleep. It's equipped with comfortable chairs and couches, and most students are quietly studying, so it's a great spot to take a quick nap between classes. The Academic Learning Commons' second floor is also pretty dark, allowing for easy sleeping. Just remember to set an alarm for your next class!
3.Cabell Reading Porch
Have you been up all night in the library, studying for your next class? Do you think you'll end up heading straight from Cabell to take a test? Do you not even remember where your dorm room is? The Cabell Library's Third Floor Reading Porch is just the place for you! Equipped with comfy couches and armchairs, as well a quiet ambiance, the Reading Porch is the perfect retreat for many a tired student.
4.Engineering Building Atrium
Want to sneak in a quick nap, but find that all of these other places are too far? If you live and attend classes near the Engineering Building, the Atrium is basically a mini library. Usually occupied by desperate Engineering students who are studying for their next exam, the Atrium is often eerily silent, with only occasional passer-bys making any noise. Additionally, it's lit by a soft sunlight, offering the perfect afternoon nap spot.
5.The Campus Connector
This is a weird – but good – one. The VCU Campus Connector is a bus that runs from downtown Richmond's MCV Campus to VCU's Monroe Campus near Richmond's Historic Uptown. The bus ride takes your around downtown Richmond with a gentle rocking, and the soft cushioned chairs of the bus are a great place to rest your head against the window and doze off. The ambiance of a quiet bus ride in the night with soft radio is sometimes exactly what a tired student needs to fall asleep.
Sometimes, college life can get overwhelming – everyone's been there. And sometimes, all you need is a short nap to feel yourself again. That said, if it's been days since you've had a good night's sleep, your health can be detrimentally affected. Check out the resources from the Well and the Campus Learning Center so you can get a healthy amount of sleep again. Hopefully, these five nap spots will help you through your journey in college – and remember: your physical and mental health should always be a priority.
---
---
Related Articles