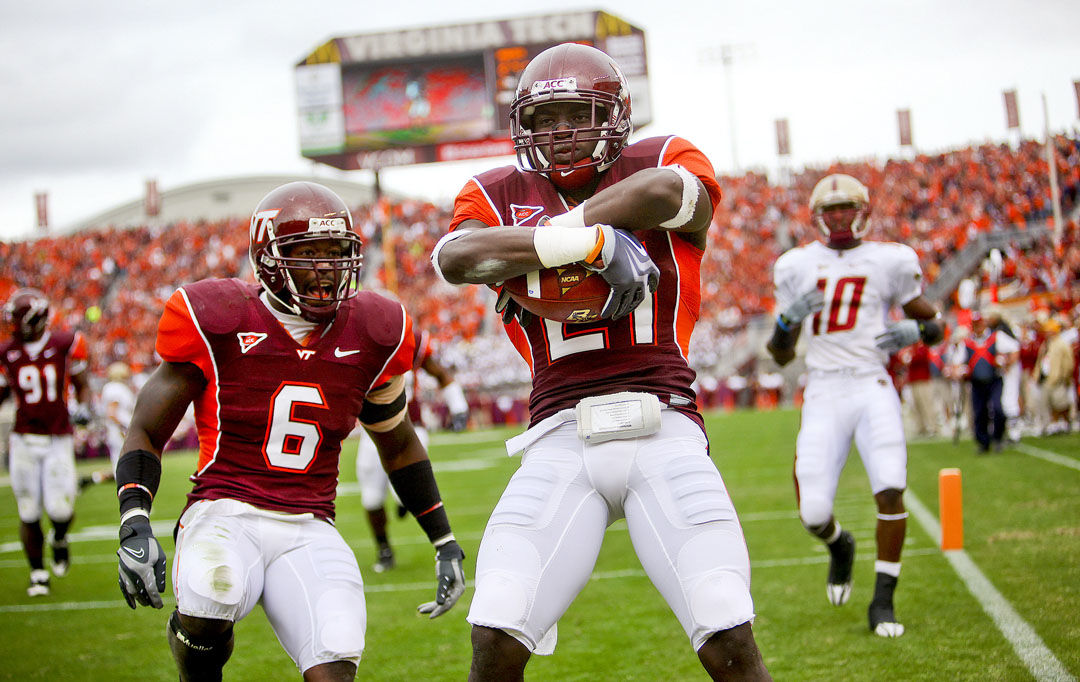 You have definitely heard about VT VS. UVA Rivalry. Why is UVA better than VT? Why is VT better than UVA? If you came down to choosing between VT or UVA… Don't Panic. I got you. Here are DEFINING REASONS WHY VT is BETTER than UVA!
1. FOOTBALL
Man, VT hasn't lost football to UVA since 2003. 2003. BOI. Also, Virginia Tech has 30 YEAR BOWL APPEARANCE STREAK. Virginia Tech has seen "Andre Davis", "Deangelo Hall", "Michael Vick" and so many more. Football is big, traditions and chants are super DOPE, and the whole town shuts down for the Thursday Night Games!
2. FOOD
Food in VT>>>>>> Food Anywhere else. #1 Campus Food for 2010 – 2016… #2 at Niche.com for 2017. Enough Said.
3. ENGINEERING
Virginia Tech Engineering program is nationally ranked at #27 and University of Virginia Engineering program is ranked at #39. Ranking doesn't mean anything? How about Galileo/ Hypatia – All Engineers' Dorm? Includes support and mentoring. Don't be fooled when they say UVA's smaller class size is better. It's about how many opportunities are there for you. (Rumor has it that VT Engineer grads are on its own ballgame when it comes to employment.)
4. ARCHITECTURE
ArchitecturalRecord.com has nationally ranked Virginia Tech's Architecture program at #3. Even in Graduate program, tech ranks at #9 among all the IVY leagues. Not just architecture, when it comes to construction and building…. Tech is just a BEAST.
5. HUMANS OF VIRGINIA TECH
"Humans of Virginia Tech" has been inspired by "Humans of New York". Not only H.O.V share many Great Hokies' stories, but also they ask profound questions like "WHAT IS LOVE?" H.O.V has recently made great tribute video of 4.16 shooting titled "32 Reasons". In honor of 32 people who were killed, H.O.V has asked 32 different reasons why Hokies love Virginia Tech!! Powerful video! (Shoutout to Misganaw and Hoy for making those two great videos)
6. Money & Opportunities
73% Acceptance rate for VTECH and 28% Acceptance rate for UVA, They call it "REGULAR" VTECH and "Classy" UVA. BUT IS IT THO? Tech is easier to get in but…
Virginia Tech Students Earn Slightly More Salary Post-Graduation/ Virginia Tech Provides Much Better Freshmen Financial Aid: (68% vs. 57%)
Virginia Tech Offers Slightly Cheaper In-State Tuition: ($12,485 vs. $15,192)
Virginia Tech Offers Significantly Cheaper Out-of-State Tuition: ($29,129 vs. $44,365)
UVA IS ALWAYS BETTER IN EVERY WAY??
7. UT PROSIM
"THAT I MAY SERVE" IS LIFESTYLE FOR VIRGINIA TECH STUDENTS. COME AND CHANGE PEOPLE'S LIVES BY SERVING AND INVENT THE FUTURE.
8. BLACKSBURG
On 2012, Blacksburg was ranked #1 on "Top 10 best cities to raise kids" listing and also was named "Best place in the US to raise kids." INSANE right? Presence of Virginia Tech, numerous employment opportunities, crime rates, amenities, air quality, and diversity were all factored into these listings! Charlottesville is cool but Blacksburg is Super!
9. BEST QUALITY OF LIFE
2016 Virginia Tech was named #1 Quality of life… What else do you need to hear??
VT VS. UVA WILL ALWAYS BE A THING. However, don't believe the world when they tell you UVA is better. Granted, Both schools will give you amazing college experience and opportunities for your career. However, I am biased. I go to Tech! But man foreal Tho. Average guy like me is enjoying college life to fullest in Tech. I have been part of multiple service projects already and was able to be part of the positive impact to communities that I'm part of. Can't do that when your college doesn't have the motto "UT PROSIM" XD !
---
---
Related Articles