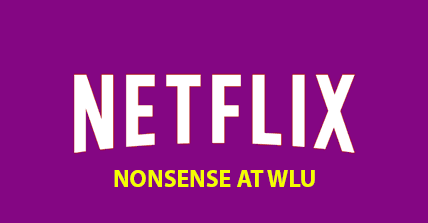 In the life of a student, many of us already know our daily lives consist of school, caffeine, trying to have a social life… and of course Netflix. But what happens when one link in this daily routine becomes imbalanced?
As everyone has been slowly made aware, Netflix has decided to NOT ONLY take off some amazing shows very soon such as the entire, "How I Met Your Mother" Series, but they have also decided that it is time to raise their monthly price!
At home, I am sure your parents see it as something that is not too big of a deal, but us as students who live away from home and off watching Netflix movies and shows… we do not use regular daytime television cause let's be honest, having cable is way too much many. We the students are going to be stuck dealing with these changing prices when we are already on scarce budgets as it is.
Some Laurier students had this to say about the recent price uprising.
"I use Netflix almost everyday because I don't generally watch television as a student." – Brian Choi, a 3rd year Communication Studies Major.
Although Brian uses his friend's account and does not pay for the subscription himself, if he was to have his own he added that:
" If I was the one paying for it, I honestly wouldn't. The man reason I like Netflix is because of the convenience[…] you can find just about anything on Netflix for free on the internet and much more titles." 
Clearly Netflix may need to wake up and realize that half of what they stream can be found for free somewhere else. The only reason it is so much money in the first place is all thanks to the premium package which lets you watch Netflix at anytime on up to 4 devices. Mind you, $11.99 for this package at the time seemed fair because yes they are a provider, and still need to make profit but by heightening this price up to $13.99, I think a lot of people may begin getting fed up with the price. Mainly because the titles added on every month aren't necessarily what the main population are looking to watch.
Emma Snodgrass, a 3rd year French Studies student also had her opinion on the rising prices.
"What keeps me watching Netflix is probably the fact the have  a lot of my favourite shows on there and they keep coming out with original content."
This is something to keep in mind because Netflix has begun putting their main focus on their 'Netflix Originals.' Although they are all well done, they need to keep in mind that they should be adding actual television and movie content onto their system as well. Emma also adds,
"I think if they're going to up the prices, they should allow the use of more devices."
Which I think everyone could take as an agreeable statement seeing as the past price of $11.99 already consisted of the ability to use 4 devices and that has not changed.
All in all, Netflix we students at Laurier don't have enough money as it is to fund out Starbucks accounts… let alone pay an extra $2-3 per month on a subscription for you when your content is not up to par where it should be. It will be interesting to see how many people begin in-subscribing and going to the competitors we see out there such as: Apple TV, Crave TV or Crackle.
Good luck Netflix, may the odds be ever in your favour.
---
---