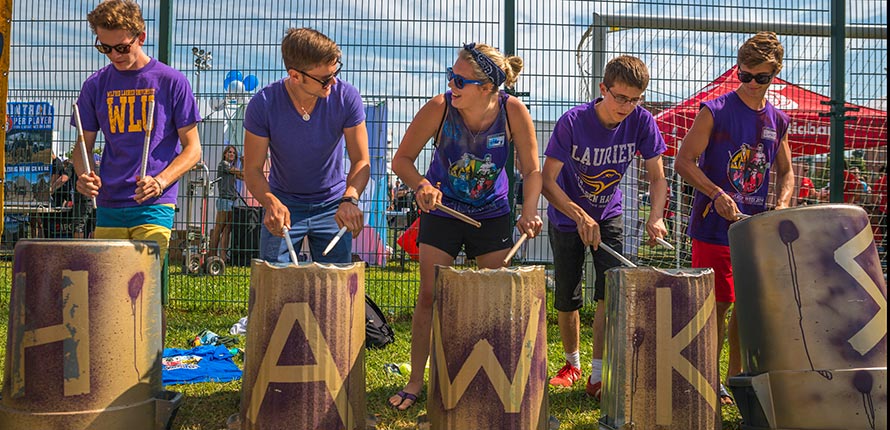 1. The Hawk
If you have never taken a tour of WLU before accepting your offer, you will quickly come to learn that as a Laurier student there is one thing you NEVER do, and that is step on the Hawk. On the first floor of the Fred Nichols building, right in front of the U- Desk is where you will find this beautiful Purple and Gold plaque- like circle, engraved into the flooring. Like every school, of course, Laurier comes with its own regulations, superstitions, and punishments for when these things are disobeyed or denied. Not only is stepping on the hawk insulting, but it is also seen as disrespectful to the school, Wilfrid Laurier himself and to all the students and staff in the building who view themselves as a fellow Golden Hawk. Though you will be penalized if found stepping on the hawk, it is not something which takes too much to be forgiven for. You merely need to bend down and physically kiss the hawk where it lays in front of all whom may be in the halls than after you kiss it, you will be forgiven by the spirit of the hawk and those around who you got caught by in the first place!
2) The Motivation
Over time living in residence, (If on campus) you will realize that what you thought was such a short walk to get to and from your classes- seeing as your living quarters are so close- will soon become a great difficulty. This is especially when there are torrential downpours or snow storms outside. As the year goes on, you will get so use to being so close to everything that even walking from Conrad to the Music building will seem like a chore!
3) Fear the Geese
During the rainy, muggy and early spring months, Canadian geese can be found sprawled all over campus. Not only do they block paths on the side walk, and entrances to doors, but they discreetly follow you everywhere, leaving you tip toeing around campus almost like a ballerina. Not only are these geese found in packs, but they attack in packs as well. Warning to all first years, do not go up against a goose… you will run away… and you still will not win. Not only are they quite dangerous but they are evil animals which will leave you having nightmares about them flocking towards you. I do so believe that one day, they may take the campus for themselves, but until that day, may the odds be ever in your favour Golden Hawks.
4) Flex
Every single cent of your flex dollars will go towards Wilf's. Not only is Wilf's the best on- campus pub/ grill there could ever be, but their classics such as: The Seagram, Chicken Wings OR Spin Dip is the tastiest food you will ever eat! Not only is the atmosphere inside great, but the staff is both kind and patient and some are even students themselves! Wilf's also hold specials and events on certain days during the week. Some of these include: Open Mic Night Mondays & Wilf's Trivia Wednesdays. These call for great times with even better friends.
5) Say Goodbye
This is not high school! Yes, it will take some times to get used to it, but you will come to find that being on your own ads a difference in your life. University is a place where everyone accepts all. Those days of 8- 3:30 long classes and teachers who will send you to the principle for about anything, comes to an end the second you start the first day of your first semester. Not only that, but here, living in Waterloo- a city that is practically all made up of students, you are around everyone all day every day. You live with them, eat with them, have class with them, and yes will even fight with them on the odd occasion, but in the end Laurier is a place where everyone is welcome as you get to know the school and the other students within it, you will come to a day of maturity where you will remove yourself from that "High school" state of mind. No one here is cool, no one is better than another, everyone is different and I can tell you personally, that #ItsGreatToBeALaurierGoldenHawk!
6) Sleep > Life
Say goodbye to sleep. Be prepared for long days and even longer nights of intense studying, finishing projects and assignments, and not to mention staying up all night talking with your new friends! Being on your own, and trying to figure out this new freedom you have been given can become a difficult situation. Especially if you were a student like me where- in high school, you had curfews, family responsibilities, mild school work, and always a fridge full of food. Sometimes you will find yourself asleep at 6PM and awake at 8AM and other times, 3AM is your bedtime and then you find yourself awake at 2PM the next day to realize you have slept through 3 of your classes! The best advice I can give to you on this is to try your best to set a night schedule for yourself and make sure you are not taking on too much as a student. Finally, always set three alarms (at least) for yourself in case you wake up and turn the first two off. Stay calm and don't stress. Do your best and you will be absolutely golden!
7) St. Patty's
The one event of the year where not only you and your fellow Golden Hawks get to celebrate in the streets, but you get to celebrate along with the community, and everyone you bring to experience this great day. Every year, the inevitable St. Patty's Day celebration on Ezra Street in Waterloo comes in great spirits of everyone involved! The sea of green becomes a reality when walking past the elongated Ezra St. found right beside campus. Not only is this day fun and full of memories to last you a life time, but to know that the whole community participates to ensure everyone's safety makes the enjoyment even greater! You will never know the experience of chugging green jungle juice at 7:00AM until you experience St. Patty's right here in the University heart of Waterloo, ON.
8) She doesn't even go here…
When you become a part of the Golden Hawk family, it may not set in right away… but there will come a moment when all of a sudden you feel that the school and the Hawk is a part of you and it will mean everything to you. Whenever you hear the name Laurier, or see an alumni back home in the street with a Golden Hawk shirt… even if you see that person you knew a grade below you who is "thinking" of accepting their offer to Laurier, you will forever assert and affiliate yourself with the University for the rest of your days. From the famous chant, "It's great to be, a Laurier Golden Hawk," to just learning the slang or relating to those around you. You will become one with the school, and this community will become your home away from home which you will always love coming back to.
9) Profs are NOT out to get you
If in high school you had those teachers who would tell you, "When you get to university, your professors will not care, and you are only a number," not only were they absolutely wrong, but I find that university professors here at Laurier are willing to help you more than any high school teacher ever could or would. Laurier's staff is there to see you succeed, and are exceptionally friendly. Not only do they try their best to get to know their students, but they are there through their office hours for you to go to them with any questions or help you may need. Even when it comes to moving midterms, tests and providing extensions, most of the staff are ready and willing to accommodate if you express the need ahead of time! Not only should you not be afraid to talk to your professors, but you should not be afraid to have a 1 on 1 with them either. Even if it is personal situations, they are all there to help and listen if you let them.
10) Books, Books, Books
At some point in the semester, you will think to yourself that your text books are costing almost as much as your tuition! As of January 1st, 2017, (as a student of Ontario) you are no longer able to get back the money you spend on textbooks from the government, unlike the past. Not only will students and parents be spending between two hundred to five hundred dollars a year just on books, but there is no way to get it back. In some classes, you don't even end up using some of the books you buy. Not only do I find it a waste, but it puts us more in debt that we should be! Personal advice from me, only get the books you KNOW you will need in advance before the semester begins such as course packs or text books for things such as chem or bio (as an example) then, as the semester progresses, figure out what you need and what you can find online to save you and/ or your parents some money that may come in handy else-where. I also cannot stress this enough… Do your readings! If you don't you will more than likely fall behind on the material being covered in your classes.
---
---