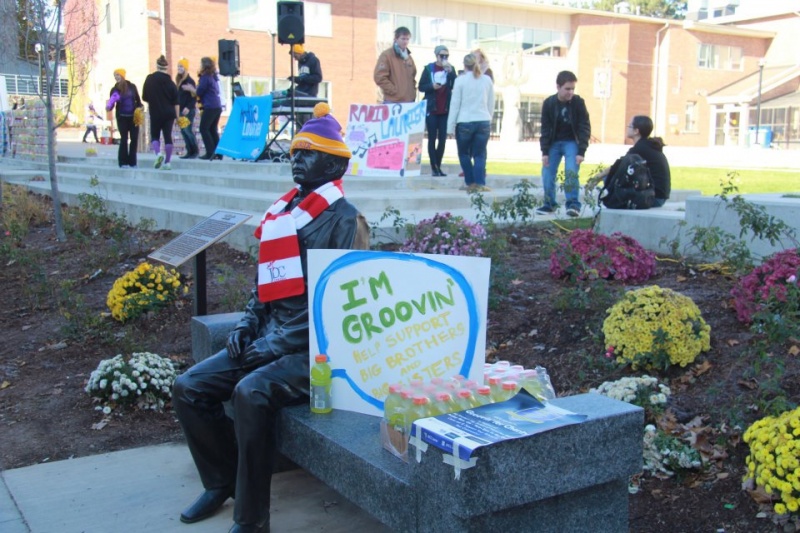 1) You know what's weird?
Wilfrid Laurier University, use to be called "Waterloo Lutheran University" up until 1973 when it was changed? This was changed after Sir Wilfrid Laurier became the seventh Prime Minister of Canada. WLU's opening can be traced back to more than 100 years ago back to 1911 when the Evangelic Lutheran Seminary first opened right here in Waterloo for students, and is also used as a partial seminary and student building on campus.
2) Funny Thing
It is funny how our school has such a rivalry with the University of Western when in fact we use to be affiliated with them years ago. Did you know that our school colours of purple and gold came from this affiliation with western that we once had as their colours are purple and white? Long ago, Laurier's school colours use to be maroon and gold until they replaced the maroon with purple to signify their connection to UWO. Although our colours have stayed in the ravishing purple and gold we see throughout campus halls today, the affiliation between Laurier and Western did however relinquish their affiliation in the year 1960. (Maybe the story behind this break-up is the reason for the rivalry we know today… something to look into? I think so!)
3) Fun fact!
An Annual Report was made for the year 2014-15, where the study showed that the Laurier library is the home of over 1 million print volumes, 312,000 Electric Books, 68,000 Electronic Journals, and over 280 Databases where you can find ton of media titles and DVD in which you are able to stream! Our library is also a member of what is called the "Tri-University Group of Libraries" which is a combined collection of all materials between the libraries of UW, UG and WLU! That means all of these libraries are able to be used my any Laurier student and vice versa. That is over 7 million printed and non-printed works! (Pretty neat huh?)
4) It is crazy awesome!
Laurier campuses not only can be found in Waterloo, Kitchener, Brantford and Toronto… but our offices reach all the way to Chongqing, China! That is a long way, but Laurier's wings span far when it comes to their exchange program and studying abroad that is offered which makes it no surprise that we have an office so far across the world!
5) Simple fact
People from over 85 places around the world have graduated from Laurier leaving Alumi numbers at over 93,000 people!
6) Did you hear that the yearly annual fundraiser Laurier participates in "Shinerama," was actually founded and began right here on our campus?
In 1961, Paul Enns- the president of Laurier's sophomore class had an idea on how to improve the welcoming and bringing in of new students each year while also being able to give back to the community. The original idea began with shining shoes on the street to raise money, and over $1300 was made for the Sunbeam Home which was a an agency supporting those who live with developmental challenges. Laurier students rose over $10,000 for the agency by 1963! It was not until The Canadian Cystic Fibrosis Foundation (CCFF) learned about the successful fundraising Shinerama had gotten over the short period of time that they decided to team up with Laurier to develop a partnership in the 1970's which brought this foundation nation- wide and became somewhat of a competition between Universities around Canada. Since then, Laurier students, staff and those in the Waterloo community, have raised over $25,000 and hope to continue to reach higher goals. (This year, both representatives from McMaster University and Laurier University made a bet that whoever's school raised the most money, that the loosing schools rep would have to wear the colours of the winning school to their homecoming, and my I just let all you Golden Hawks know… WE WON!)
7) Guess what?
Laurier has the largest business co-op program in Canada? We also have the second highest graduation rate in Ontario sitting at a high of 87.9 % in the business program itself! As for the campus in waterloo, a new business building was just opened this year across the road of the entrance. With the highest acceptance rate Laurier has ever seen, they needed to open a new building to accommodate for how many students that were about to receive. Not only is Laurier expanding, but it is becoming one of the best known schools with an even better staff and experience level for each student every year!
8) Looking for an easier way to get around campus?
Did you now that Laurier use to have underground tunnels which were used by students as an easier way to get from class to class- especially if you had to scurry from one building to the next. Sadly, there tunnels are no longer available to students and have since around the 2000's been closed off and used only as service halls. Mind you the buildings on campus are all approximately located quite close to each other already, but during the winter in Waterloo, I think anyone would be alright with crossing the field to Bricker without actually needing to go outside! It is definitely something to look into if you are interested in secrets and myths of Laurier University!
9) Did you know?
Laurier was built right on top of traditional territorial land of the Neutral, Anishnawbe and Haudenosaunee peoples? The region of Waterloo was actually created after Captain Joseph Brant arranged a sale of a portion of this land on behalf of the Six Nations of whom he spoke for. Originally, this land was used as a hunting ground for Mississauga Indians. It was not until 1775- 1783 during the American Revolution that a piece of this land known as the Haldimand Tract, was given to the Six Nations to live and prosper in what we now call Waterloo!
10) Did you hear Laurier had proposed to open new campuses in Ontario?
Milton has worked with Laurier since 2008 to try and create a new campus there within the Milton Education Village (MEV). As of 2016, the Ontario Government made an announcement of its interest in Laurier to create campuses in BOTH Milton and now Brampton; which would cover both the Halton and Peel Regions. In specifics, these campuses would focus more towards Science, Tech, Engineering, Math AND the Arts! Get ready Laurier, before you know it, we will have campuses all over Ontario!
---
---
Related Articles