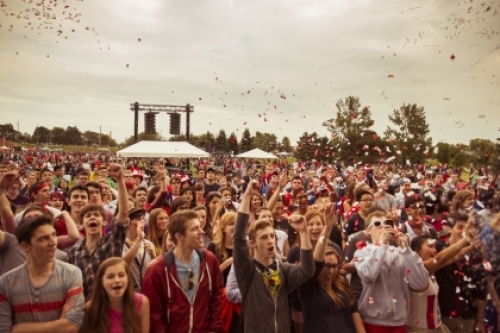 Have you ever been sitting at home, not knowing what to do today? Why don't you get up and get out in your amazing city and see all that it has to offer? Check out these fun things to do and interesting places to see in your one and only Waterloo!
1. Walk through Waterloo Park
There is nothing like taking a stroll in the warmer or even the winter months of this beautiful park right in the heart of Waterloo. It's front water views, along with its unique animal petting zoo and large space makes the perfect setting for any event, activity or day out for some fun! It is definitely one stop I would recommend to check out if you ever have the time. It also makes for the perfect spot to take some pretty amazing photographs.
2. Take a trip to St. Jacobs Market
A day in St. Jacobs is a day well spend when looking for your next antique buy, a healthy serving of home grown foods or just taking a carriage ride town the quaint lit up streets! It is an adorable place perfect for any day out on the town! In the Fall, go pick the perfect pumpkin for you Halloween bash, or enjoy the lighting of the market with served hot chocolate and carriage rides around the market during the winter.
3. Winter skating in Uptown Waterloo
Enjoy a lit up night twirling around the rink made and build right in Uptown Square! It is in perfect distance for every university student looking for some free wintery fun! Later go enjoy some warm drinks at Symposium up the street. It is sure built for some nice nightly fun. You can even enjoy some family time during the day!
4. The Many Museums
Waterloo has always been enriched with the history in which surrounds its beautiful people, community, artists and more. Whether you are into art, or artifacts or just plain old 'How Waterloo Came to be,' you can be sure to find all and more than what you're looking for at the many museums found in the waterloo area.
5. The Beauty of Breweries
Some believe it is a beauty to have our own brew in honour of Waterloo. If you are a beer cognisor, I highly recommend visiting a tasting or brewery near you! Try visiting these top 5 recommended breweries in the area: Abe Erb Brewpub, Innocente Brewing Company, Block Three Brewing, Grand River Brewing, Waterloo Brewing Company and the new Descendants Beer!
6. Dance the Night Away
With university and college students surrounding the Waterloo area, there is sure to be tons of bars, clubs and more entertainment for you to let loose and have some time to just dance till your feet hurt. From uptown Waterloo to downtown Kitchener, there are multiple venues awaiting your arrival and plenty of drink waiting to be served to you and your accompaniment!
7. Chicopee through the Seasons
Not only is Chicopee a great place for your friends and family to go for a day of skiing, but it is also one of the cheapest I have seen. The hills are not too bad and there are plenty enough to have a full day of fun! But the real fun gets started in the summer months when Chicopee turns into hills full of adventure with biking zip lining and more! I definitely recommend checking out all that Chicopee has to offer these coming seasons.
8. Bingemans
Bingemans is one of the most popular locations for literally everything you could think of for adult, family, and personal fun. Not only are events held here throughout the year including concerts, octoberfest and more, but the park its self is ready for weddings, camping trips, a day at the Big Slpash of Funworkx for the kids, and plus Boston Pizza and bowling conjoint together. Take the day and enjoy fun escape rooms, beach volleyball, or just go for a barbeque! You and also enjoy seasonal event like Screampark every Halloween (which is similar to Halloween Haunt) and the Gift of Lights around Christmas which is a 2 KM drive thru of light displays set up for every family to enjoy! It is 100% a place everyone needs to visit!
---
---
Related Articles