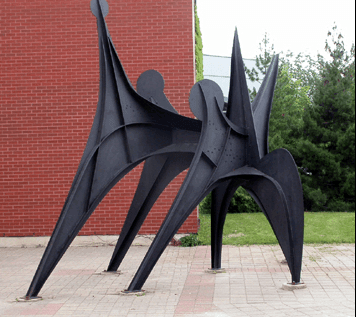 You've walked by them hundreds of times but have you ever stopped to ponder the meaning, origins, and passion behind the beautiful sculptures that line the York University Keele campus? The York University campus is full of culture and history and the art it has installed in every crevice and corner is no exception. Learn more below about five sculptures on the York U campus you need to stop and appreciate right now!
1. Rainbow Piece, 1972
This infamous piece, placed in the middle of the pool outside Scott Library, was created by Hugh Leroy. Hugh Leroy is an associate professor of sculpture, painting, and drawing at the York University campus and was elected a Fellow of the Royal Canadian Academy in 1975. He deliberately uses bright colours which reflect on the water the sculpture is placed in. What is especially beautiful about the sculpture is the way its reflection glides along the water as the sun sets. This incredible piece cannot be missed, viewable right through the large windows on the first floor of Scott Library.
2. Passage, 1993
The sculptor of this piece, Susan Shelle, claims to be interested in the "manipulation of the common". This piece is located in the lobby of the Chemistry and Computer Science Building at York University and was installed in 1993. It features an oversized stack of books and a Ginko leaf, meant to reflect parallel systems of knowledge – both science and the natural world. The next time you head to a chemistry or kinesiology lab class in this building, take a moment to appreciate this sculpture built into the beautiful pillars lining the lobby!
3. Untitled, 1990
This piece, created by artist Brian Groombridge in 1991, features stainless steel and copper panels that create a checkered pattern. Images of androgynous individuals playing instruments or juggling are featured on each of the panels.  This piece is placed at one of the entrances to York University's Centre for Fine Arts, celebrating York's rich history of theatre, film, and dance. The piece is made of aluminium, plywood, stainless steel, and copper – and is still in great condition today!
4. Sticky Wicket, 1978
American sculptor Mark Di Suvero's work, including this one, reflects his studies in philosophy through the hint of spirituality his pieces give off. He studied at the University of California and his piece, Sticky Wicket, on the York University campus was created with the same celebration of industrial images and materials much of his other work is. It is made of painted steel and cables. He donated this piece to the university in 1979, a sculpture that he showcased in the tenth International Sculpture Conference at York University in 1978.
5. Model of Man, 1967
The artist behind this piece, Alexander Calder, was not only a talented sculptor but also an accomplished illustrator and engineer. The sculpture is made of painted stainless steel and stands twenty-one metres tall. He revealed it for the first time at a Montreal exposition where it was praised greatly. The piece was designed with movement in mind – as you move around the sculpture it can be perceived in many different and wonderful ways. In 1967, The International Nickel Company gifted the piece to York University.
As you can see, the York university campus is home to many hidden treasures – and these are only a few! The architecture of the York University campus is one that was curated with great care, to create an inspiring environment for those who inhabit it.he next time you are running to class or taking a stroll down campus walk on your way to grab lunch at York Lanes, take a moment to stop and appreciate the beautiful work of some of these artists.
---
---
Related Articles