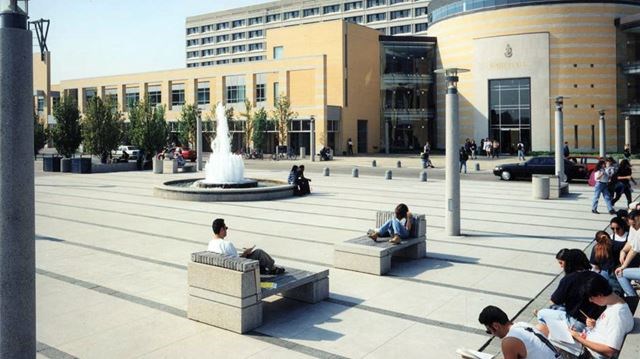 Extroverts are known for getting their energy from the presence of others, so sometimes, studying in a quiet library just doesn't do it for them.  It sounds counterintuitive but many extrovert find it easier to study in non-traditional environments that cater to their need for external stimulation. For all of you York university extroverts that find your motivation studying in environments that are a little louder or bustling, the following study spots on the York University campus are for you!
1. Scott library first floor
"The collab" is a large area on the second floor of Scott Library where you will find a plethora of large tables, booths, and comfy couch chairs to settle in with a group or alone to get some work done. If you love to be surrounded by other people and are motivated by the energy of others, the collab is a great place for a relaxing study session. There are also computers lining the walls if you need to utilize one but don't want to be holed up in one of the library cubicles alone for hours.
2. Second Cup
The Second Cup cafe in York lanes is a popular spot for students who like busy energy to get their studying and work done. Aside from having all the caffeinated pick-me-ups you need for a few hours o studying, there are tables of varying sizes for group study and even a board games shelf for group study breaks.
3. the College Common Rooms
If you want to be surrounded by people when you study but also not be disturbed, pick a corner of one of the college common rooms to break out your textbooks and get to work. The college common rooms at York U are all very spacious, have desk space, and are usually full of cheerful people either studying or socializing. Many of them have pool tables and large couches that are great for group study sessions. They can be a really energizing place to be for those who are motivated by and feed off of the energy of others.
4. The Starbucks in the ACW
The Starbucks in the Accolade West building is a great place to study for those who gain energy from the business around them. This area of campus is fairly central so it is always bustling and full of life. Grab one of the seats at a table where you can study with lots of natural light seeping through the large windows to the left of the space. There is also a room further down that is slightly quieter than the seating in the main area if you want slightly more privacy.
5. The centre of the York U bus loop
The middle of the bus loop at York University is the central point on campus – a large grassy area with fountains and trees that makes it the perfect spot for extroverts who need a certain amount of external stimulation while studying. Throw down a blanket on the grassy lawns during warmer months and flip through your notes and textbooks under the sunlight. There is no shortage of activity going on around the bus loop, giving you enough space to not be disturbed while you study but also allowing you to people watch when you feel the need for a study break.
Overall, the York University campus is wonderfully built to accommodate for both the introvert and extrovert student. Try out these awesome locations on campus for your next study session. You might just find refreshing motivation in shifting the atmosphere you hit the books in!
---
---
Related Articles