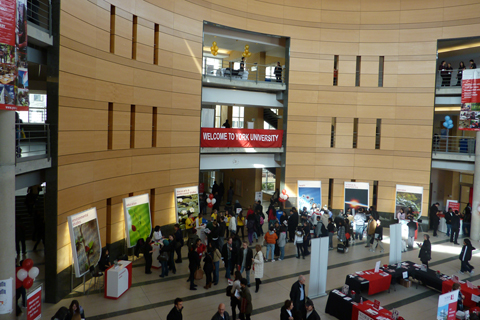 York University is home to over 50,000 students, making it one of the most diverse student bodies and lively campuses in Canada. It is no wonder, considering how many students attend the school, that many wonderful traditions have developed at the institution. These traditions allow students to kick back and relax, make connections, learn about the campus, and find out about all the great opportunities available to them as York U students.
1. YorkFest
YorkFest is one of the longest standing traditions at York University and gives students a chance to learn about the various clubs on campus and well on groups off campus they can get involved with. The Festival has grown to feature over three hundred organizations and sponsors which set up booths along the main campus walk for the week to interact with students. There are lots of games, giveaways, and fun activities hosted by the different clubs and partners of York U.
2. Frost Week
Frost week is a tradition that takes place annually during the winter semester at York University. It serves as a great pick me up for the winter blues, offering students the chance to participate in loads of really fun and relaxing events across campus and off. The week includes a  winter carnival, dirty bingo night, karaoke Casino night, DJ battle, and a bagel and hot choco bar.  The colleges also organize snow tubing and medieval times trips with discounted tickets for the York university student body.
3. Multicultural week
The multicultural week at York U is a week-long accessible and inclusive event that celebrates York University's diverse student body's culture through the exchange and showcasing of music, food, fashion, and activities. Many of the campus clubs get involved making it one of the most exciting and high energy weeks to be spending time on campus. The week features awesome events like a soccer world cup and a parade that displays diverse cultural identities through the showcasing of flags, clothing, and music. There is also a fashion show, food fair, visual art exhibition, and awards ceremony. It is an amazing annual tradition that really allows York U students to celebrate the school's values of diversity and inclusion.
4. The York Torch
Each year the York University holds a final championship featuring the highest performing intramural sports teams from college. Teams compete to win the ultimate honour – the York Torch! This event brings colleges together for a fun day of spirit and activity.
5. Exam Season Therapy Dogs
Each year during exam season, York University helps its students destress by inviting therapy dogs onto campus for days when students can cuddle with them in the hall and sign up to have them visit their dorm rooms. Visiting the therapy dogs is a wonderful way to relax during the stressful exam season study days. And it is completely free to visit them!
As a York university student you get the pleasure of participating in and experiencing a wide range of inspiring, enlightening, and enjoyable traditions. These are just some of the reasons being a York U Lion is so awesome.
---
---
Related Articles