---
Permachart - Marketing Reference Guide: Marginal Revenue, Profit Maximization, Marginal Cost
4 pages
1947 views
Fall 2015
---
---
This preview shows page 1. to view the full 4 pages of the document.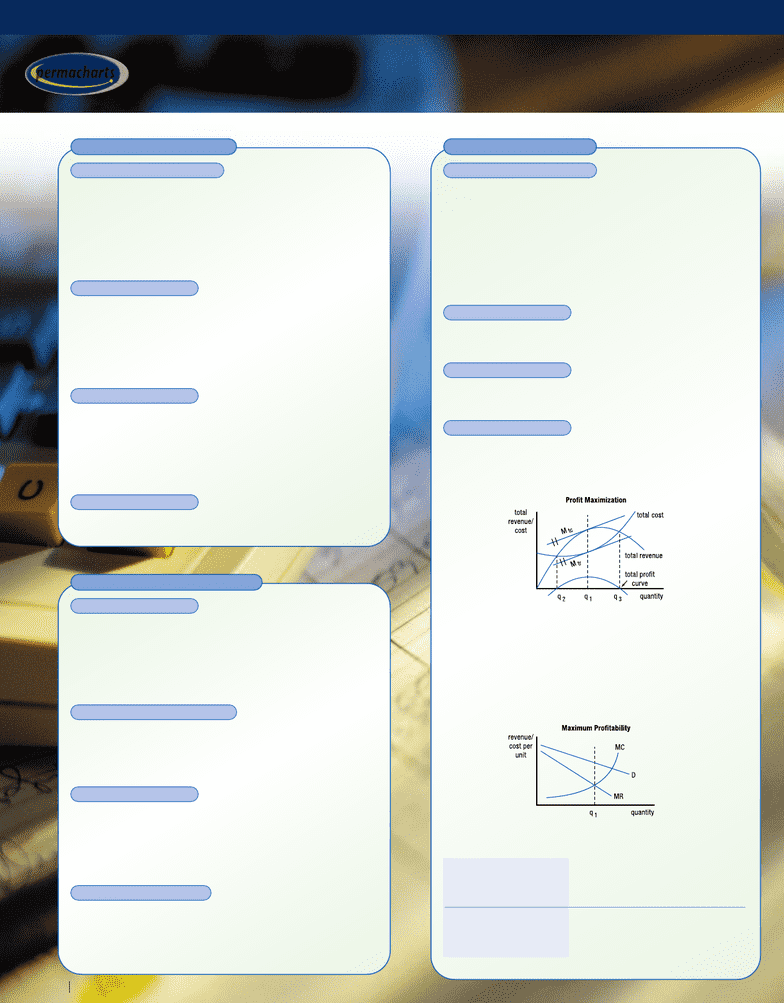 Microeconomics
Microeconomics
•
Pure competition
is a market situation in which individual
buyers and sellers are too small to influence the price of a
homogeneous item, as the price is free to move, and there are
no limits on who can buy or sell
•
Perfect competition
is pure competition with perfect
knowledge that enables the market to adjust instantaneously to
change
PURE & PERFECT COMPETITION
• A
monopsony
is a market in which a single buyer purchases an
item with no substitute available
MONOPSONY
• A
monopoly
is a market in which a single seller sells a product
for which there are no substitutes; a monopoly exerts control
over price and supply
• It can raise sales without lowering the price by convincing
consumers that they cannot be without the good, thereby
lowering the price elasticity
MONOPOLY
• Anything used to create goods or services (e.g., natural
resources, human resources)
• Includes entrepreneurship, which is an intangible resource
because it is difficult to place a quantitative value on vision
• The
market
refers to any place in which buyers and sellers
conduct transactions
• All non-human goods used to aid production of goods or
services; excludes raw materials or money used to purchase
capital goods
•
Money capital
refers to the money that is used to purchase real
capital goods
• The value of the resources needed to produce a good if those
resources were used to their best alternative use
• Also applies to the resources that must be given up to produce a
good
• External resources (e.g., labor, materials, overhead)
•
Explicit costs
are ruled by opportunity cost principles
•
Implicit costs
include costs of self-employed resources used in
production (e.g., a sole proprietor paying him/herself profits in
lieu of salary)
PRODUCTIVE RESOURCES
ALTERNATIVE (OPPORTUNITY) COST
REAL CAPITAL GOODS
EXPLICIT & IMPLICIT COSTS
• If increasing quantities of a variable factor are applied to a given
quantity of fixed factors, then the marginal and average
products of the fixed factor eventually decrease (also known as
the
law of variable proportions
)
• If the input of only one resource is increased, then total output
will initially increase
• Beyond some point, output increases will become smaller (if it is
carried further, then eventually total output will reach a
maximum and may begin to decrease)
• The surplus of total earnings over what must be paid to prevent
a factor from transferring to another use
• The allocation of an economy's scarce resources of land, labor,
and capital among alternative uses
PRODUCTION
LAW OF DIMINISHING RETURNS
PROFIT MAXIMIZATION
• The difference between total cost and total revenue is greatest
at q
1
, where tangents M
tc
and M
tr
are parallel
• Total profit is plotted from the difference total cost – total
revenue; at q
1
, marginal cost = marginal revenue
• From q
2
to q
1
, the gap between revenues and costs are
increasing (profit is growing); from q
1
to q
3
, further production
results in decreased profits
• Losses occur to the left of q
2
and to the right of q
3
• Firms seek to maximize profits by adjusting their price/output
combination to the point where Total Revenue – Total Cost is
maximized
• This is also where Marginal Revenue = Marginal Cost
• An
oligopoly
is a market in which the number of sellers is small
enough for the activities of one to affect the activities of others
• A
differentiated oligopoly
occurs where the few sellers sell
products with differences
• A
pure oligopoly
occurs where the few sellers sell homogeneous
or identical goods (cartels function as oligopolies)
• When MR = MC, profits are maximized; q
1
is the optimal
output for profit maximization
Marginal Cost (MC)
Measures the increase in total cost
that results from raising the rate of
production by 1 unit (also known as
Marginal Revenue (MR)
Measures the change in total
revenue due to a change in the
sales rate by 1 unit (also known as
MICROECONOMICS • 1-55080-742-2
1
l
e
a
r
n
•
r
e
f
e
r
e
n
c
e
•
r
e
v
i
e
w
© 1997-2013 Mindsource Technologies Inc.
w w w . p e r m a c h a r t s . c o m
You're Reading a Preview
Unlock to view full version
---
Loved by over 2.2 million students
Over 90% improved by at least one letter grade.