---
BIOLOGY 1A03 Lecture Notes - Lecture 4: G1 Phase, Cell Plate, Metaphase
---
---
This preview shows pages 1-2. to view the full 8 pages of the document.
Theme 4 – DNA Replication and Mitosis – Module 1 – The Cell Cycle
Unit 1: Cell Proliferation in Prokaryotes
Bacterial Cell Division
-
Process of cell division means dierent things to
dierent organisms, prokaryotic cells is also
reproduction since the division of one prokaryotic
cell gives rise to a new organism
-
Cells are capable of making exact copies of their
genomes and segregating one copy of each genome
to each of two daughter cells
Process of Binary Fission
-
Cell division in prokaryotes is a form of asexual
reproduction often referred to as
binary &ssion
-
Initiated when DNA is attached by proteins to the
inside of the plasma membrane
-
DNA replication begins along an origin of replication
region
-
Chromosome continues to replicate, cell beings to
elongate and newly synthesized DNA is also
anchored to the plasma membrane
-
Continues to elongate until two DNA attachment
sites are at opposite ends of the cell
-
Bacterium approximately double its original size,
starts to constrict along midpoint of the cell
o
Accompanied by synthesis of a new cell
membrane and cell wall
Unit 2: The Eukaryotic Cell Cycle
Dividing and Non-Dividing Eukaryotic Cells
-
Cell division allows for an unicellular fertilized egg to develop into a
multicellular organism
-
Early embryos contain

stem cells

: unspecialized cells that reproduce
inde%nitely and under appropriate conditions, can dierentiate into
specialized cells of one or more types
-
After an organism is fully grown, cell division leads to continual renewal and
repair of cells
-
Adult stem cells cannot give rise to all cell types, but replace non-reproducing
specialized cells
o
Ex. Mammalian skeletal muscle is a stable tissue with little cell
turnover or division
o
If it gets injured,

quiescent (non-dividing) satellite stem cells
present in the basement membrane can be activated and being
dividing to enable muscle regeneration
Only pages 1-2 are available for preview. Some parts have been intentionally blurred.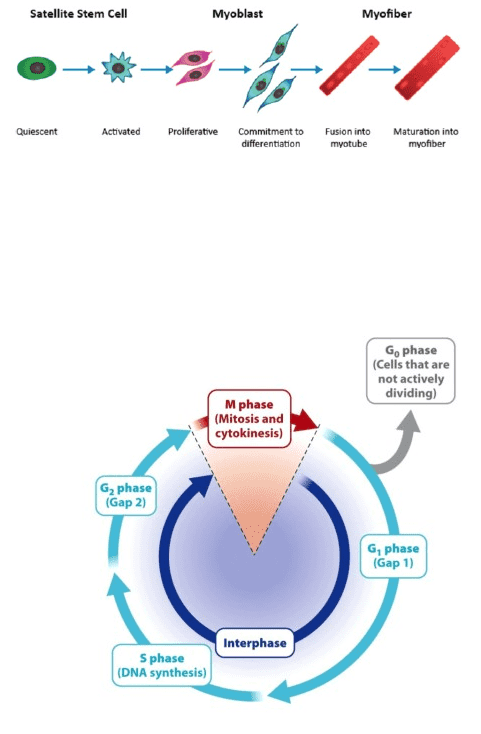 o
Leads to proliferation, dierentiation, and fusion of muscle precursor
commit to forming the
mature muscle cells that
make up muscle %bers
(myo%bers)
o
After myo%bers formed, they
can no longer divide
-
Why can some cells be dormant and then divide once again while others are
terminally dierentiated and are no longer able to divide?
Eukaryotic Cells Reproduce by Mitosis
-
Main distinctions between prokaryotic and
eukaryotic cell division – eukaryotic DNA
is larger, and organized into linear
chromosomes that are highly condensed
in the nucleus
-
Cell division therefore requires more
regulated control
-
Consists of two distinct stage
o
Interphase – S phase (where DNA
synthesis occurs) 2 gap growth
phases G1 and G2
o
M phase (mitosis and cytokinesis)
-
During interphase, cells make
preparations for cell division
o
Replication of DNA in the nucleus
and an overall increase in cell size
o
Replication of DNA occurs in the S phase
o
G1 and G2 prepare for DNA synthesis and mitosis respectively
-
Time taken for cells to pass through the cell cycle depends on the type of cell
-
Many cells can pause in the cell cycle in the G0 phase somewhere between M
and S
o
Pause ranges from many days to more than a year
-
Some cells enter G0 permanently and are non-dividing (lenses of eyes, nerve,
mature muscle)
Stem Cells Di.erentiate into Specialized Cells
-
Reproduce inde%nitely but also have periods of quiescence and undergo no
cell division
-
Fully dierentiated skeletal muscle – little to no cell division
o
Injury – quiescent satellite stem cells activated from dormant G0 phase
and renter cell cycle
o
Enables proliferation, dierentiation and maturation of new muscle
precursors that fuse and repair muscle tissue with new muscle %bers
o
After new myo%bers are formed, they exit the cell cycle and enter the
G0 phase again
You're Reading a Preview
Unlock to view full version
Only pages 1-2 are available for preview. Some parts have been intentionally blurred.
Phases of Mitosis
-
5 distinct stages that can be morphometrically characterized based on
distinctive changes that occur to chromosomes
1. Prophase
2. Prometaphase
3. Metaphase
4. Anaphase
5. Telophase
-
Walther Flemming
(1882) analyzed
developing salamander embryos he stained to visualize the chromosomes of
the dividing cells
o
Discovered that stages of mitosis could be staged based on
chromosomal positions
Prior to Mitosis, DNA Replication
-
Before mitosis, chromosomes must be duplicated and condensed, so
daughter cells can acquire the same amount of genetic information in a short
period of time
-
Most of interphase, chromosomes are in the form of a long, thin %ber
-
Dna replicated from end to end and the

centromere is fully replicated

just
so compacted that the paired
centromeres appear fused together
-
22 chromosome pairs are

homologous
(one maternal and one paternal in
origin), 1 pair sex chromosome
-
Not until M-phase that chromosomes
compact into structure shown
o
Two sister chromatids of each
duplicated chromosome separate
and move into two new cells
Unit 3: Chromosome Dynamics
Prophase
-
During interphase, speci%c
chromosomes cannot be identi%ed as
they are organized into long
chromatin %bers
-
As cells transitions from G2 to M-
phase,
duplicated chromosomes
begin condensing
and individual
chromosomes become visible even
with a light microscope
-
Each chromosome appears as
identical sister chromatids
, joined at their centromeres
-
Duplicated cellular microtubule organizing centres – centrosomes

begin to
radiate long microtubules, forming a
mitotic spindle
You're Reading a Preview
Unlock to view full version
---