LIFESCI 2N03 Lecture Notes - Very Low-Density Lipoprotein, Cardiac Muscle, Muscle Tissue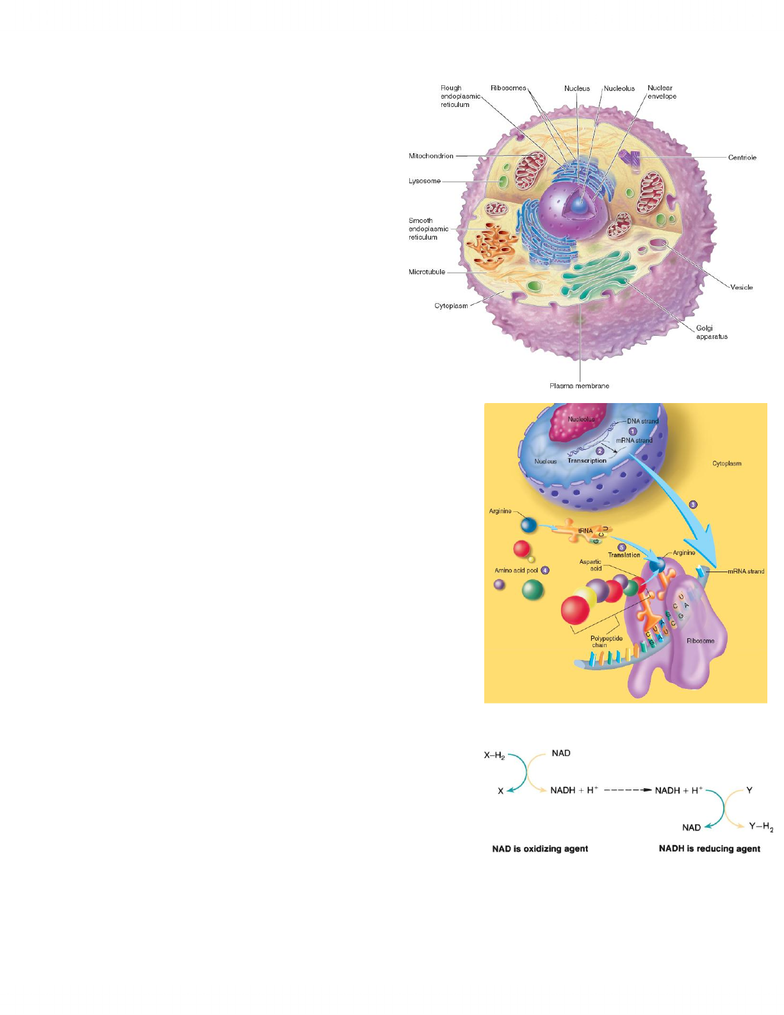 September 30, 2013
Metabolism

Sum of all chemical reactions that occur in the body

Anabolic reactions

–

synthesis of molecules

Catabolic reactions

–

breakdown of molecules

Bioenergetics

–

converting foodstuffs (fats, proteins,
carbohydrates) into energy
Eukaryotic Cells

DNA is kept in a close and distinct compartment

Mitochondrion

–

energy factory;

where the cell makes the
money
"money" allowin
g the cell to do certain things

Cellular Membrane

–

major source of cellular electricity
(Na+ and K+ flowing across membrane creating an action
potential)
and intra-cellular signaling;
selectively keeps
o
Eg/ insulin will signal increase in cellular uptake
of glucose; has to signal to cells on receptors on

Nucleus

–

home of cells genes

;

making new proteins for
muscle cells to enable it to produce more force
Protein Synthesis
1.
DNA contains information to produce proteins
2.
Transcription produces mRNA
3.
mRNA leaves nucleus and binds to ribosome
4.
Amino acids are carried to the ribosomes by tRNA
5.
In translation, mRNA is used to determine the arrangement of
amino acids in the polypeptide chain
o
Amino acids (dietary)



supplies; increase enzymes to increase
cell capability of breaking down sugar or fat as a substrate of
energy; amino acids are the building blocks of enzymes
(proteins)

Exercise (muscle contract) begins process

Dietary amino acids

–

ingestion of amino acids may be
sufficient to begin synthesis of proteins

Anabolic steroids

–

synthetic drugs that stimulate
process faster (go directly to DNA, increases rate of
synthesis; not allowed in athletics)

Endergonic reactions

–

require energy; endothermic

Exergonic reactions

–

release energy (transfer to mechanical and/or
chemical and thermal); exothermic

Oxidation and reduction are coupled reactions
o
Oxidation

–

removing an electron
o
Reduction

–

addition of an election
o
Often involve transfer of H atom rather than free election

H atom contains one electron

A molecule that loses H also loses an electron; therefore
is oxidized
o
NAD

–

oxidizing agent; electron carrier; can readily bind
electrons; becomes reduced
o
NADH

–

reducing agent; loses an electron; becomes oxidized
Enzymes

Enzymes

–

catalysts that regulate the speed of reactions; lower the activation energy

Factors that regulate regular enzyme activity

Figure: Sucrase binds disaccharide substrate (sucrose) and initiates chemical reaction to
break bond
–
results in two monosaccharide (glucose and fructose); sucrose remains the
same, can go on to next disaccharide

Role in Metabolism

–

speeds up the breakdown of macronutrients that will eventually
make us "money"
(ATP, energy)

Effect of Temperature

–

increase temperature = danger of denaturing enzymes
o
Exercise requires temperature regulation, or else extensive damage can occur to
structural proteins and enzymes

Effect of pH

–

increase acidity (lower pH) = enzyme activity decreases
Energy

Energy "substrates" –

carbohydrates, fats and proteins
o
Come from diet and storage (liver, glucose; muscle protein)
o
Energy needed to form ATP
1.
Myosin ATPase

–

contractile muscle and enzyme; can bind ATP and harness energy; responsible
for force production
2.
SERCA

–

sarco endoplasmic reticulum calcium ATPase; put calcium back after muscle
contraction, or keep muscle rested
3.
Na+/K+ ATPase

–

keeps muscles from contracting uncontrollably

ATPase

–

enzyme that can bind to ATP; expend energy

SERCA and Na+/K+ ATPase are responsible for most metabolism during rest

Getting energy from substrates depends on
o
Substrate availability

–

diet is a factor
o
Enzyme dynamics

–

pH and temperature; exercise; eg/ if you do endurance training, you become better at
o
Nervous system demand

–

activate nervous system to activate muscle tissue
o
Metabolic "backup"

–

maximize usage of glucose, then body shifts to other energy substrate
o
Mechanical events when phosphate is removed

–

harnesses chemical energy to convert to mechanical energy and
thermal energy (60-70%)

Energy for Muscle Activity

Phosphocreatine (PCr) breakdown

Oxidative formation of ATP

PC breakdown and glycolysis (breakdown of glucose)

Oxidative phosphorylation (glucose, fat and protein)

Enzymes

in

mitochondria
Creatine

Non-essential dietary element; found in meat and fish
o
Cooking meat destroys creatine

–

don't need to ingest because our body makes it (non

-essential)

Greek derivative; kreas = flesh

Found primarily in skeletal muscle, heart, spermatozoa, retinal cells
`
Exercise
Oxidative phosphorylation, O
2
Use glucose and fat, protein is last resort