LIFESCI 2N03 Lecture Notes - Lecture 5: Glycemic Load, Baked Potato, Rye Bread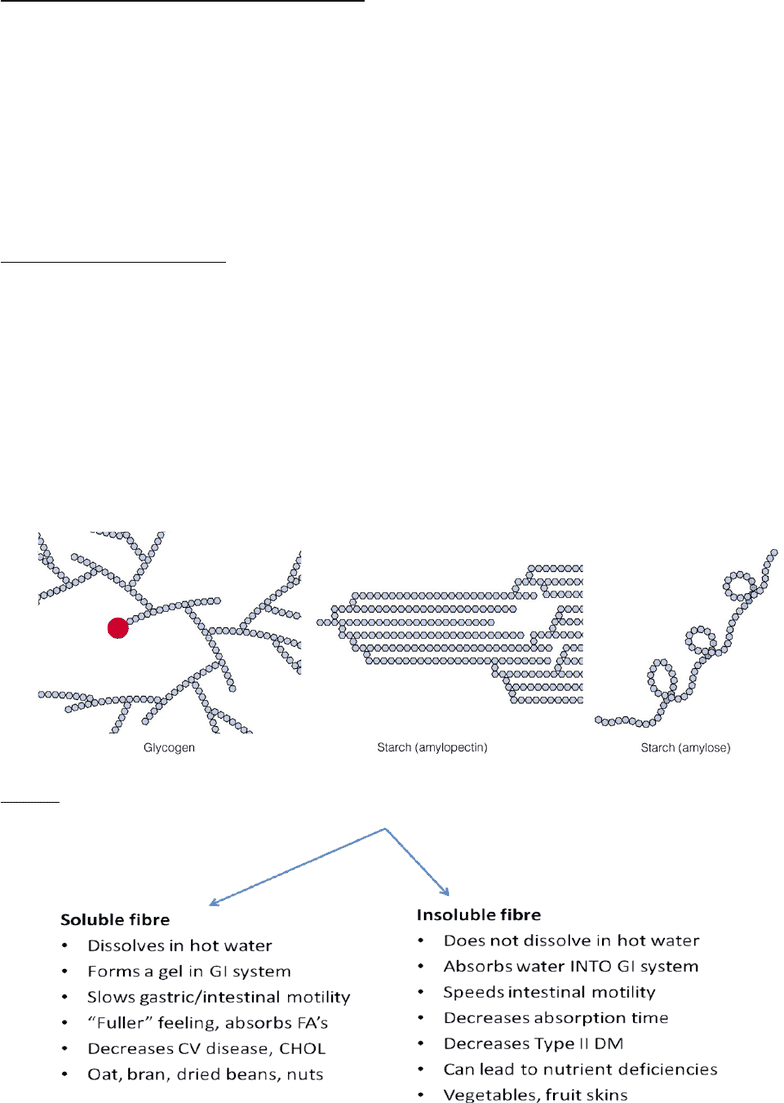 LECTURE - CARBOHYDRATES
WHAT IS A CARBOHYDRATE?

Is a "hydrate of carbon"
Ex: making a glucose molecule
Storage form of glucose
•
We store glucose in muscle cells and liver cells
•
Plants:
starch (amylopectin and amylose) & fibre
•
Amylopectin – stacked – ¾ of starch – branching every 25-30 glucose units
•
Amylose – long chain – ¼ of all the dietary starch – less bioavailable – it's
harder for our body to break amylose down
•
Starch and glycogen in our liver cells differ by the structure
•
Dietary fiber and starch relates to the bonds between the glucose molecules. The
manner in which the glucose molecules are linked together differ in dietary fiber and
starch
FIBRE
Non-digestible carbohydrates (in plants)
LS 2N03 – Human Nutrition for Life Sciences
D.M. Pincivero, 2015
80
Fiber is non-digestible – we don't have enzymes to break these apart
Soluble fiber – soluble in water
-
Thicker consistency – flows slower
-
Produces fuller feeling
-
Absorbing fatty acids in the food we consume
-
Vast majority of food provide a mix of macronutrients – advantage of consuming
soluble fibers while consuming lipids – the fiber absorbs the fatty acids – decreases
cardiovascular diseases
Insoluble fiber – not soluble in water
-
Opposite effect of soluble fiber
-
Increase and speed the movement of chyme – mobility of chyme – provides less
time of absorption of nutrients (lipids) – decreasing absorption time - decreases the
consumption of nutrients
Dietary fiber – naturally occurring fiber
Functional fiber – added fiber to food to provide the potential benefits the fiber does provide
us in our diet
Function of carbohydrates?
Making money by combusting carbohydrates – making ATP
RBC don't have mitochondria so they're metabolic pathways rely on anaerobic. They rely on
glucose for energy
2)
Ribose and deoxyribose sugars
3)
Structure and strength of plants
4)
Linked to proteins and lipids
Glycoprotein
: Covalent link between protein and a carbohydrate monomer
Cell – cell adhesion
Glycolipid
: Forms myelin around neuron axons
Provides insulation around these axons
LS 2N03 – Human Nutrition for Life Sciences
D.M. Pincivero, 2015
81
FORMS OF CARBOHYDRATES
Monosaccharides: simples form of CHO
Contains 3 to 9 carbon atoms
Glucose, fructose and galactose – same chemical formula different chemical structures
Sugar alcohols
• Derived from monosaccharides
• Used as a sweetener (sorbitol made from glucose)….sweetens "sugarless" gum
Alternative sweetener
Sweetens sugarless gum – would reduce the calorie count – higher sweetness value than
sugar – only a small amount need to be added to replace the sugar
CHO DIGESTION
LS 2N03 – Human Nutrition for Life Sciences
D.M. Pincivero, 2015
82