BLG 144 Lecture Notes - Lecture 4: Plate Tectonics, Convergent Evolution, Phenetics
For unlimited access to Class Notes, a Class+ subscription is required.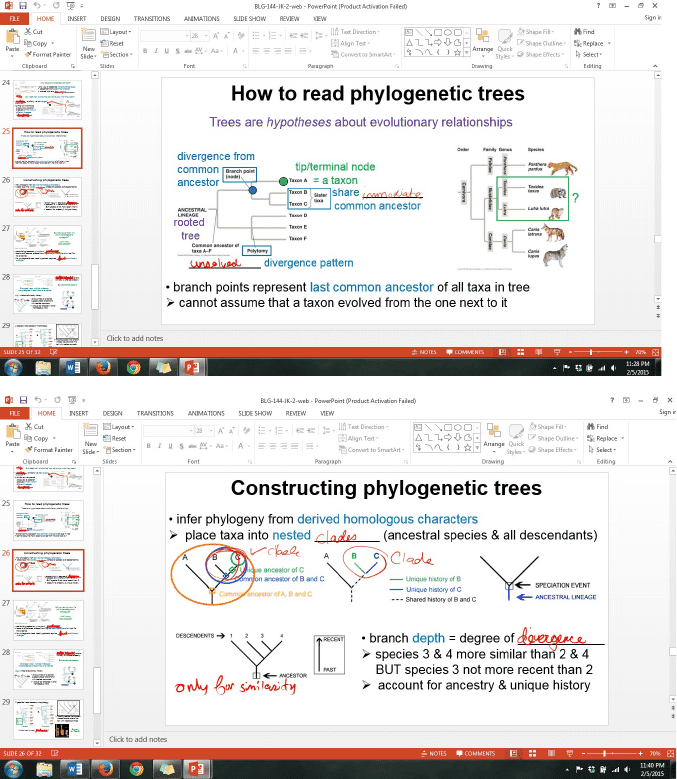 TREE OF LIFE
o
Phylogeny:

evolutionary history of a species
o
Systemation:

naming and classifying of organisms based on their phylogeny
o
Branches = formation of new linages
o
Shows evolutionary change through ancestor-descendent relationships
o
Based on level of trait sharing
1.
Phenetics: overall similarly of different organisms
2.
Cladistics: sharing of synapomorphies (unique and derived)
*shared traits are homologous*
(Analogy)
Convergent evolution: evolution of similar traits in distantly related species, put under
similar selective pressures, however has different lineages
(Homoplasies)
Shared Genes are
passed down to decedents, duplicated genes mean a unique event occurred
Parsimonious – KISS – the most simple explanation is the best one
FOSSIL RECORD – direct evidence of evolution