---
LAW 122 Lecture Notes - Lecture 1: Supreme Court Act, R V Oakes, Constitution Act, 1982
---
---
This preview shows pages 1-2. to view the full 8 pages of the document.
LAW 122- LECTURE 1: INTRO TO LAW
EXTRA MATERIAL:
•
A crime in anything outlined in the criminal code; things that are ethically wrong maybe not be lawfully wrong
•
Criminal code was established by the statute
•
Torts (civil/ tort law) are established by the courts
•
You are able to be prosecuted in both the criminal and tort law (double punishment)
o
OJ was able to get all the criminal charges dropped against him however he lost the civil suit that the
family of the victim brought upon him
•
There are three elements that are needed to successfully prove negligence
•
***More memorization and being able to identify what the appropriate tests are and what they mean.
SOLVING A LEGAL QUESTION
•
What are the facts?

- Read carefully and understand the facts, as they determine the relevance of any legal
points you make later
•
What are the relevant legal issues?

- What do we want to determine e.g. is the contract enforceable? Has a tort
been committed?
•
Discuss the law relevant to the issue.

- refer to supporting legal authorities, is there a legal test, rule or criteria
that applies to a statute or legal precedent?
•
Apply the law to the facts.

- determine the likely decision
•
Decisions are not simply the personal opinion of the judge
NATURE AND SOURCES OF LAW
Why Study Law?
•
The law describes, defines, and intrudes on every aspect of life and business is no exception
o
Business decisions have legal consequences
▪
Negative: dumping pollutants into the water
▪
Positive: facilitating enforceable agreements
Nature of Law
o
All laws are rules but not all rules are
laws
o
Moral wrongs are informally punished
o
Legal wrongs are formally punished
•
Laws are rules enforced by courts
•
Law reflects a unique way of reasoning: it is not
sipl hat the judge deided as ight  o
o
The decision must be based on statute
and/or binding legal precedent
•
Ethical Perspective 1.1 p.6
ETHICAL PRESCPECTIVE 1.1 PG6
While fishing from a lakeshore, I saw a canoeist tip his boat and fall into the water. Although he screamed for
help for more than 20 minutes, I did nothing at all. My motorboat was nearby, and I could have easily rescued him, but I
preferred to continue fishing. Was there any rule that required me to get involved? Assuming that the canoeist
drowned, can I be held legally responsible?
Most people would agree that I had an obligation to rescue the canoeist, especially since I could have done so
safely and easily. However, that rule may exist only in morally, and not in law. According to an old American case, I could
find more resources at oneclass.com
find more resources at oneclass.com
Only pages 1-2 are available for preview. Some parts have been intentionally blurred.
not be held legally responsible even if I had rented the boat to the deceased when I knew that he was drunk. Jn the
same situation today, a Canadian court would undoubtedly impose liability. But if I did not have a business relationship
with the canoeist, the answer would be Jess clear. The courts traditionally drew a distinction between moral obligations
and legal obligations, and generally said that there was no duty to rescue in law. Recently, however, Canadian judges
have begun to adopt a different attitude. Consequently, while we now know that there is sometimes both a moral duty
and a legal duty Td rescue, we do not know exactly when that is true.
ETHICAL REASONING
•
Consequences

: promote good consequences and avoid bad ones, for all concerned, in the long run
•
Justice and Fairness

: make sure that good and bad consequences are distributed fairly
•
Rights and Duties

: protect rights and perform duties
•
Characteristics/ Virtue

: consider what kind of people we want to be and what example we want to set
MAPS OF THE LAW
•
Canadian law can be organized and categorized in various ways:
o
Substantive differences between certain types of laws (e.g.
criminal law VS. Civil law)
o
Different sources of the law (e.g. statute law VS Common
law, federal law VS Provincial law)
•
Legislation is the law enacted by Parliament and the provincial and
territorial legislations
•
Common law is the body of legal rights and obligations arising out of
•
Canada has 2 distinct legal tradition s
o
The iil la taditio i Quee is fouded o the poie's histoial oetio to Fae
•
The common law tradition in the rest of Canada is derived from its historical connection to England
o
It is concerned with judge-made legal precedent
•
This ouse ill fous o Caada's oo la taditio
Constitutions
•
The Canadian Constitution is the supreme law. Al other laws must conform to
the requirements of the Constitution
o
The Constitution Act, 1867
▪
Desies Caada's goeet faeok
▪
Describes the distribution of powers among federal
government, provinces and territories
▪
Describes how laws are enacted
o
The Constitution Act, 1982
▪
Confirms and enshrines basic rights and freedoms of Canadian in the Charter of Rights and
Freedoms
Public Law
▪
The rights and obligations of Canadians to their government (federal,
provincial, municipal)
Private Law
▪
The rights and obligations of Canadians in dealing with each other
▪
Rules governing private dealings or matters
find more resources at oneclass.com
find more resources at oneclass.com
You're Reading a Preview
Unlock to view full version
Only pages 1-2 are available for preview. Some parts have been intentionally blurred.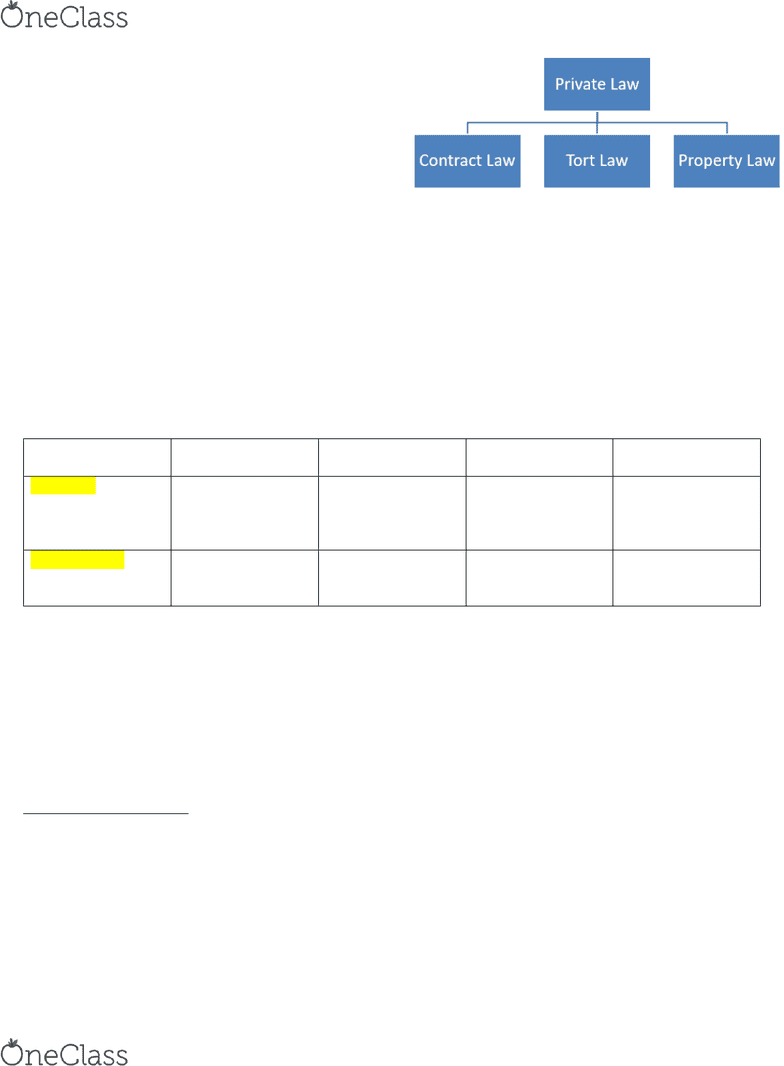 Contract Law
▪
The creation and enforcement of contracts
▪
The means for the purchase and sale of products,
services, employment
▪
Contracts lie at the heart of the business world
▪
They are the way business is conducted
Property Law
▪
The auisitio, use ad disposal of popet. This iludes…
▪
Real property (land and buildings)
▪
Personal property (moveable items)
▪
Intellectual property (invention, creations, books, music and software)
Tort Law
▪
A tort is a private wrong (in contrast to criminal law, which is a wrong against the state)
▪
It may be deliberate (intentional tort) or a consequence of carelessness (negligence)
▪
It includes business torts (e.g. conspiracy, deceit)
TORT LAW V CRIMINAL LAW
Concerned Parties if
Obligation Breached
- Identified persons
(including
corporations as
persons)
- Aggrieved person
takes private legal
action against the
other
- Damages for
determined loss
- The person
iludig peso's
and the state
- Prosecution of the
person by the state
- Punishment (fine or
prison)
▪
* these categories are not mutually exclusive
▪
** An event or fact situation can give rise to both tort and criminal liability
CANADIAN CONSITUTIONS
▪
The Constitution is the dominant source of Canadian law.
▪
It estalishes Caada's sste of goeet, iludig the diisio of

powers between the federal government
and the provinces and territories.
▪
It establishes and confirms the essential right and freedoms of all Canadians through the Charter of Rights and
Freedoms.
The Constitution Act, 1867
o
Caada's oigial Costitutio as the Bitish Noth Aeia At, , U.K. BNA At;
o
The BNA At gated Caada's idepedee;
o
It created Canada, as it then existed, out of Ontario, Quebec, New Brunswick and Nova Scotia;
o
It provided for the future admission

of Pie Edad Islad, Nefoudlad, Bitish Coluia, Rupet's
Land and the North-Western Territory;
o
The BNA Act determined Canada to be a federal state and established the division of powers between
the federal and provincial governments. [ss. 91 and
92]
find more resources at oneclass.com
find more resources at oneclass.com
You're Reading a Preview
Unlock to view full version
---