MHR 523 Lecture Notes - Lecture 3: Succession Planning, Walmart, Markov Chain
MHR 523 Lecture 3

Systematic study of a job to discover its specifications and skill requirements

Gathering information tells HR about the job roles, tasks, and responsibilities

Usually done for companies that are just starting up or currently non-existent

Helps identify jobs that are required and how many employees are required

Important to know that jobs change a lot becoming enlarged. Employees often find themselves
doing tasks that weren't included in the job description

If employees are doing more work that they have agreed to do, their wages should also go up
because the job has become more difficult
o
Wage-setting, recruitment, training, or job-simplification
****
HR
Acti
v
i
t
i
e
s
Rel
y
i
n
g
o
n
Jo
b
A
n
a
l
y
s
i
s
(
Define 5 HR activities that influence job analysi

s

)
Improve productivity: high performers identified and analysed to be better than others
Avoid discrimination in employment
Person-job matching: characteristics required of employees required for job
Planning : better su
ited jobs are given to another department's employees. Other department many not
require as many employees in the other department
Training: methods of training that will help low performers become high performing.
Compensation:
same as wage setting
Quality of work life: enjoying work.
Performance standards: what makes employees work well? Set goals and standards to help people
Re
-design of jobs: Redesigning jobs as a result of job analysis.
Performance appraisal : decisions made on subjectivity, whether or not the supervisor likes you.
•
Phase 1

Preparation for Job Analysis
o
Step 1: Familiarize with the organization and its job
•
How each job role helps the organization meet its goals and
strategies.
o
Step 2: Determine uses of job analysis information
•
Communicate to employees the uses of job analysis (e.g.
compensation: employees telling employer the jobs they do
that deserves a wage increase)
o
Step 3: Identify jobs to be analysed
•
Not all jobs need to be analyzed. (e.g. janitor at Ryerson not
helping organization meet its goals, therefore it does not need
to be analyzed).
•
Phase 2

Collection of Job Analysis Information
o
Step 4: Determine sources of job data
o
Step 5: Data collection instrument design
•
Questionaries used to collect information about each job.
•
We want consistency so that we can compare results
o
Step 6: Choice of method for data collection
•
Interviews: require most time and company resources, but
provide most in-depth answers
•
Observation:

require most time and company resources, but
provide most in-depth answers
•
Phase 3

Use of Job Analysis Information
o
HR Systems & Change: how should we train and select employees?
o
Job Descriptions and Specification: requirement of employee to perform
job (e.g. high school diploma)
o
Job Performance Standards: high performers from low performers

A recognized list of functions, tasks, accountabilities, working conditions, and competencies for
a particular occupation or job
o
Job identity e.g job title, location, grade
o
Job summary and duties e.g. what the job is
o
Working conditions e.g. hours of work, travel
J
o
b
Desc
r
i
p
t
i
o
n
v
s
.
S
p
e
c
i
f
i
c
a
ti
o
n
s
Description:

Defines what the job does

What tasks are required of the job
Specification:

Describes what the job demands of employees and the human factors required

What skills are required for the job
Human Resource Planning systematically forecasts an organization's future demand for and supply of
employees and matches supply with demand
Rel
a
ti
o
n
s
h
i
p
to
S
tr
a
teg
i
c
P
l
a
n
n
i
n
g

Effective Human Resource Planning enables strategic success
o
Different organizational strategies require varying human resource plans
o
Facilitates proactive response to environmental and legal challenges
o
Needs to be matched to tactical plans

Refers to projects already started(e.g. after 1 month, we need 2-

3
employees, in 2 months sales will pick up, we need 10 employees)
o
Organizations with projects need to ensure they are staffed accordingly.
o
The HR needs will be related to the success of the project
o
Projects staffed poorly might fail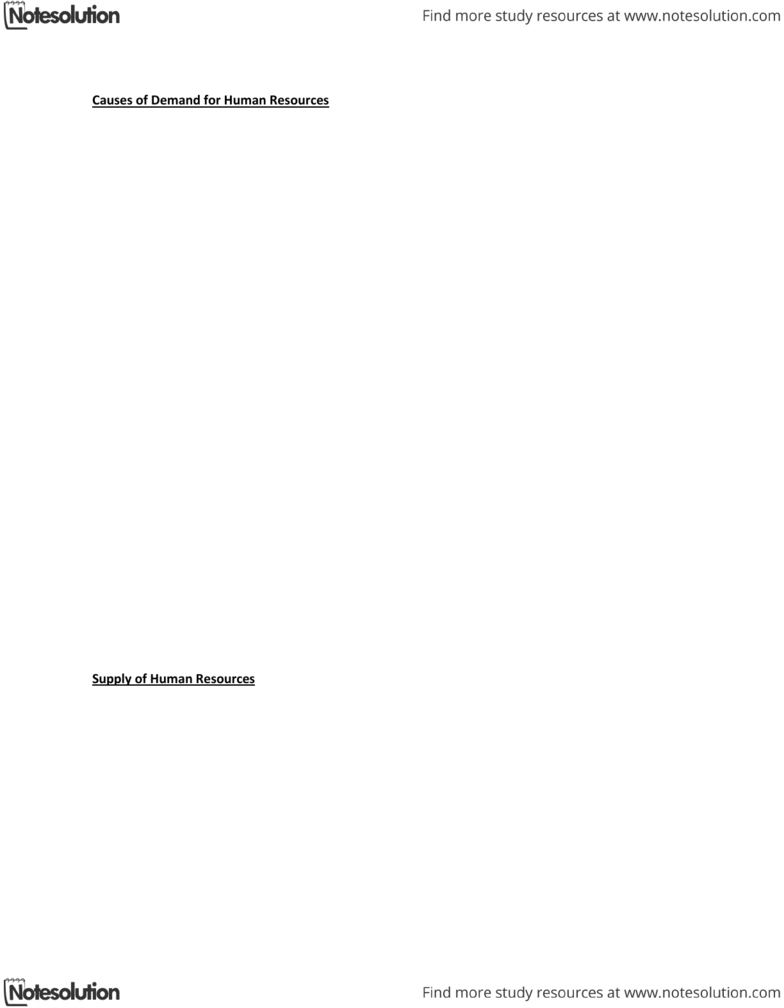 C
a
u
s
e
s
o
f Dema
n
d
fo
r
Huma
n
R
e
s
o
u
r
c
e
s
External
o
Economy not doing well, we require less employees

Social-political-legal challenges
o
Minimum wage increases may cause some organizations to employ fewer people
o
Able to do jobs humans did before
o
Small businesses who pay their employees more than minimum wage are hurt by
Wal-Mart.
o
To cut costs they reduce number of hours given to employees or let go of them
completely.
o
Eventually they are forced to shut down
Organizational
o
Growth, when we open new ventures we need more employees
o
Decrease in budget means less employees

Sales & production forecasts
o
Forecast higher production for next year, we will need more employees

Organizational & job design
o
Design jobs more efficiently, we need less employees in one department and more
in another (E.G. more in admin and less in production line)
Workforce
o
When everyone retires, we need increase in demand of employees to replace them.
S
u
p
p
l
y
o
f Hu
man
R
e
s
o
u
r
c
e
s
Internal Supply Estimates
o
Succession planning: identify replacement charts to resemble management
inventories hierarchy (e.g. Ted Rogers died, son was too young to take over.
Someone else was hired until son was old enough)

Replacement charts and summaries
o
Potential replacements for job

Transition matrices & Markov Analysis
o
Identify the movements of job roles in the last year. (e.g. 60% of engineers
remain, 10% quite, 5% switched to other jobs)
o
Based on future hiring needs.
Document Summary
Systematic study of a job to discover its specifications and skill requirements. Gathering information tells hr about the job roles, tasks, and responsibilities. Usually done for companies that are just starting up or currently non-existent. Helps identify jobs that are required and how many employees are required. Important to know that jobs change a lot becoming enlarged. Employees often find themselves doing tasks that weren"t included in the job description. If employees are doing more work that they have agreed to do, their wages should also go up because the job has become more difficult. Used for: wage-setting, recruitment, training, or job-simplification. ****hr activities relying on job analysis (define 5 hr activities that influence job analysis) Improve productivity: high performers identified and analysed to be better than others. Person-job matching: characteristics required of employees required for job. Planning : better suited jobs are given to another department"s employees. Other department many not require as many employees in the other department.