---
PAT 20A/B Lecture Notes - Lecture 11: Optic Disc, Hyponatremia, Diuretic
Premium
8 pages
114 views
Fall 2015
---
Department
Pathotherapeutics
---
This preview shows pages 1-2. to view the full 8 pages of the document.
PAT 20
–
Pathotherapeutics
Traumatic Brain Injury
1.
Discuss the relationship between ICP, BP, CPP and Cerebral Blood Flow
INTRACRANIAL PRESSURE
•
Normal ICP is the pressure exerted by the combined total volume of the three
components within the skull
:
brain tissue (78%); blood (12%); CSF (10%)
o
CSF is produced in the ventricles of the
•
Balance between 3 components maintains intracranial pressure
•
If 1 component increases then the other 2 must compensate by displacement
for pressure to remain constant
= Monroe-Kellie Hypothesis
o
The total intracranial volume will not change
•
If any of the 3 components increases without a corresponding decrease in another component 

rapid increase
in ICP from the normal range (0-15 mmHg)
•
If

↑

in brain tissue or blood volume, initial response is reduction in CSF to maintain normal pressure
•
Compensation works only to a point
•
With further increase in brain tissue volume, venous blood and more CSF is forced out of the skull
Factors Influencing ICP
•
Intra-abdominal and intra-thoracic pressure
Factors Influencing Cerebral Blood Flow
•
Carbon dioxide (↑CO2=dilate=

↑

ICP)
•
Oxygen (↑O2=dilate=

↑

ICP)
•
Hydrogen ion concentration (

↑

acid)
CEREBRAL BLOOD FLOW (CBF)
•
CBF =

ml

s of blood passing through 100mg of brain/min
•
Within the minute 100 g of brain tissue receives approx. 750 mls blood
•
Unlike other organs, the brain lacks the ability to store oxygen or glucose, and therefore the maintenance of
adequate blood flow to the brain is critical for neuronal functioning and survival
Autoregulation
The brain's intrinsic ability to regulate its own blood flow in response to its metabolic needs in spite of wide fluctuations
in systemic arterial pressure is termed autoregulation.
•
Autoregulation is the automatic alteration in the diameter of the cerebral blood vessels to maintain a constant
blood flow to the brain during changes in BP
•
The purpose of autoregulation is to ensure adequate CBF to meet the metabolic needs of brain tissue and to
maintain cerebral perfusion pressure within normal limits. (Lewis 1636)
Cerebral Blood Flow (CBF) depends on Cerebral Perfusion Pressure (CPP) and Cerebral Vascular Resistance (CVR)
•
Cerebral Blood Flow = amount of blood per minute to the brain in mls
•
Cerebral Perfusion Pressure =

pressure required to provide adequate cerebral blood flow and oxygenation to
brain tissue
o
CPP = MAP (diastolic + 1/3 pulse pressure)

–

ICP
•
Cerebral autoregulation maintains constant CBF by compensating for changes in ICP unless:
o

ICP such that CPP < 40 mm Hg
o
MAP > 150 mmHg or < 50 mmHg
o
Brain injury/ trauma/brain tissue
Normal ICP: 0-15 mm Hg
Increased ICP: > 20 mm Hg for > 5 minutes results in impaired cerebral perfusion
find more resources at oneclass.com
find more resources at oneclass.com
You're Reading a Preview
Unlock to view full version
Only half of the first page are available for preview. Some parts have been intentionally blurred.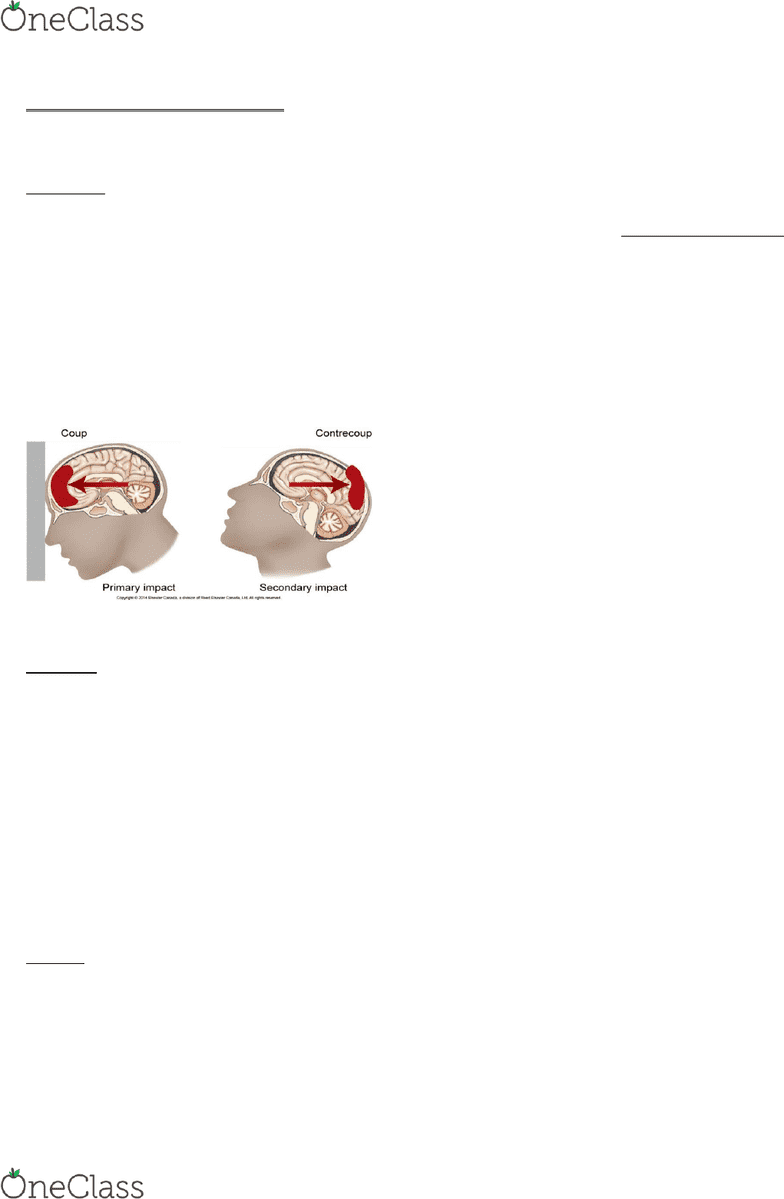 2.
Determine the etiology of Traumatic Brain Injury (T.B.I.)
TYPES OF TRAUMATIC BRAIN INJURY
•
Brain injuries are categorized as being mild, moderate, or severe
•
A
clinical syndrome characterized by immediate and transient post-traumatic impairment of neural functions

,
such as alteration of
consciousness, disturbance of vision or equilibrium due to brain stem involvement


o
Sudden, brief mechanical head injury with disruption of neural activity
•
A sudden, forceful impact (low speed) can cause the brain to make contact with the skull, possibly leading to
bleeding in or around the brain or microscopic
nerve fiber damage
o
No break in the skull and cannot be seen on CT or MRI
•
Signs of concussion = brief disruption in LOC, loss of consciousness (~5 min or less) and possible retrograde
amnesia (forgetting the event) after head trauma
•
Manifestations include HA, dizziness, N+V
•
Occurs with contra coupe injuries
Contra coupe injuy: Damage to the brain on both sides: the side
that received the initial impact (coup) or blow and the side opposite
the initial impact (countrecoup).
This occurs when the force of the initial blow is great enough to
cause brain damage at the site of initial impact between the skull
and brain and is also great enough to cause the brain to move in the
opposite direction and hit the opposite side of the skull, causing
damage at that site.
Moderate Brain Injury
GCS 9-
12
: Associated with
POST CONCUSSION SYNDROME
•
Once an individual has had a concussion they are at an increased risk to concuss again
•
Post concussion syndrome is recognized as a mental illness (DSM IV) which may last up to 2 years or more
includes:
o
Physical

- headaches, dizziness, sleep disturbances, blurring vision, light and sound sensitivity, neck pain,
ri
nging in the ears and fatigue
o
Emotional

- anxiety, irritability, depression and mood swings
o
Cognitive

- short-term memory (S.T.M.) problems, impaired concentration and attention span, periods
of confusion and cognitive slowing (learning problems)
Chronic Traumatic Encephalopathy (CTE) research is occurring to discover if this is the cause of increase in suicide rate
and dementia in athletes who have played contact sports
Severe Brain Injury
•
Bruising of the brain tissue itself within a focal area
o
Usually occurs near the site of skull fracture
•
Often develops areas of hemorrhage, infarction, necrosis, and edema
•
Damage from coup-contrecoup injury (high speed) occurs because of mass movement of the brain inside the
skull leading to multiple contused areas
•
Manifestations depend on location of contusion, however, serious contusions will show signs of increased ICP
and herniation syndromes
•
Lacerations associated with compound fractures of the skull and actual tearing of brain tissue occurs
•
Many delayed consequences such as hemorrhage, hematomas, seizures and edema
find more resources at oneclass.com
find more resources at oneclass.com
You're Reading a Preview
Unlock to view full version
Only half of the first page are available for preview. Some parts have been intentionally blurred.
Diffuse Axonal Injury (DAI)
•
Can occur with mild, moderate or severe TBI
•
Damage occurs in subcortical white matter of the cerebral hemispheres, basal ganglia, thalamus and brain stem
•
Increasing evidence supports:
o
Trauma results in alterations in the function of the axon leading to
▪
Axon swelling and disconnection
▪
Takes 12 to 24 hours to develop following injury
▪
Maifestatios ilude: ↓ LOC, ↑ ICP, deortiate ad deererate posturig ad gloal
cerebral edema
•
90% of individuals with DAI remain in a persistent vegetative state
CLINICAL COMPLICATIONS OF TRAUMATIC BRAIN INJURY
CEREBRAL EDEMA
•
Coo liial opliatio folloig "rai ijur
•
Accumulation of fluid in extra-vascular volume which has a hydrostatic pressure (pushing)
o
d/t increase in cerebral blood volume (intravascular volume)
o
Hypotonic I.V. fluid infusion
Types of Cerebral Edema
•
Vasogenic



VESSEL (increase flow through the vessels of the brain aka filtration pressure)
o
Occurs over hours to days
o
Epithelial lining of cerebral blood vessels become abnormally permeable allowing protein to leak into
the extravascular space
o
Most common in traumatic brain injury
•
Cytotoxic edema



CAN'T BREATHE

(ischemia)
o
Actual swelling of cells of brain
o
Occurs over minutes, may be reversible
o
Main cause is ischemia, can be caused by drowning
▪
It is better to drown in icy cold water, than a pool/ocean
▪
Cold temperature decreases the metabolic needs of the brain
o
More resistant to treatment
•
Interstitial Edema



SWELLING
o
Results from periventricular diffusion of ventricular CSF with uncontrolled hydrocephalus
o
Also caused by systemic fluid volume excess with hyponatremia resulting in fluid shift into brain cells by
the administration of hypotonic solution
▪
The sodium in the blood will shift out into the brain tissue
find more resources at oneclass.com
find more resources at oneclass.com
You're Reading a Preview
Unlock to view full version
---
Loved by over 2.2 million students
Over 90% improved by at least one letter grade.