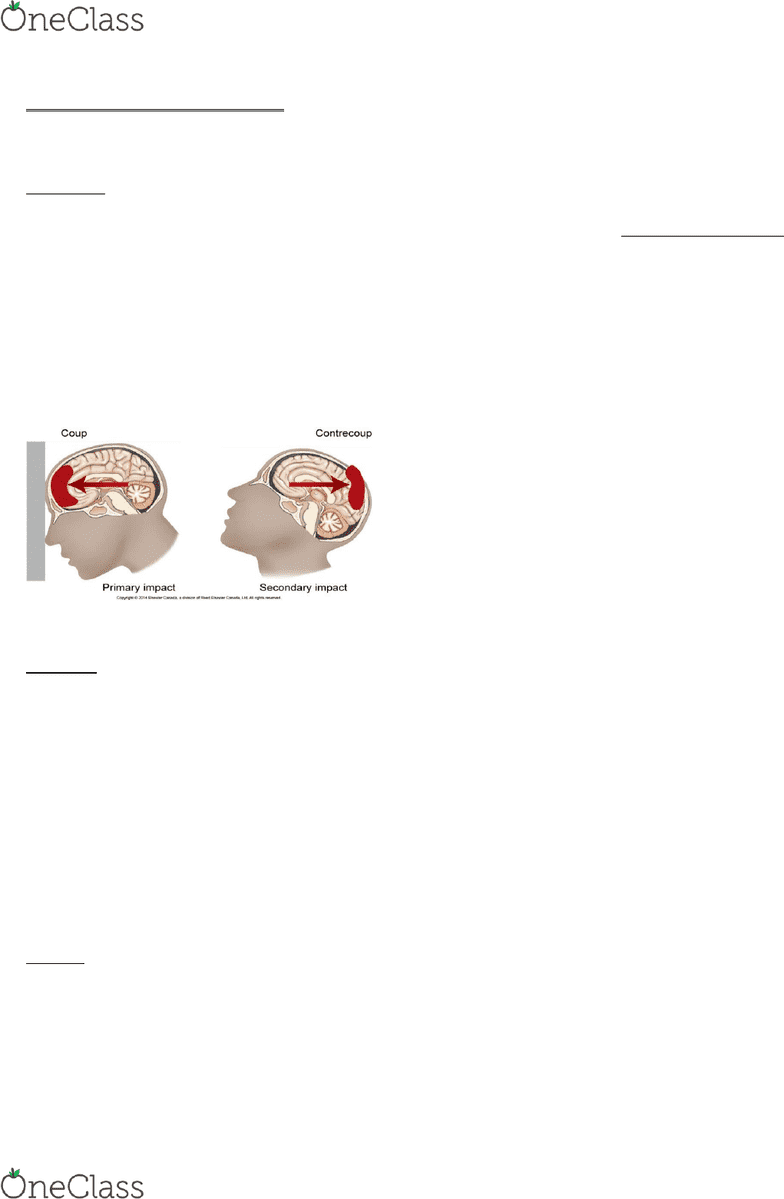 2.
Determine the etiology of Traumatic Brain Injury (T.B.I.)
TYPES OF TRAUMATIC BRAIN INJURY
•
Brain injuries are categorized as being mild, moderate, or severe
•
A
clinical syndrome characterized by immediate and transient post-traumatic impairment of neural functions

,
such as alteration of
consciousness, disturbance of vision or equilibrium due to brain stem involvement


o
Sudden, brief mechanical head injury with disruption of neural activity
•
A sudden, forceful impact (low speed) can cause the brain to make contact with the skull, possibly leading to
bleeding in or around the brain or microscopic
nerve fiber damage
o
No break in the skull and cannot be seen on CT or MRI
•
Signs of concussion = brief disruption in LOC, loss of consciousness (~5 min or less) and possible retrograde
amnesia (forgetting the event) after head trauma
•
Manifestations include HA, dizziness, N+V
•
Occurs with contra coupe injuries
Contra coupe injuy: Damage to the brain on both sides: the side
that received the initial impact (coup) or blow and the side opposite
the initial impact (countrecoup).
This occurs when the force of the initial blow is great enough to
cause brain damage at the site of initial impact between the skull
and brain and is also great enough to cause the brain to move in the
opposite direction and hit the opposite side of the skull, causing
damage at that site.
Moderate Brain Injury
GCS 9-
12
: Associated with
POST CONCUSSION SYNDROME
•
Once an individual has had a concussion they are at an increased risk to concuss again
•
Post concussion syndrome is recognized as a mental illness (DSM IV) which may last up to 2 years or more
includes:
o
Physical

- headaches, dizziness, sleep disturbances, blurring vision, light and sound sensitivity, neck pain,
ri
nging in the ears and fatigue
o
Emotional

- anxiety, irritability, depression and mood swings
o
Cognitive

- short-term memory (S.T.M.) problems, impaired concentration and attention span, periods
of confusion and cognitive slowing (learning problems)
Chronic Traumatic Encephalopathy (CTE) research is occurring to discover if this is the cause of increase in suicide rate
and dementia in athletes who have played contact sports
Severe Brain Injury
•
Bruising of the brain tissue itself within a focal area
o
Usually occurs near the site of skull fracture
•
Often develops areas of hemorrhage, infarction, necrosis, and edema
•
Damage from coup-contrecoup injury (high speed) occurs because of mass movement of the brain inside the
skull leading to multiple contused areas
•
Manifestations depend on location of contusion, however, serious contusions will show signs of increased ICP
and herniation syndromes
•
Lacerations associated with compound fractures of the skull and actual tearing of brain tissue occurs
•
Many delayed consequences such as hemorrhage, hematomas, seizures and edema
find more resources at oneclass.com
find more resources at oneclass.com