CRIM 320 Lecture Notes - Lecture 9: Analysis Of Variance, John Tukey, Perfective Aspect
For unlimited access to Class Notes, a Class+ subscription is required.
ANOVA
–
analysis of variance
-t tests will have 5 percent risk of error (15 percent for three tests)
-ANOVA maintains 5 percent risk
-compares groups means when we have more than 2 independent groups
-factor is the categorical variable containing our groups
-null: the population means for all groups is the same
-how do we test to see if there are differences in groups means?
-F statistic and probability
-more difference within our groups then between our groups
-if there are significant group differences, how do we determine which groups are different
from each other?
-Tukey (equal variances assumed)
-Dunnett C (equal variances not assumed)
online reading
–
Lane and Meeker article
Indicators of social disorganization
find more resources at oneclass.com
find more resources at oneclass.com
-measures association between two interval level variables
preliminaries
–
plotting data
0
2
4
6
8
10
12
14
50 55 60 65 70 75
Terrorist Incidents (Y)
Democracy Index (X)
find more resources at oneclass.com
find more resources at oneclass.com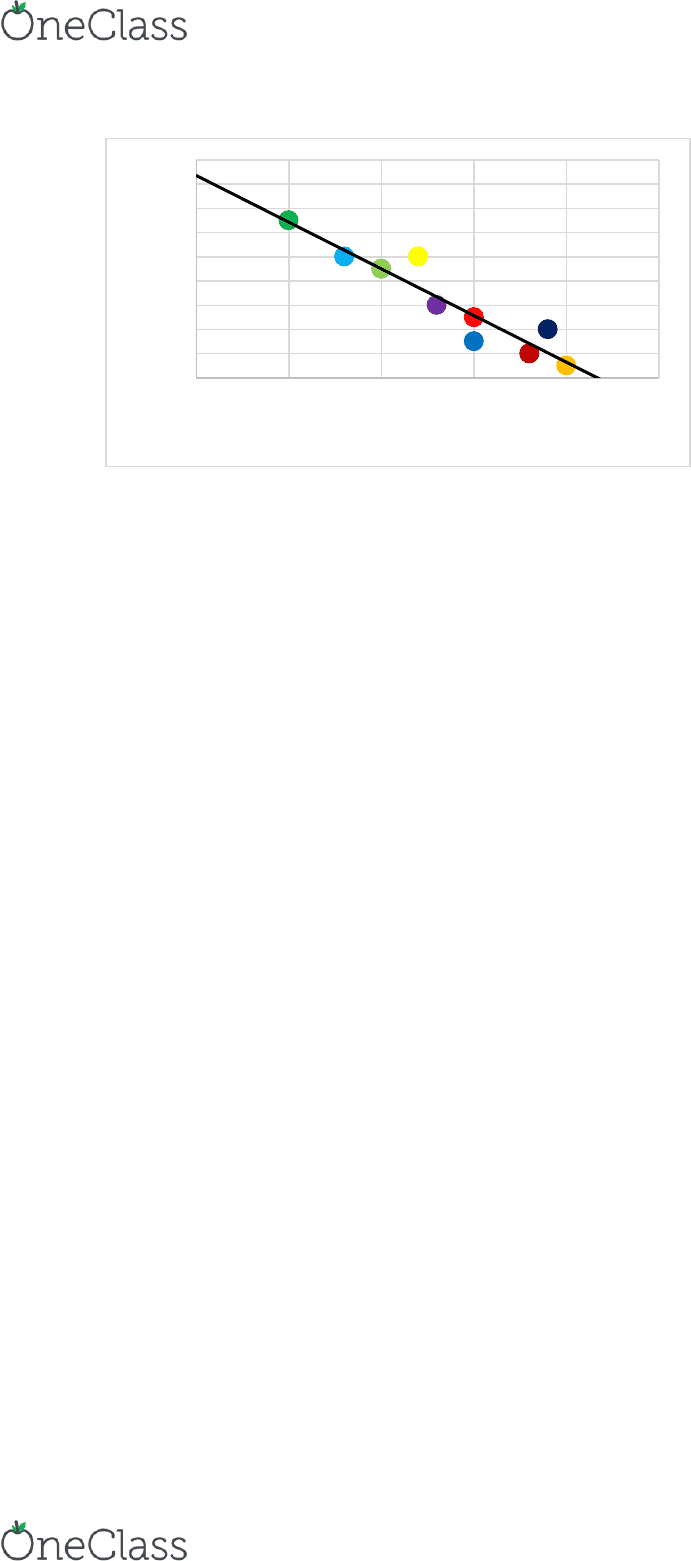 -summary of where those values fall
-purpose of correlation: trying to understand the line
correlation
-used to measure the degree of association between two interval level variables
-formal name
–
Pearso's orrelatio oeffiiet r
-standardized
–
make things directly comparable
-r ranges from -1 to +1
direction and magnitude of r
-size, relative strength and direction of relationship
-if r is positive
–
positive relationship
-two variables are moving in the same direction
-as one variable increases, the other variable also increases
-as one variable decreases, so does the other
-if r is negative
–
negative relationship
-variables moving in opposite directions
-as one variable increases, the other decreases
-the closer r gets to 0
–
the weaker the association is
-if r = 0
–
there is no relationship
-only time you can say there is no association between the variables
-otherwise there is always a relationship, whether it is significant or not
-null: there is no relationship (correlation) between variable a and variable b
-the correlation coefficient is equal to zero
a note of causality
-correlation does not equal causation
-there is no specification of dependent and independent variables (like chi-square)
-only seeing if variables are associated or not, significant or not
examples of perfect correlation
0
2
4
6
8
10
12
14
16
18
50 55 60 65 70 75
Terrorist Incidents (Y)
Democracy Index (X)
find more resources at oneclass.com
find more resources at oneclass.com